When it comes to the populated scope of urban commute, we have witnessed a slew of those 'fusion' trike concepts that tout the 'enriched' driving features of both two wheelers and four wheelers. However, in this special case, designer Kevon Brown has adroitly stuck to the novel scheme of things. Christened royally as the Regatta Quad S, his automobile design entails an electric powered four wheeler conception, which can uniquely be transformed into a bike.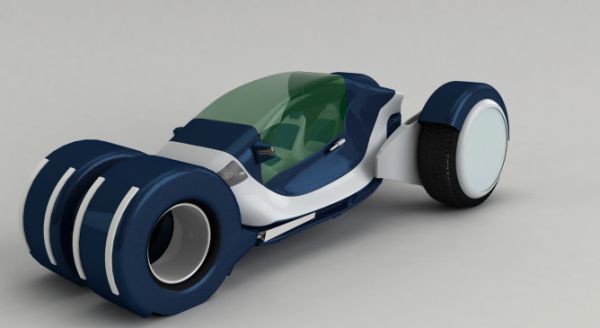 According to the designer, his hybridized concept has been envisaged to address the mobility issues faced by city commuters in Amsterdam. In this regard, the dual mechanized Regatta Quad S will pose a form of smart yet efficient mode of transportation for both cyclists and car users.
In its four wheeler mode, the design corresponds to those ATVs, with a sleek, aerodynamic chassis. The stylish frame in turn is complimented by a longitudinal bearing and a compact glass draped cock pit. However, structurally, the two seater vehicle utilizes carbon fiber arms to hold both the front and rear wheels. These arms can be contracted to bring the wheels together in a conjoined shape, thus forming a single broader tire. Thus, the vehicle transforms into a compact two wheeler bike, which can be used when maneuvering through the narrow streets of the city.
Finally, coming to the 'green' scheme of things, we already did mention about the low emission electric power train of the craft. In fact, the designer has tried to notch up the sustainable level by envisaging light weight solar panels embedded along the rear wheels. These panels in turn would help in recharging the batteries, when there are problems in finding nearby charging facilities.
Via: LocalMotors