Love to live in an eco-friendly way and always think of using recycled products? If yes, then these recycled rugs made from worn out denim jeans perfectly fit in your Go-Green motto. Gone are the days when you have to throw your worn out jeans as the Swedish denim company Nudie Jeans has come up with a perfect solution for these worn out jeans. The Denim Label has the creative idea of turning these worn out nudie jeans into recycled rugs.
The stylish and innovative concept of reusing the worn out jeans is a part of Label's Post Recycled Jeans initiative and after all who said that jeans have only one use? The Label is turning the jeans into well textured and stylish eco-friendly rugs which definitely make a fashionable home décor.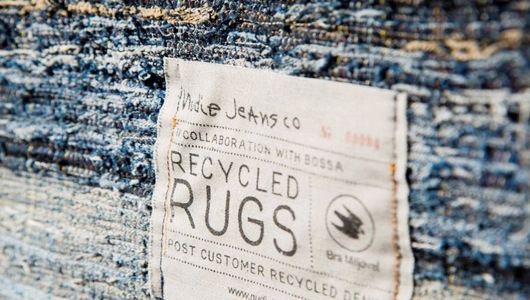 The whole concept of these rugs from the Gothenburg-based denim label has the Scandinavian influence. The green approach to these denim rugs is given by the donated pair of jeans by its own customers. The jeans are collected then are cut into thin strips, sewn together and then at last rolled up on spools. After that it is weft with the indigo-dyed thread and then it is woven by hand manually in a shuttle room.
The age of the denim is not the matter because the older the denim is the more stylish texture it acquires. The brilliant idea of these rugs has just revolutionized the new way towards fashion. The rugs are not only stylish but are quite light in weight as compared to other rugs. When placed in your living room or anywhere in your house it definitely catches everyone's eye making it a perfect home décor.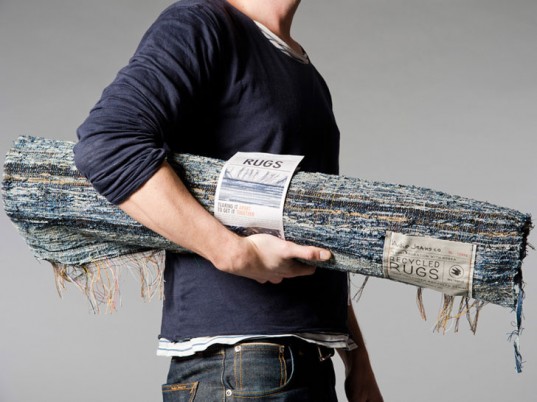 The production of these rugs takes place in Turkey and the size available is 2 x 1.5 meters. This piece of recycled fashion will be available at Nudie Jeans House Los Angeles and Nudie Jeans concept stores globally. The price quoted for the recycled rug is $599 USD.