Old and unused materials usually end up in the town's dump, once they've outlived their usefulness. This is the case with all consumer products. The problem lies in the fact that such discarding of materials adds significantly to landfills, posing hazards to health and the environment. Recycling has long been proposed as a solution to help reduce the garbage issue. Despite this, most of us do next to nothing to reinvent old products, and would rather discard them and buy new ones. A small section of people, however, strive to make beautiful art from old stuff. Using skateboards, they've created functional and trendy items that look good and serve a purpose as well.
Pure Skateboard Shelf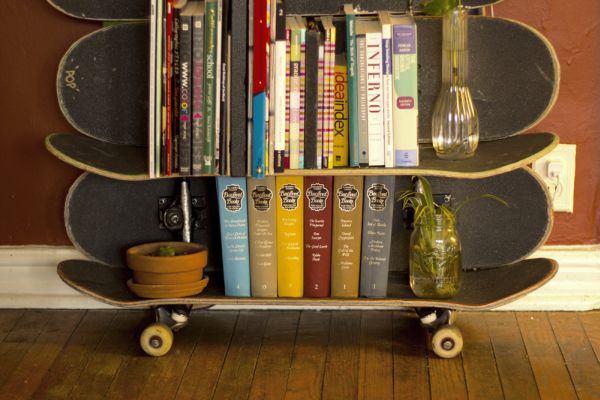 Why spend a few hundreds of dollars on brand new shelves when you can make your own? Patrick Drake has used his love for the environment to recycle old skateboards to make handy shelves that can hold books, magazines and decorative items. His project, called Pure Skateboard Shelf, utilized the natural shape of a skateboard along with the holes drilled in them so that any additional cutting or brackets were not needed. The skateboards' trucks have been used as bookends which also prevent the boards from falling forward by acting as weights. For the base, Drake used a full skateboard complete with wheels as a stand. The wheels have been tightened such that they can't roll, making the shelf stable.
Elegant lounge chair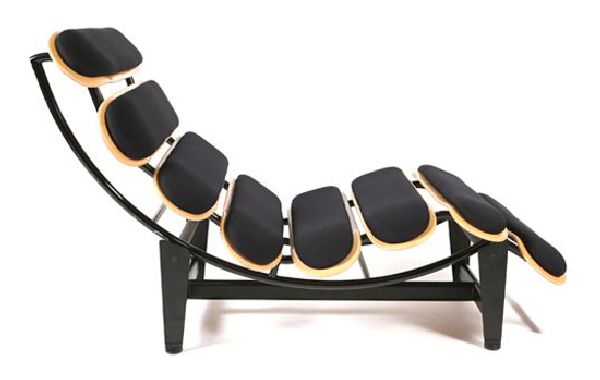 The simple shape of a skateboard is so versatile that is can be turned into almost anything. The elegant lounge chair has been crafted from old boards but you wouldn't have guessed it. After all, who would have thought that old skateboards could look so elegant? Sitting on a metal frame are eight old boards minus the trucks and wheels. The boards have been covered with neoprene cushions to give the chair a leathery look and feel. Called the Jet Set Lounge Chair, it's being marketed by Skate Study House.
iPhone cases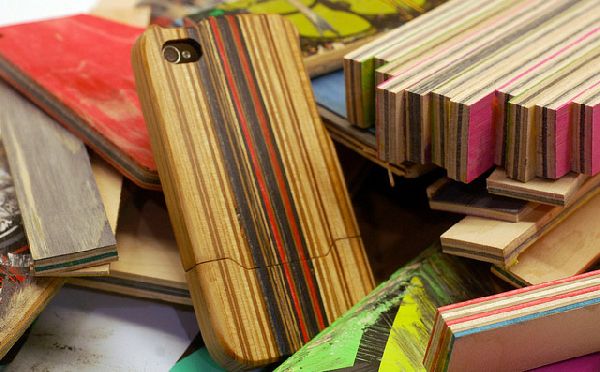 A large number of us have an iPhone these days and since these expensive cellphones are delicate, they need protection from daily wear and tear. While there are many cases in the market, not many look as trendy and funky as those made by artist Lindsay Jo Holmes of Grove, made in collaboration with MapleXO. These limited edition iPhone cases have been made by cutting old skateboards into strips, which have then been glued together. The result is colorful cases in rainbow like hues that are durable and one of a kind.
Colorful new old skateboard bench
Deckstool is the brain behind this awesome looking bench. Five feet in length, the company recycles old skateboards provided by customers or salvages the necessary materials to produce street urban design benches. Metal trucks act as support for the stands over which the wooden decks are placed. What makes the benches stand out is that the designs retain little scratches and nicks made by users in the past, lending the creations a familiar and more comfortable feel.
Skateboard sculptures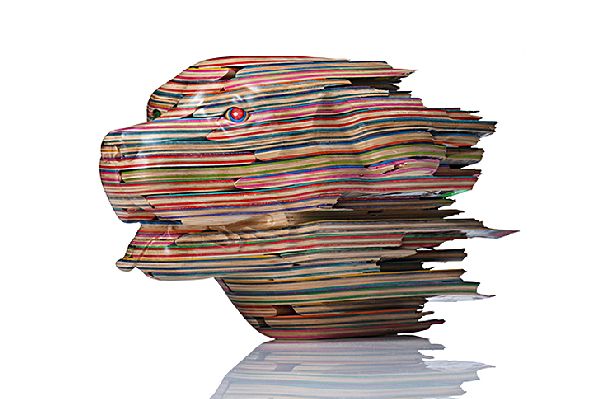 Moving away from functionality, Japanese artist, Haroshi, has teamed up with DLX Distribution and HUF to create wonderful pieces of art from used skateboards. So smooth are the designs that anyone would mistake them for something other than mere skateboards. Haroshi performs his magic by stripping old boards of their grip paint and then gluing them together in stacks. The result is a block of stacked boards that serves as the basis for his skill with a jig saw. The pieces are then polished to a fine sheen and sold to customers.
Old skateboards transform into amazing artwork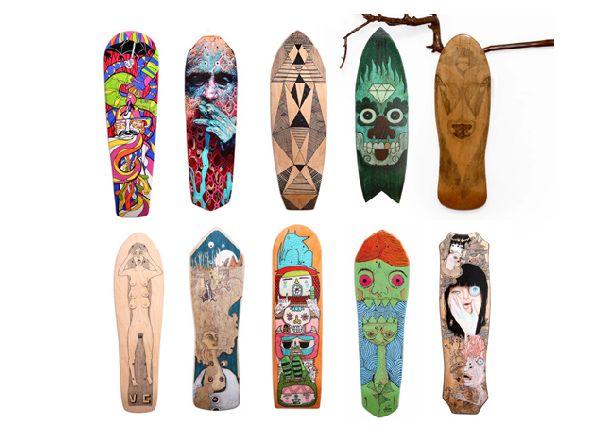 A group of artists functioning under the name Nube are working to restore old skateboards into works of art. The artists are part of a project called Reskate which seeks to convert the finished boards into mini longboards. The boards, which are stripped and restored, are given to the artists who work their magic, creating limited edition pieces that have amazing details. The finished products were displayed at Berlin's Pantocrator Gallery last year.
Recycled skateboard stools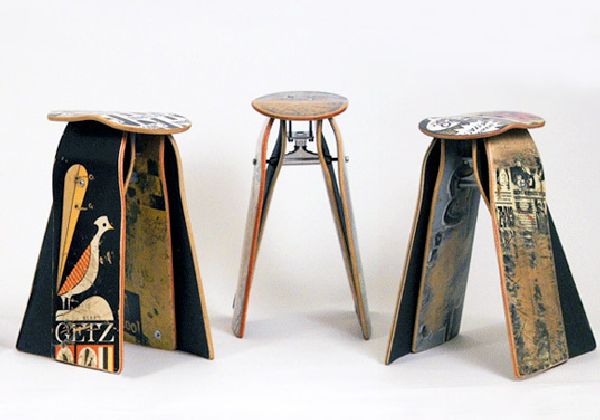 Most skateboards feature amazing graffiti work that speaks of style and individuality. With the time taken to create such unique pieces, it's always a shame that many are discarded. Deckstool, the same company that creates skateboard benches, has crafted trendy stools from reclaimed skateboards. The metal trucks are used as a joining point for the seat and stand, providing a sturdy support for users. Like its benches, Deckstool's seats have elements of street urban designs that perfectly complement the identity of skaters.