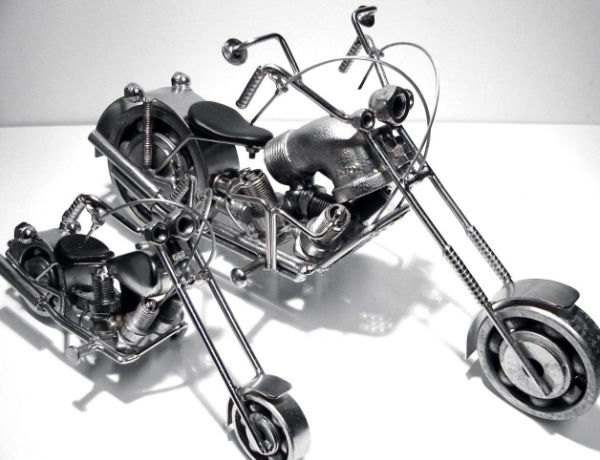 Creating something useful, beautiful and noteworthy from rubbish is no less a feat. Today, even the rich are taking interest in such artistic forms, whose cost is not based on the material used, but on how much creativity has gone in their making. If you think recycled art cannot be compared with art like 'Mona Lisa' or 'Virgin of the Rocks', you are correct. Recycled art is a completely different league that has successfully established its own identity.
Metal Crafts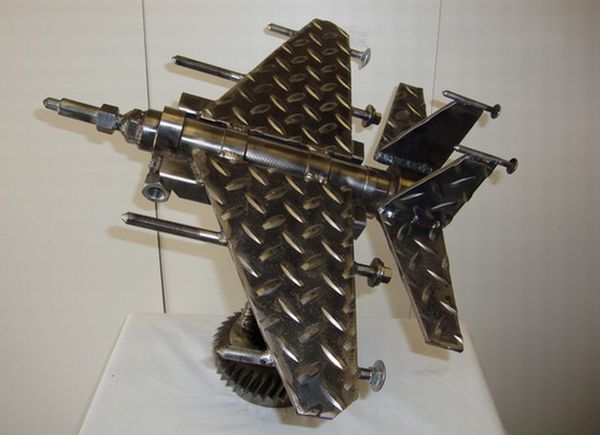 a. Nifty furniture from industrial waste
English sculptor and environmentalist, Bob Campbell, turns the waste and trash from industries into spectacular furniture pieces for homes. The artist moulds furniture out of trash like drums, chains etc. incorporating leather, rubber, wood and steel. Plastic is never used in their manufacturing. Rejecting the model of conventional sale, these products are exhibited and sold.
b. Intricate artworks fabricated from reclaimed metal scrap
Kat welding and Fabrication, transforms trash into beautiful creations. The Ohio based company manufactures beautiful pieces of planes, bikes, sailboats and butterflies to name a few out of waste material. The company excels in the field of plasma cutting, welding, fabricating and designing metal pieces. The raw material for these admirable pieces of art is scrap metal from landfills.
c. Furniture made from junked aircraft parts
Giancarlo De Astis, an LA based designer transforms parts of old dumped aircrafts into expensive furniture. This is a treat for the passionate lovers of aircraft and flying. From aircraft wings to turbines, everything is transformed into beautiful pieces of furniture. The furniture is prices between $5000 and $10000.
d. Recycled art for your home
Perfect for both indoors and outdoors, these art forms are the new craze in the market. Being eco friendly, the products get a natural rich patina with time and weather. The product can be reshaped and decorated as per as your requirements.
Auto Crafts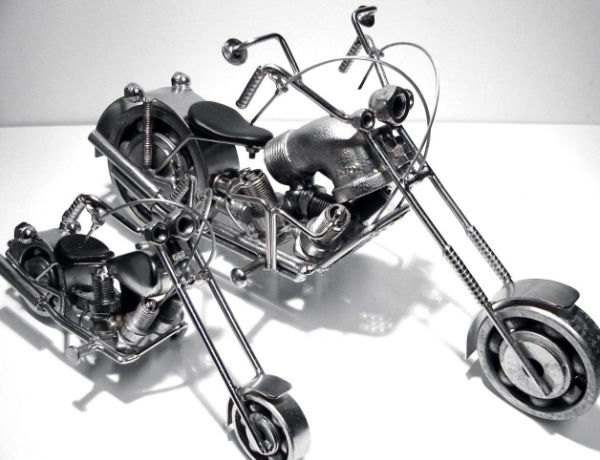 a. Recycled metal motorcycle
This environment friendly motorcycle made out of motorcycles' spare parts is 11 inches long, 3 inches wide and 5 inches high. Nuts, bolts, elbow connectors, brake wires and other spare parts have been used in its construction. The maker of the motorcycle claims to have created a 'unique Liveable art' that will not harm the environment.
b. Robo Man
Built by RoboSteel, Robo Man is a human sculpture, man made out of dumped motorcycle parts. The structure is approximately two meters in height and it took about 750 hours to construct one of these. Robo Man is made up of spare parts from bikes like Suzuki and Yamaha.
c. Rustic bull ride recycled auto parts
Armando Ramirez, manufactures splendid art masterpieces out of recycled auto parts. The masterpieces include a chess set, a riding cow boy, a stretched wing owl, cars, bikes, camera to name a few. The automobile parts are recycled to produce breathtaking masterpieces.
d. Bizarre Baby Alien eco furniture
Encompassing the thoughts of a science fiction, functionality and sustainability, Bizarre Baby Alien furniture is an unparallel piece of art. This furniture is build out of old nut, bolts, spark plugs and other junkyard wastes. It is priced at $1200.
Paper Crafts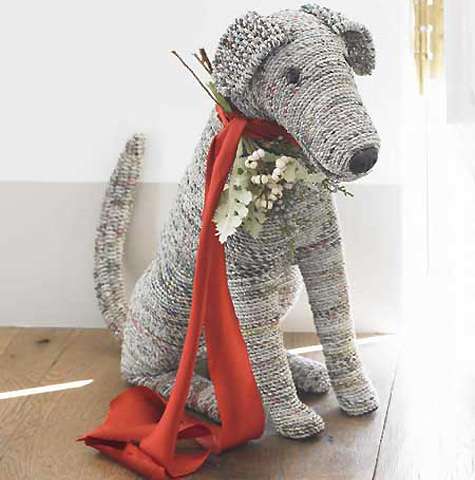 a. Kurt Tong paper objects
In China, a funeral ceremony involves burning of effigies and offerings, which supposedly reach the dead and accompany him. Kurt Tong paper objects portray the eco friendly version of these effigies. The artist has prepared effigies for people with different life styles; there is something for all including music lovers, fashion diva's etc.
b. Eco friendly Bouquet
This eco friendly bouquet is made out of newspaper and gives you a chance to experiment with colors, pattern and size. You can spread the message of preserving the environment and use such bouquets for your wedding. Also they are good to be presented as souvenirs and will last longer.
c. Paper Dress
Jolis Paons created a beautiful paper dress by sticking, gluing and sewing paper from a phone book. The dress is spectacular and creates a new landmark for creativity.
d. 'Recycled Rover' Newspaper Sculpture
Made out of tight rolls of newspaper, recycled rover is the cutest static pet for your home.
e. Shredded Paper Furniture
Jens Praet created a mini desk out of shredded paper. The artist has created furniture pieces out of resin treated shredded paper. It is as strong as the wood furniture.
Found object crafts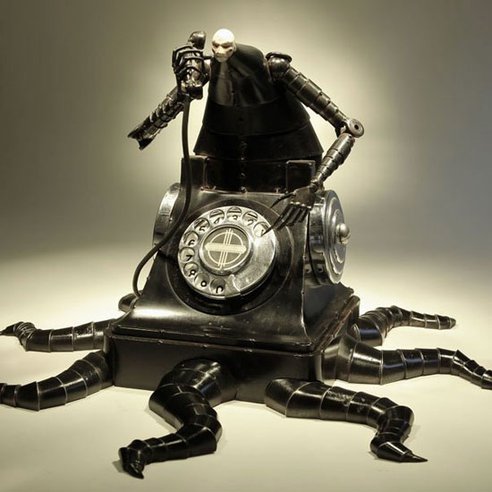 a. Spooky Sculptures of found objects by Greg Brotherton
Greg Brotherton's has mostly used old registers, steel and other metal parts for creating spooky sculptures that might even give you a sense of malice. Creativity cannot always be pleasing , it does at times embody a menacing form.
b. Skeleton bike
A display object by Jed turner, called the 'bio-cycle' is made from trash steel. A masterpiece created skillfully, it will bring 'trashed found objects and welded steel', back into your drawing room.
c. Warren Muller creates treasure from trash
Warren Muller creates lighting fixtures from objects like lamps bulbs, donated antiques and recycled materials. The fixtures are amazing and are used at private and public spots for lightening purpose.
d. Metallic sculptures made from scrap
Michael Ullman, created automobiles designs from metal that was thrown away in garbage, landfills and even dumped around garages. The designer, created life size automobile objects from junk metal, scrap iron and other found metal.
e. 'Found metal' objects sculptures from Joe Pogan
Joe Pogan has done wonders with found metal objects like watches, nut and bolts, coins, locks, keys etc.. His designs are exquisite and boast the use of everything that can be recycled.
Plastic crafts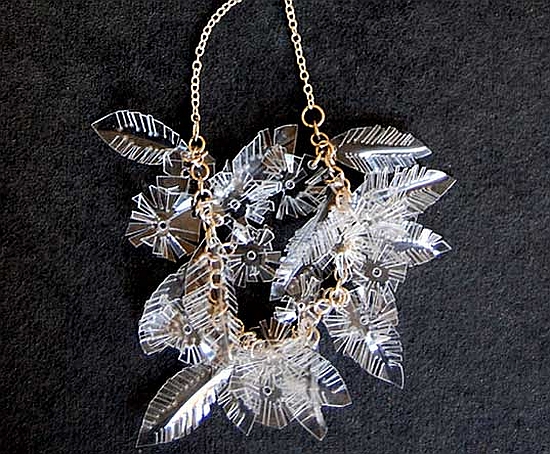 a. Inspired by fish shoals introducing recycled plastic spoon chandeliers
Designer Daisuke Hiraiwa's spoons chandeliers basically use spoons stuck together to take the shape of a shoal, and are punctured evenly so that when light is thrown through them, an amazing effect is retracted. The designs use millions of plastic spoons, which would have been landfills.
b. Disco ball made from recycled plastic cutlery
The disco light shaped design by Luis Luna, utilizes spoons and forks that are usually treated as waste after parties. These cutlery items are adhered together in the shape of a ball that gives the effect of hanging disco light when illumined.
c. Bottle Chandelier
'Organelle Design' has used waste bottles to create something of use. Empty plastic bottles that are of no use have been utilized for creating a chandelier that illuminates living spaces. Other materials used include, rims from bikes, poultry wires, etc.
d. Kumvana Gomani turning plastic waste into nature-inspired ornaments
Gomani creates nature portraying jewelry by using kitchen waste like plastic bottles and soda cans.
e. Nature-inspired designers create beauty from trashed plastic bottles
Designers Lisa Foo and Mah Su Sim collaborated to create these nature inspired light sculptures using old discarded bottles. Seeing empty bottles breathe a new life will definitely inspire others to create similar art pieces.
Wood Crafts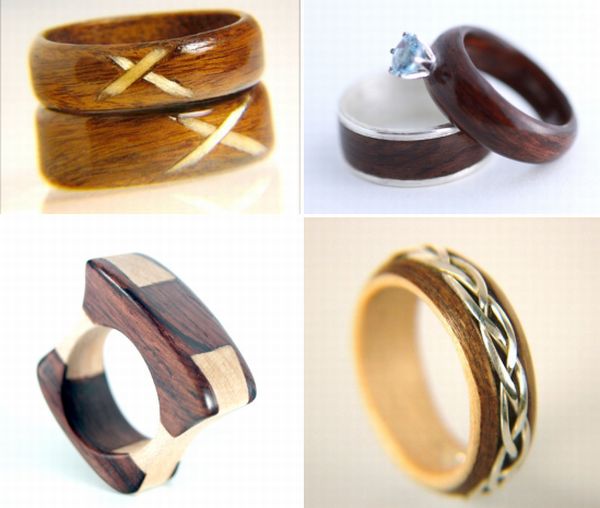 a. Recouped wood to do a Harley Davidson
The designer has used salvaged or useless wood from jungle and farmlands and created the master piece in the shape of a Harley Davidson, whose dimensions are 110 by 130cms.
b. Rolling Summer house a green stay
Charles Whinney, the eco artist, created a wooden masterpiece from local wood by giving it a steam bent, without polluting the environment.
c. Galloping recycled art made from recycled driftwood
Artist Heather Jansch has carved driftwood along with waste bronze for making a horse that is amazingly real
d. Wood Rings
Designer Gustav Reyes has made use of wood to create something close to heart rings. These rings are carved out of old violins or flutes or any other wood piece that you possess as a lovable asset.
e. ReCycle by Samuel Severns
An 'accident' created this amazing bike that is crafted using birch wood along normal rims and tires. From polish to CNC router, everything in the bicycle shouts concern for earth.