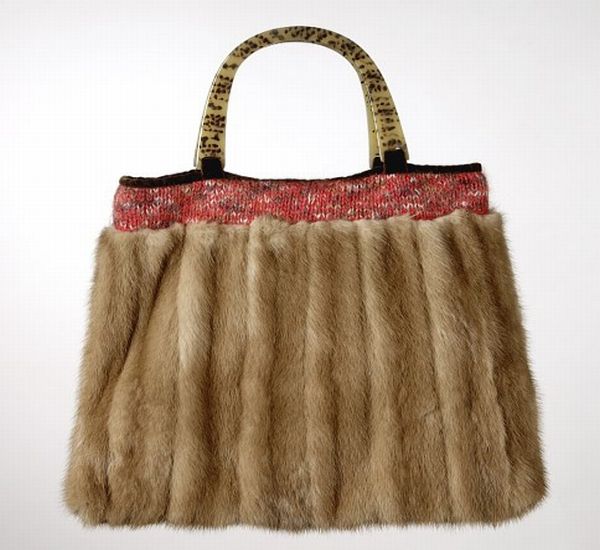 The eco conscious population is making constant efforts to decrease the burden on landfills, producing and using products that have green attributes. This time around designers are launching some amazing range of bags that are functional as well as eco friendly. These designers have remarkable creative talent for using disposed materials and have used thrown away jackets, soda bottle pops, rubber tires and scrap fabrics for making some amazing designer bags.
Handbags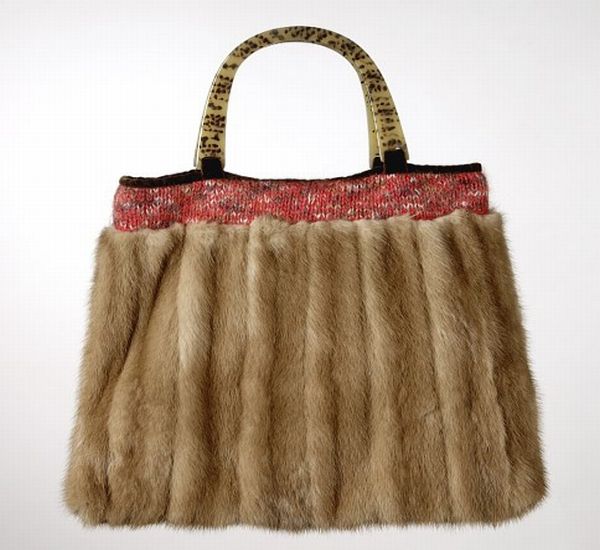 1. Recycled keyboard Handbag
This bag is a powerful example of an astounding work of art with a green label. It is created by eco conscious designer Joao Sabino. Instead of throwing away discarded and non functional keyboards the designer has incorporated these worn out scraps in making a stylish handbag for the most fashionable and gadget freak divas.
2. Recycled Hand Bags with a Class
The classy handmade handbag has the qualities of being the show stopper in the competition of fashion accessories. The handbag carries the eco credential of using all possible discarded material. From vintage hardware to rugged fabrics, torn leather trimmings, etc. every minor item was used to make this designer handbag. It is available at a price of $3000 to $5000.
3. Uptown bag made of recycled truck inner tube
Apparently the handbag looks like an expensive crocodile skin leather bag. But, in reality discarded inner tubes of the truck and thrown away faux croc texture accents were used for making the bag. Besides these eco factors, the handbag is extremely functional as well. You can have your own handbag from Groovy mind, the renowned retailer of sustainable articles known for "green" inclination.
4. Eco-hip recycled newspaper bag
Thirty two women from Brazil joined hands to make sleek and stylish handbags from recycled materials. The basic materials of these handbags are discarded organic cotton, silk, paper and jute. The detailing in these handbags is done with recycled newspaper. The water resistant coating on the outer surface takes care of the functional efficiency of these handbags.
5. SuperFlair bag
Eco conscious designers have created this glamorous handbag made from recycled materials and it can even be accessorized with evening wear. The bag has a handle made from recycled rubber. The exoskeleton comprises of recycled plates and the ornate Swarovski detailing gives it an edge over other recycled handbags.
Shopping bags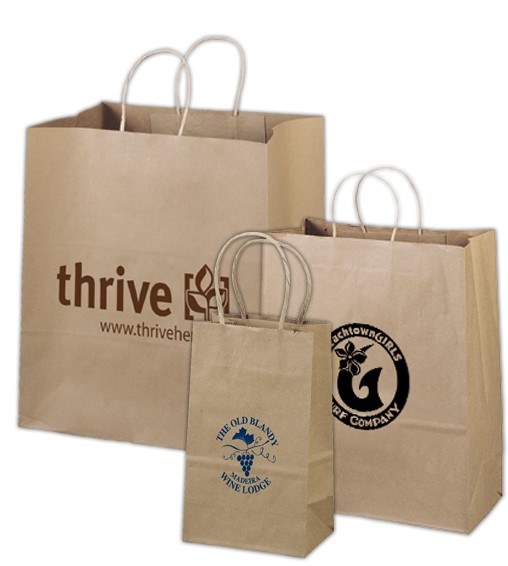 1. Walmart's shopping bags
Walmart joins the movement for eco consciousness by launching "green" shopping bags. These attractive shopping bags are 85 percent recyclable. They are made from discarded soda bottles and have weight bearing capacity almost double that of the plastic shopping bags.
2. Le Joie De Vivre Shopper
These shopping bags too have green labels with them. They are made from woven polypropylene which is 95 percent recyclable material. They come in basic dimension of 15.57 inch width, 15.35 inch height and 5.9 inch depth.
3. Paper or Plastic Shopper
These shopping bags have been originally inspired by a seven years old kid, Henry Lear. Neither plastic nor paper has been used to make these bags. The makers of this bag used woven polypropylene instead. This material is 95 percent recyclable and can be reused a number of times.
4. EcoKraft Recycled Paper Bags
These reusable shopping bags have been made from 100 percent recycled paper. Together with the eco conscious attribute of these shopping bags, they have great looks that will surely complement most of your dresses. Each of these paper shopping bags have matching handles made from twisted paper. Moreover, there are variegated color imprints to select from.
5. Recycled Green Bags
These green bags come in four attractive colors; green, white, black and blue. Discarded plastic has been used for making these shopping bags. They are 85 percent recyclable.
Backpacks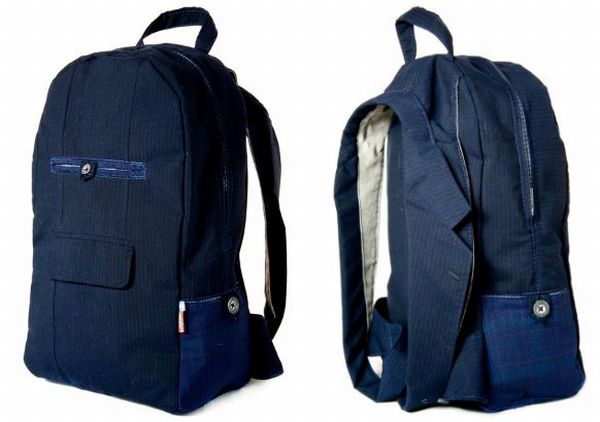 1. Ivy backpack
Made and marketed by Mountainsmith, these backpacks are remarkable for their aesthetic appeal. The sleek design coupled with the mist green color makes them widely popular. It is a compact and small backpack perfect for a day out. Its recyclable nature and base material, made from several discarded materials add more to its credentials.
2. Leeds recycled backpacks
The recyclable material used for making backpacks from Leeds comes with a guarantee of being eco friendly. Most notably, the Owl range is created from discarded and safe materials that are 100 percent recyclable. The sufficient space inside these backpacks makes them quite efficient too.
3. Men's jackets recycled into cool backpacks
The immense potentialities of rugged clothes and discarded jackets have been exhibited by these bags. Along with the eco conscious use of discarded men's jacket it reflects style and functionality. These attributes work together to make them apt for being used by eco conscious citizens.
4. Tempo Recycled Backpack
Another highly successful eco conscious creation from Leeds is the Tempo recycled backpack. Made from 100 percent post consumer recycled materials, these backpacks are highly functional for both adults and kids. They come with zipped front panels and dual mesh pockets on either side along with a master zipped pocket.
5. Recycled Rubber Backpacks
You can never believe that these stylish backpacks have been made from recycled car tires. The discarded car tires have been collected from landfills and then treated and transformed into rubber sheets for making bags. The harmful chemical bonds from tires have also been removed during the process of treatment so that the end product is totally safe for use.
Shoulder bags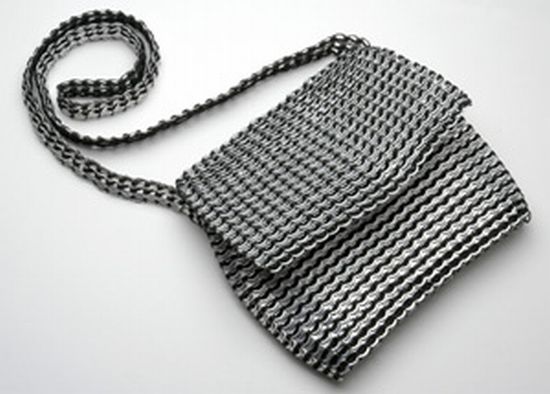 1. Escama Studio recycled Handbags
This eco conscious shoulder bag can be a great gift for a woman. A wonderful creation of the Escama Studio in San Francisco, these shoulder bags have been made from sustainable materials. Brazillian geniuses, namely Cia do Lacre and As Panteras do Lacre toiled together and implied traditional crochet technique to recycled aluminum cycle pull tabs. The resultant was these astounding bags.
2. Black Lace Bag
The scrap fabrics from one of Milan's textile industry was put together artistically by a designer to create this elegant shoulder bag. Straps of discarded pieces of black laces were sandwiched in between transparent plastic sheets and stitched firmly. This roomy handbag needs simple hand wash as means of maintenance.
3. 360° Tanker
Old and rugged ship sails were used by Klein & More, a German eco conscious company to create handbags with green credentials. The men behind the project were Mattias Hulsebus and Edzard Kramer. Thus, while on one hand it is a great effort that will help decreasing the burden on landfills; on the other hand it will harness the potential of the sail fabric to the hilt. So, the shoulder bag made from sail cloth will possess the attributes of being light weight and weatherproof.
4. Bag made from soda pop tabs
Soda Pop Tab Messenger Handbag is a recycled splendor. The discarded soda pop tabs have been assembled uniformly over a cheetah pattern cloth as the basic structure of this "green" shoulder bag. The heavy duty gauge in between the pop tabs ensures durability to the product. The long shoulder strap and the spacious body make it a product worth owning.
5. reMade USA reclaimed leather bags
The discarded leather jackets find their way to be converted into handbags instead of getting dumped in the landfills. The mastermind behind this green attempt is the San Francisco based designer, Shannon South. Each of these eco friendly bags has its own stylish features and they come in attractive colors.