Recycling is one of the best ways to save resources, and, in the process, keeps the environment clean and healthy. With regard to this, One Stop Green is offering an innovative range of custom clocks made from recycled motorcycle parts. The brain behind this ingenious idea is Michole Madden, a motorcycle safety instructor, who is also a motorcycle enthusiast and an art fan. She's combined her two passions to create unique and trendy timepieces out of old motorcycle parts that she calls reCycle Clocks.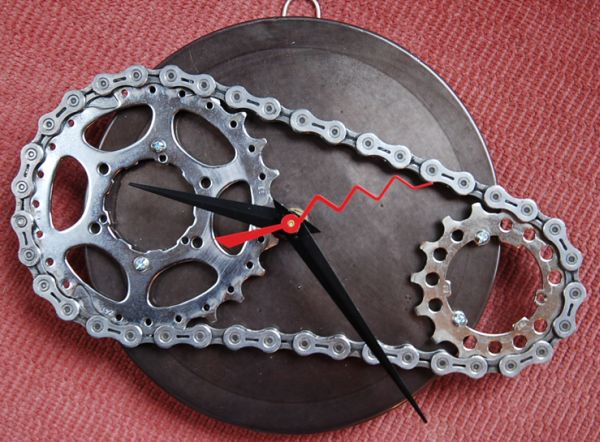 The timepieces are carefully hand crafted and Michole uses useful components that she can salvage from scrap metal and other parts rendered worthless by mechanics. She collects the different pieces of scrap metal from workshops before scouring thrift stores for the rest of the components. The process of putting everything together can be tedious and takes a few days to complete.
Michole begins work by soaking, cleaning and carefully polishing each clock piece before the powder coating and oxidizing process. Through this, the clocks are given different colors and effects to turn them into unique timepieces not found anywhere else. After much trial and error, she then drills, files, bolts and wrenches the clocks before fitting stylish clock hands.
The reCycle Clocks act as the perfect décor for any home. What makes the timepieces stand out the most, however, is the fact that 90 percent of them are made using recycled components. The timepieces are available in all sizes, colors and shapes and include a 10 year warranty.
Michole's creations can be purchased through One Stop Green, LLC, a company that facilities the distribution of green energy products and services. With a goal of providing customers with a clean solution to their way of living, One Stop Green is the ideal platform for purchasing eco friendly consumer products like that of Michole's.
Via: Prweb