Mango is an eco friendly street light concept for India from a Hungarian designer, Adam Mikloski. Designed in the shape of a mango leaf, the LED powered street lamp concept can gather both rainwater and sunlight for recycling power. In India, monsoons bring huge downpours and summers are marked with bright sunlight. Therefore, this unique creation of the designer is an all season solution to the lighting of streets throughout the year.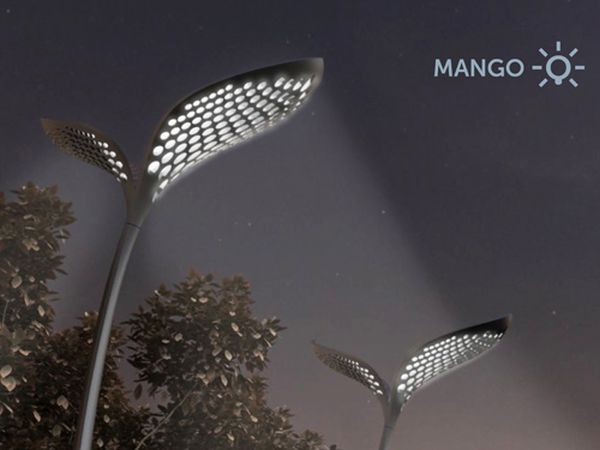 So as to define the shape for the lamp in his concept, the designer used leaves and shoots of the plants. The shape of a leaf is a better option as it can drain water quickly. The designer finally settled on a mango leaf considering its favorable functionality.
Being in the form of a mango leaf, the street lamp's top part is suitable to install tiny solar cells and also for collecting rainwater. The other parts of the leaf like lamp has features that divert and recycle the water and sunlight to generate power, which will be stored in the inbuilt rechargeable batteries. The inner part of the leaf sports several LEDs, which consume less energy to light up the streets.
The Mango design, which was prepared for the 'India Future of Change Design Competition', was one in the final ten projects of the event, which took place in New Delhi, the capital of India. The country, which is still in its infancy stage in solar and other sustainable technologies, requires more innovations and research for advancement in the diverse areas.
Via: Adammikloski