For those who like simplicity and wish to maintain a sober lifestyle, talented designer Lorenzo Giacomini has come out with a special lighting device, the QBIC Lamp. There is a variety of lighting products available in the market but QBIC Lamp is unique in the sense that it fulfills your simple and routine lighting requirements while taking care of the surrounding too. This is an eco-friendly device that runs on solar power. With its shape as of a small cube, this lamp may serve your needs just anywhere. You may easily carry it wherever there is sufficient sunlight.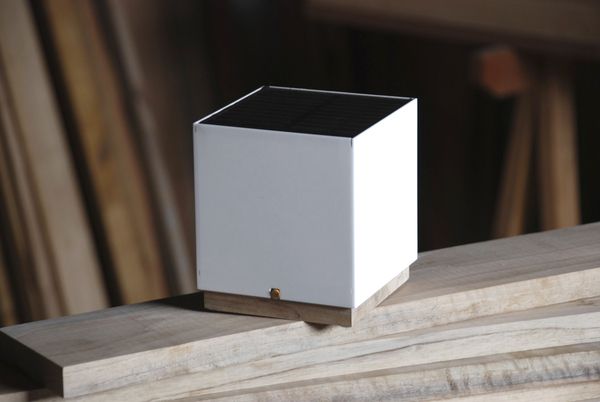 After being solar-charged, QBIC Lamp would be able to offer sufficient light constantly for around five hours. Thus, the lamp can even be used at night if it is properly charged during the day. This device has been installed with an intelligent light sensor that regulates its operation and turns on the light-emitting diodes (LEDs) but only when it is really required. So, you do not need to worry whether there is an electricity socket or not. The efficient LEDs of this lamp can handle the job and brighten up any place, anytime.
The simple framework of this lamp has been crafted out of walnut wood that makes its base in rough. QBIC Lamp has a white opal body to make it look elegant and classy. Such a device would not look odd when placed in any kind of surrounding or within your house's interiors. You may receive its bright sparkling white light in any corner of your house. The light is so bright that you would even be supported on some fine repair task in a dark basement or shed. So, if you keep powering it under the sun, it would never let you go without power.
Via: Behance