A real innovation, the house designed by Takeshi Hamada is becoming the talk of the town. The metal clad house build by Japanese architect Takeshi Hamada is well lit and has ample balconies and windows that add to the elegance of this uniquely designed home in Kadoma.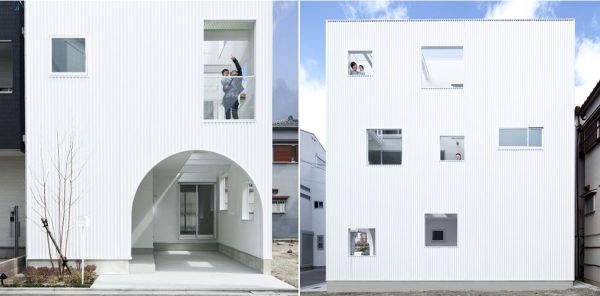 The interiors are well done in this three story house with each room having ample scope for sunlight. The first floor has living and dining room with bedrooms occupying the above two stories.
Glass panel walls are a specialty of this three story house with staircase connecting each of the floor. The specialty of the design is that the staircase is positioned in center of the house giving it an innovative look. The specialty of the design of this innovatively designed home is that light passes vertically through all its floors. This not only makes this three story home an energy efficient home but also ensures that the family residing inside remains in the best of their health as natural sunlight works wonders with human body.
By placing the staircase in the middle of the home, effective space utilization has been done, thus making this apartment unique in true sense. The balcony on the top floor adds to the elegance as a birds eye view of the surrounding is visible from the top.
This house stands apart in a rather crowded locality of Kadoma. The white cuboid house build at a rather modest budget has been attracting a lot of attention primarily due to its unique design. The house is relatively modest if one goes by the size. The 66 square meter property in Kadoma is located at a short distance from the local railway station. The house has been constructed on a small plot of land that was rather left unused in this small crowded locality that was a wasteland till the last few years.
Via: Dezeen