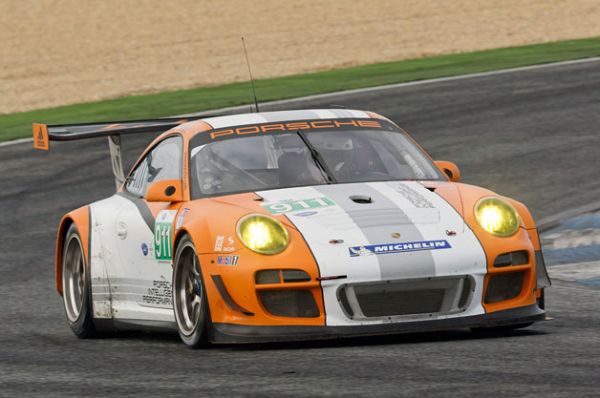 The German racing car company Porsche has announced that it is going ahead with the development of a third generation of its hybrid racing car, the 911 GT3. The first Porsche 911 GT3 Hybrid was shown at the Geneva Motor Show in 2010. Porsche calls its hybrid cars a racing laboratory where they can test future automobile technologies under strenuous racing conditions. The lead designer of Porsche, Dr. Wolfgang Hatch, says that hybrid cars are the future of automobile technology and Porsche is going ahead with the third generation hybrid to continue pushing the envelope.
The second generation 911 GT3 completed several impressive races in 2011. At the Nurnburgring 24 hour endurance race, it finished first in its class and third overall in only its second competitive race. The Porsche 911 GT3 also completed a grueling 1000 km land race in China during the year.
Though, Porsche has not revealed details of the third generation hybrid, the second generation 911 GT3 featured a 4.0 liter 470 hp gasoline engine to drive the rear wheels, supplemented by 100 hp electric drive motors on each of the front two wheels. The car achieves 0-60 mph in 2.5 seconds. Unlike other hybrid cars that draw power from batteries, the electric motors on the Porsche 911 draw power from a high speed flywheel spinning at 36,000 rpm. The flywheel is run up by the gasoline engine and also gets energy from regenerative braking.
The flywheel energy powers the electric motors in short 6 to 8 second bursts from a push button on the steering column to provide the car with additional power during overtaking and cornering. Flywheel energy storage technology is being developed by the Williams racing team which has formed a new company named Williams Hybrid Power. The flywheel in the Porsche 911 GT3 is mounted presently in the passenger space next to the driver, making the interior extremely noisy. Once the technology is further developed, Porsche will surely find a better location for the flywheel.
Via: Autoblog