The Crib, an architectural beauty by Broadhurst Architects is a completely environmentally friendly dwelling that can be utilized for various purposes such as an art studio, guest house, weekend getaway, an office and many other things. This incredible green dwelling is a perfect house for environmentalists and other people who would strongly believe in recycling and reusing. A prototype of this 250 square feet home has been built in the Strathmore area in Bethesda, Maryland. At present, the Crib is being used as a lab, a visual arts studio and a gallery. Visitors are more than welcome to have a look during certain times of the day.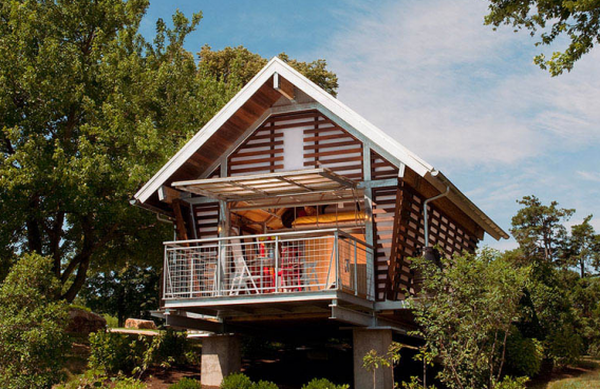 The Crib is constructed out of SIPs (which comprises of R32 floor and walls) along with other parts made out of aluminum and steel that have been recycled. The prototype of the Crib has panels made out of polycarbonate, heat resistant poplar siding, insulated glass, CFL and LED lighting, rainwater harvesting for toilet and gardening purposes as well as a ceiling fan that saves energy! All in all, this is a perfect home and a perfect way to live in an environmentally responsible manner.
The design of the Crib is very unique as you can dismantle it and then reassemble it in another location. The cost of the prototype Crib is $85,000 which does not include the costs towards sewerage connection. However, if you wish to incorporate a kitchen, then the cost rises to around $120,000. On the other hand a very basic model of the Crib would cost you around $60,000 and if you wish to add a concrete/block basement, then you would need to shell out an additional $25,000.
Via: Jetsongreen