The rise in the demand for electric cars has made electric car manufacturers think of futuristic rides that are clean and offer their owners a zero-emission mode of transport. However, innovation isn't just limited to big companies. Auto engineers and students all around the world are coming up with innovative electric vehicle designs. Nowadays, acquiring knowledge about how to create something innovative isn't hard. You can find plenty and more on Google and YouTube. All you need to do is give the students a platform for innovation and to let their imagination run free. This is something that the high school Palos Verdes did.
The electric car by students of Palos Verdes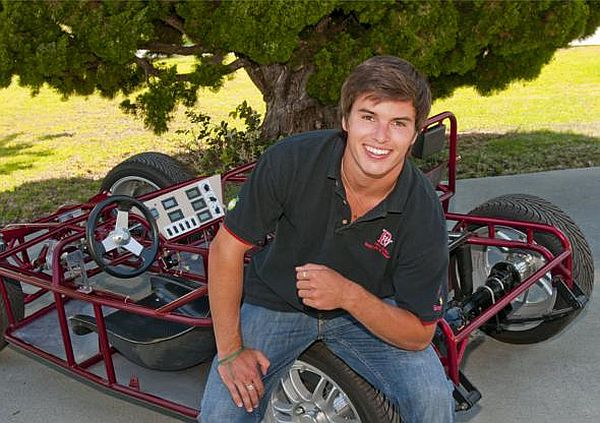 Given the right training and supportive atmosphere to freely experiment with one's thought, even the most unexpected candidate can draw wonders. This is not a blank statement and has been proven to be absolutely true by students of Palos Verdes. In fact, they have dared to put out a head-on challenge to counterparts from bigger and more known organizations regarding their technical excellence in the arena of robotics and engineering.
Palos Verdes – A place for innovation
Palos Verdes is a high school that encourages its students to utilize their imagination to build creations in a single metal shop which the school prefers to call its own private engineering laboratory. The school encourages its graduates to turn their dreams into reality and build their own vehicles and robots with very successful results. The fact that the PV Warriors were the only team from a high school to have qualified for the finals of DARPA's Grand Challenge in California in 2004 gives strong support to the success achieved by Palos Verdes.
The challenge was the first long distance one for automated cars and was supposed to exhibit a glimpse of the robotic brilliance possessed by the different competitors. The award? One million dollars to whoever could finish the race of 150 miles within ten hours the fastest.
The event in 2004 is just one of the many instances of lustrous achievements. Similar stories of glory have been achieved since 1987 when the school's students completed their first project of building robots with health kits and large floppy discs. The achievements have been consistent with the latest one registering itself as the hybrid electric urban vehicle. The team is led by a graduate, Daniel Doke.
The design
The initial plan was to integrate environment sensitivity into engineering by involving the use of solar energy. Due to poor power supply, however, the idea was dropped and the environment concept led to a totally different project being pursued. While Doke had estimated the project to last for 120 hours, it is now well over 1,200 hours and is still in process. The vehicle design is supple and includes a storage compartment, a data acquisition system, regenerative braking and appropriate instrumentation.
The car is supposed to make its public appearance on 18th September at the 19th annual Palos Verdes Concours d'Elegance. With so many feathers to their cap, the school's students will no doubt give their competitors something to sweat over.
Via: Easy Reader
Some DIY electric vehicles you could try for a green ride
While there are many vehicles on the market that are clean and trendy at the same time, there are some designers who're trying to replicate the same technology in their garages. Here is a list of 12 such DIY electric vehicles that have been made by those who believe that building an EV isn't that difficult:
1. Electric vehicle powered by solar and wind energy

Built by Iowa-based Joseph Rush, this weird looking electric vehicle is powered by solar and wind energy. The car carries solar panels that generate a total of 78W in sunlight and a wind turbine mounted on its front that generates 400W by converting 28mph winds into electricity. Joseph is also planning to add another wind turbine for a total of 800W of green electricity.
2. DIY electric sail car

Constructed by Kraig Schultz of Schultz Engineering, this vehicle is designed to run on the energy of wind, an electric motor and of course human power. The car is powered by a small electric motor which will work in case there is no wind, and when you're too tired to work yourself.
3. XR3


XR3 by Robert Q. Riley Enterprises is a plug-in hybrid that gets 225mpg. The car has a 100-mile range and can use different drive trains to make it either all electric or a diesel-based hybrid vehicle.
4. Zero-emission EV powered by 12V batteries

After spending most of what he earned on taxis, a 64-year-old Palestinian inventor who faces mobility problems has built a homemade electric car, which saves him from the trouble of walking on crutches and saves him money as well. The homemade electric car carries a punch of 20hp and can reach a top speed of around 78mph. The inventor hopes his invention will be adopted by the Palestinian government to help other people with mobility problems.
5. Balanced Over Batteries Car

Built by Robert Lange, a retired auto mechanic from California, the Balanced Over Batteries or simply B.O.B is an all-electric DIY vehicle that was created for just $500. The car was designed following the example of skateboard trucks, which adjust the angle of the wheels according to the tilting movement produced. The vehicle has two speeds, which can be switched by altering the voltage reaching the motors from 36 to 72 volts. The use of reclaimed materials pulled down the cost of the vehicle considerably.
6. Xe Điện


The Xe Điện by designer Minh Duong is a DIY NEV that has a range of about 20 miles. The car is powered by a 7.1KWh battery pack that propels its rear wheel. With two wheels in the front under a fiberglass fairing, and a single, motorcycle style driving rear wheel, the car is just right for daily trips to the supermarket. The rear wheel is powered by a high performance AC induction motor through a motorcycle chain. The 35hp power from the electric motor can make the car accelerate from 0 t60mph in just 10 seconds.
7. Micro Electric Urban Vehicle


Created by students at the Electric and Computer Engineering Department at Bradley University, the Micro Electric Urban Vehicle, or MEUV, can reach a top speed of about 65mph due to its lightweight construction. The car has regenerative braking capabilities to recharge the on-board batteries utilizing the energy generated during braking. The test platform developed by the team has a maximum speed of 30mph and can operate for multi-hour test runs.
8. ManGo

The ManGo was created by first-year students at the University of Sydney. The vehicle doesn't have any axle, differential or gear box, which reduced the overall weight of the car. The inventors claim that the vehicle is so light that two people can pick it up. The 155cm wide car gets powered by a 48V lithium-ion battery pack. Equipped with a 240V adaptor, the car can easily be plugged into a wall socket to charge its batteries.
9. Ecotrike

After spending 12 years in research, Dr. Andy Schoenberg, former University of Utah engineering professor, came up with the Ecotrike. This zero-emission vehicle runs on electric motors of less than 5hp. The vehicle is equipped with photovoltaic panels on the roof, which enable the batteries to be charged on the move. The vehicle's lightweight construction allows it to reach a top speed of 30mph for an hour on full charge.
10. Electra Green

The Electra Green by Omaha-based DIYer Tony Parker is a zero-emission motorcycle that has been made from junk. The bike gets powered by a 2.5KW 48V motor. What's more? The bike gets charged from a self-designed solar and wind harnessing station.
11. Electric Honda Motorcycle

Created by Santa Cruz-based Geoff Bjorgan, this DIY electric motorcycle is based on a 1986 Honda motorcycle. The 120lb electric, pedal-assisted bike with steampunk credentials can cruise silently at a top speed of 21mph.
12. Hammerhead Eagle i-Thrust

The Hammerhead Eagle i-Thrust is the brainchild of designers at Top Gear. The weird-looking vehicle can reach a 50mph in 16.6 seconds but cannot hit 60mph. The vehicle was tested by AutoCar and during tests the vehicle's onboard batteries depleted pretty soon.