The idea behind the design of the Ozone restaurant was to try and create a space that is appealing to those who love a bit of bowling and other recreational sports along with a good dining space right next to it. This obviously is great catch that allows the owners of the restaurant to get in some good business in more ways than one. But they have done so by not just creating a restaurant that has a theme of bowling to it, but have done that in the best sustainable way possible.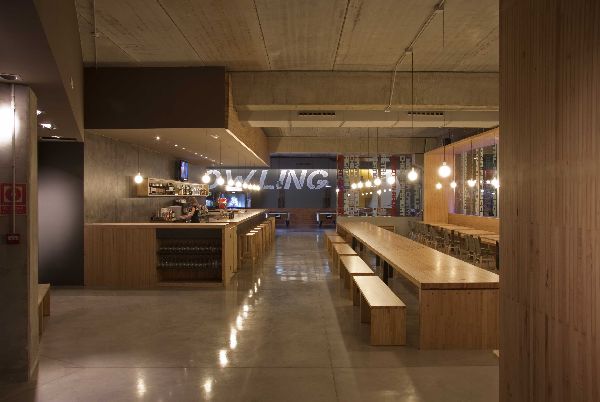 The designers of the place have placed a premium on reducing the wastage of raw material and also on reusing and recycling. Most of the building materials used for the structure are all locally available and the wood that has been used to give the restaurant a 'bowling' atmosphere is recycled hardwood from used bowling lanes. The entire interiors seem to clad in wood and all of its recycled and this ensures that the discarded hardwood finds a new home, while no new wood needs to be sued for the venture.
Even the chairs used in the restaurant are completely recyclable and they come with a recycled plastic casing. Lamps without shades have been used largely to do away with excesses and the entire theme of the restaurant seems to be 'to keep it simple'. That is a wonderful ideology both from an ecological and economic standpoint as it saves up both on energy and on resources, while still offering the best possible results.
Via: Oscarvidal