In the age of the iPod and the portable music players, Vinyl records seem more than outdated. In fact, we have got to a point where some of the earliest Walkmans from Sony have now become collectibles. But, if you love the memories of those glorious 60's and 70's and wish to bring them back to life in a stylish new way, then you will surely appreciate the handmade wine rack designed by Karen Dengler.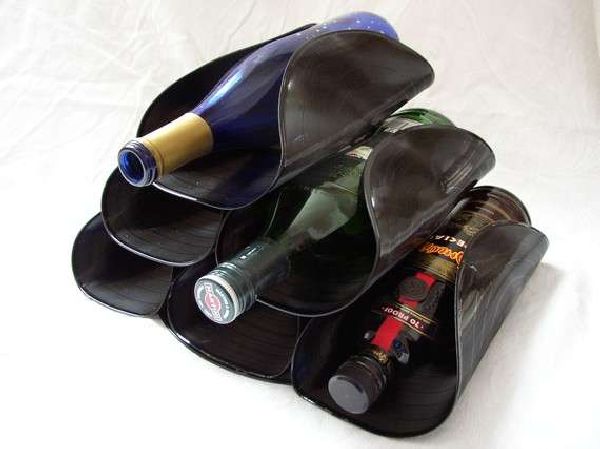 The earth has limited resources and the best way to save them is to make the most of what we have. This is what Karen Dengler exactly did, she rescued all the old records that were being thrown as waste and saved them from going to the landfills, adding to the already prevalent waste problem. Later she transformed all these useless and scratched records into a purposeful piece of art.
This wonderful wine rack has been made using seven vinyl record albums that have all been distorted and then attached together with glue. This stylish rack can hold six bottles of wine and is perfect to display a hold of your best collection. This rack can be put to use in a variety of other ways, it can either be used as a trendy magazine or a towel rack. It can also be hung on the wall of your living room as a decorative piece of art.
Artists have often used recycled old records to make simple record bowls, clocks and even coasters. Karen Dengler also initially started with making purses, pen stands and coasters using some useless and old warped records, but by creating this wine rack, which is no doubt a creatively recycled item, she come out with something different and classy.
Via: Trendhunter