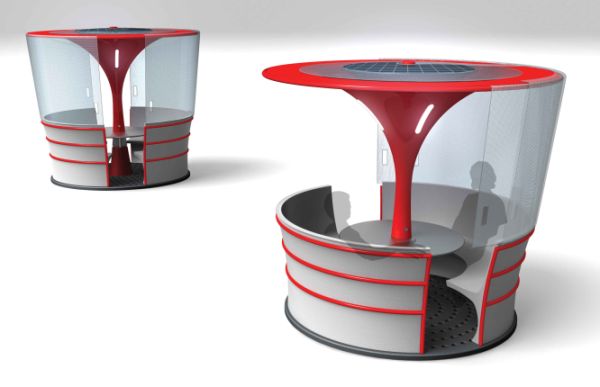 A circular cubicle for outdoor seating is a wonderful idea. One can have privacy inside and also guard themselves from weather conditions outdoors. This innovative creation is the brainchild of Roxanna Gressel, an industrial designer, and has been dubbed as the Oasis. The attractive looking red and white fiberglass cubicle has rotating screens and a canopy on top. The comfy seating area is inviting and the screen provides privacy without isolating those sitting inside. Also, you can enjoy the magnificent view of the surroundings while seated inside through the ultra wide and crystal clear screens.
The seats are affixed along the walls of the circular cubicle which has a disc shaped table right in the center. There is an umbrella like disc fitted on the top that provides shade. The base of the canopy passes right through the middle of the table and buttons for controlling the lights or heating are embedded on it. Rotating screens have been fitted between the seating area and the canopy. Natural elements are an inspiration behind this ergonomic design.
The idea of rotating screens is quite thoughtful. When the winds get gusty, shut yourself inside to shield form the blustery weather. Keep the screen open to enjoy a pleasant breeze on calmer days. They have a heat sealed PVC coating. Apart from providing shelter, oasis also has light and heating provisions. Thus people can take refuge in all seasons.
During the chilly winters, one can turn on the heating inside the cubicle. The 800 watt heater has been fixed right under the bench. This is really great news as people now have an option of going out in the open during wintry conditions also. They do not have to stay confined to their homes to stay warm.
The cubicle even guards those sitting inside when the rain pours. The disc shaped canopy on the top has a funnel shaped base. The water collected on top of the canopy flows through the base and gushes out on the grounds. Thus, there will not be any water dripping or trickling inside the cubicle. The four solar LED lights have been mounted just under the canopy.
Oasis is an eco friendly bench; recycled rubber has been used to make the base and seating area. It also utilizes renewable energy. The top of the cubicle houses a solar panel. This generates the energy used for lighting up and heating the seating area. The solar panel is designed for efficient function. It has a screen slotted in to prevent leaves from falling inside and a brush to keep it clean.
The charge controller, battery and inverter are mounted inside the base of the canopy. The sun rays gathered by the solar panel are processed by these electronic components to generate heat and light inside the cubicle. This cubicle can be easily set up in public places and recreational areas. Fix it in parks, town squares, beaches, sidewalks, etc.
Via: Coroflot