Yoshiko Wada a renowned textile scholar and artists thinks that we can now associate the word "sustainable" to fashion too! Surprised? Well I know you all must have heard terms like Sustainable development or even sustainable food but fashion! Well yes now we have sustainable fashion too and just like sustainable food we can relate sustainable fashion to health, environment, the community and the like. Just we need to think of ways to save and protect this earth in similar way we can protect the culture and heritage by our fashion
Need of the term
As we all know bio-diversity is a concept that is very important for the earth and without it the earth would become an unhealthy place to live in. Similarly Cultural Diversity is equally important for the living beings to survive and for the society to be a healthy one. So unless we are proud of who we are where we are from we will not have a harmonious society. So it's time to incorporate this tradition, this culture, this pride in clothes and textiles we use.
Wada herself created this belief from her lifetime experience of art and traditional textiles she created using her "tripod" of cultures that are the Japanese, Indian and American culture.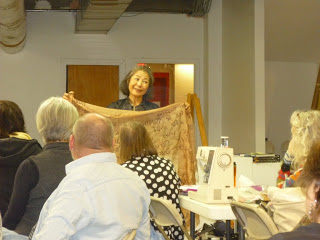 About Wada
She was born during the time of Second World War in Kobe and according to her she had always considered herself an artist because of the immense support provided to her by her paternal grandmother like she was given opportunities   to work in private studios with artists taking lessons and so from her very childhood she wanted to be an artist.
Both her Grandmothers have been an immense source of inspirations for her. Her paternal grandmother opened a western style dressmaking school probably the first of its kind to be opened by a woman in the country. Her grandmother had herself learned dressmaking and millinery in Paris and so had always encouraged her grand-daughters talents.
Her maternal family were Kimono makers so she got the traditional touch in her from the maternal grandmother. So she was surrounded in an atmosphere of both art and tradition and she learned different types of dress making methods, types of arts, Kimono making methods.
Later she moved to America and got trained there and so the best part of Wada's education is that she got the best of both worlds. A perfect blend of Sense and Tradition is found in her art forms and creations which are so free and creative.
Then after gathering knowledge of these two countries she turned to India for further knowledge of cultures and garments. Then she gathered all her required knowledge about the rich Indian culture, heritage and different religions. Japanese culture is influenced by both India and China to a large extent and she thinks that going to India for learning gave a perfect balance to her knowledge and ideas. This was just the thing she needed to create a perfect tripod. She claims to have strengthened as a person and become a better person during her trip to India.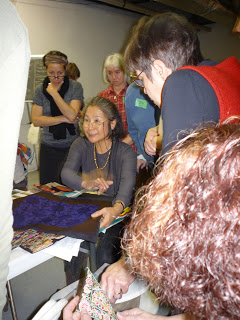 Workshops and art forms
Later she opened quite a few workshops to show her expertise and portray her knowledge of Textiles and arts. She is now really passionate about her Natural Dye workshop projects where she teamed up with one of the world's best French Chemist and Botanist Michel Garcia. She produced three films to record the traditional techniques.
Wada is really optimist about the future and is hoping that the world will slowly change and we will have a revolution in the food and clothing having a perfect sense of style, tradition and creativity.