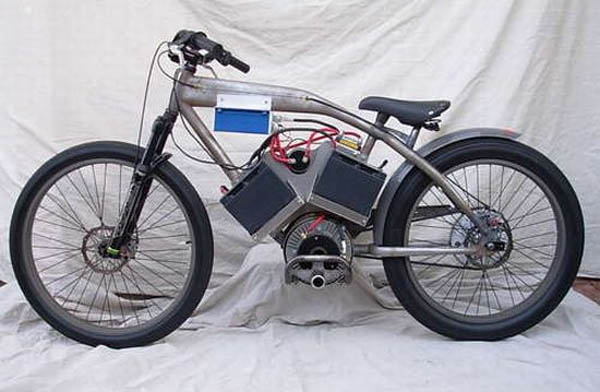 Automobiles, although initially introduced for the basic purpose of transporting people from one place to another, have evolved over the years, becoming instrumental for making a style statement rather than simply remaining transport machines. Now, speaking about motorcycles; they have a tendency to attract a lot of attention even in a crowded street. Bikes are cool and stylish and almost everyone likes to picture themselves riding a really neat-looking bike along a stretch of asphalt. The only drawback with motorcycles is that the components used for their construction are generally not eco-friendly. However, with people becoming more aware about the benefits of recycling, a lot of innovations are being introduced ,which hopefully, will contribute towards pollution control. Check out seven DIY motorcycles that have been converted to run on electric engines.
Beach Cruiser Bicycle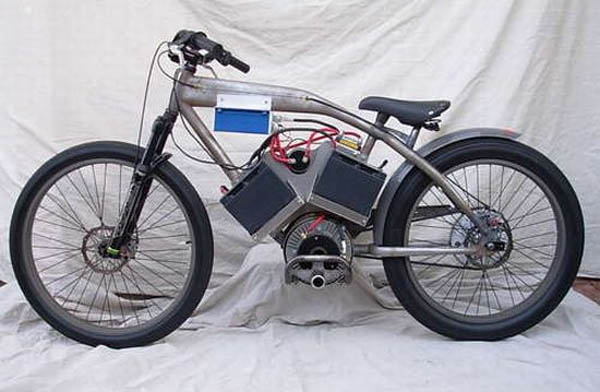 The Beach Cruiser Bicycle is an innovative creation designed and built by a father and son duo. The bike has been integrated with a zero emission engine. All that was required to build this eco-friendly motorcycle was a simple fat tire beach cruiser bicycle and a 48 volt electric motor that runs on 15hp . The bicycle runs on a Briggs and Stratton Etek motor that will allow a comfortable ride of 25 to 30 mph for several hours. The best thing about the Beach Cruiser Bicycle is that it is a complete package that offers style and transportation, the eco friendly way.
Electric motorcycle for TTXGP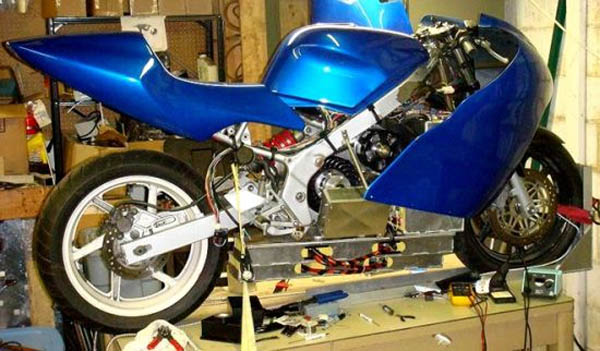 Next up on the list is a motorcycle that one can confidently label as a 'mean machine.' This is the electric motorcycle for TTXGP, which has been built by John Wild and Sean Ewing in a matter of only a few weeks. John Wild is a vintage motorcycle racer and a fabricator, while Sean Ewing is an electrical engineer, entrepreneur and a student at Ohio State University. What's beautiful about this modification is that, a sports bike was actually made to run on an electric engine without having to compromise too much on power and speed. An electric engine was fitted by the duo to a 1996 Honda CBR F3 to give it a top speed of around 100mph.
The modification or conversion involves a conventional 1996 Honda CBR F3 engine, which is replaced with a three-phase AC motor and a 8KWh lithium-iron phosphate battery. The eco-friendly sports bike is expected to run at least 80 miles.
Suzuki GT 750 Electric Motorcycle Conversion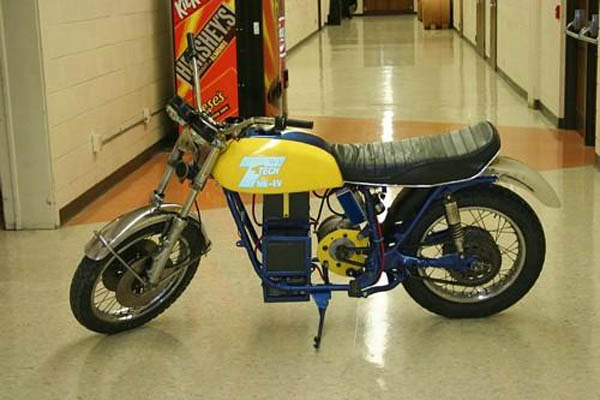 The Suzuki GT 750 bike was cleverly turned into an electric version by Kris Williams, Todd Sanderson, Justin Cole and Chad Dickman of West Virginia University Institute of Technology. Running on an electric motor kit by Briggs and Stratton E-Tek R , which consists of a 48 volt electric motor, this modified version of the Suzuki GT 750 looks great and also delivers enough power. It may not be as powerful as the original bike, but its new 8hp electric motor and 160 in-lb torque is sufficient to give you enough speed for riding along the city without having to worry about emissions. This a creative idea implemented by the quartet and best of all, it looks good and is eco-friendly.
Voltzilla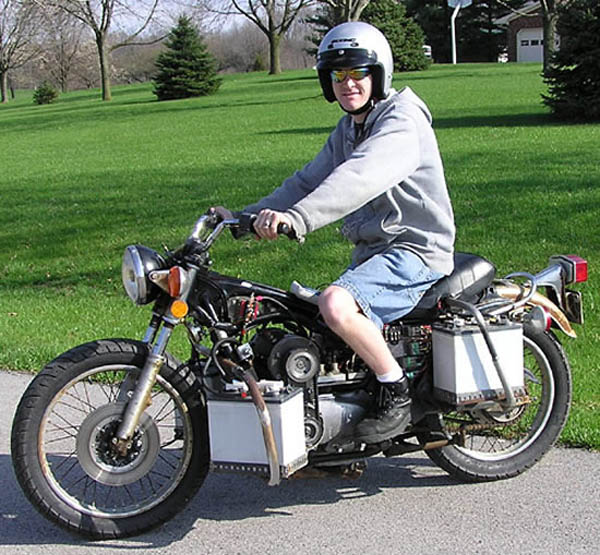 Russ Gries is an environmentalist who has created a low-cost electric motorcycle called 'Voltzilla.' Gries used a battery powered forklift to bring life to a 1976 Honda CB550 that was more or less good for nothing. Although the 740lbs eco-friendly machine can touch a top speed of 35 mph, Gries wanted it to reach a top speed of at least 60-65 mph with the addition of a drive pulley swap. It took him only 120 hours before he could take the Voltzilla out for a successful test run. The creator, however, is not entirely satisfied with the bike and plans to make further changes by adding a speedometer, front brake, DC/DC converter to run the bike's 12v system from the 24v pack and give it a proper paint job. The project has been really light on his budget, costing Gries a total of only around $15.61.
The GomiCycle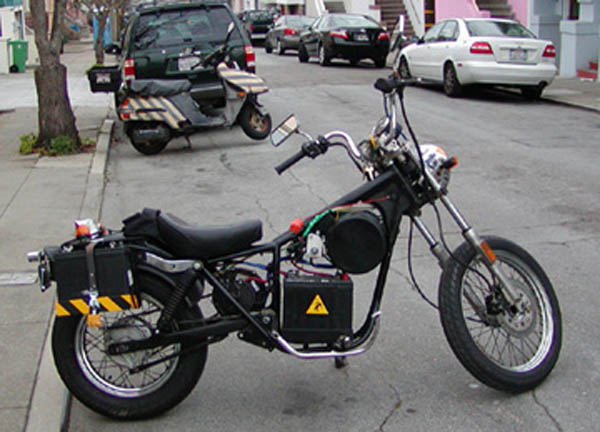 Now this is for the cruiser fans. The Gomicycle is a sweet-looking cruise bike made from what was originally the Honda Rebel. Specially designed and built to help contribute to the environment, this zero emission bike was completed in just around a week with the removal and addition of several components. The crew that built the Gomicycle had to purchase a golf cart controller, new Perm132 motor, charger and throttle from Electric Motorsport. Batteries were used from an Autonomous Telepresence robot. The rest of the parts were collected as scrap or junk, making the final production cost inexpensive.
1986 Honda motorcycle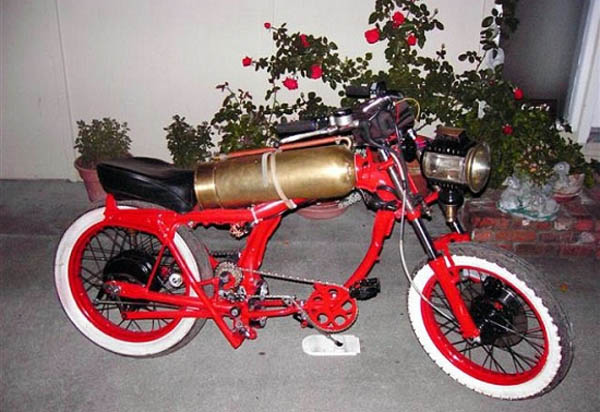 This is one of the most ingenious designs covered by this list. A 1986 Honda motorcycle has been modded by Geoff Bjorgan to run on an electric engine with zero emission. The 120lbs electric motorcycle has a steampunk look and is also acts as a pedal-assist bike. For this creation, Bjorgan has used a ten-speed transmission, electric motors that wind up to 36,000rpm and an oil lamp which is used for the headlight. The bike has a top speed of 21mph.
1975 Yamaha RD250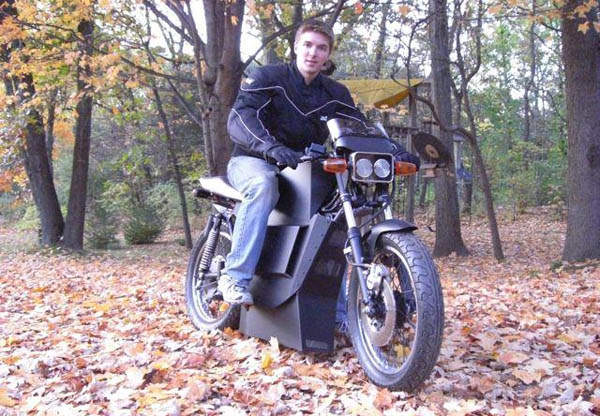 With the looks of a racing bike, this 1975 Yamaha RD250 is one of the most technologically advanced among the seven. The creator, Tony Helmholt has turned it into an electric motorcycle using a 36V Etek motor, a 6-speed gearbox, three 12 volt lead acid batteries and 200 LED headlights. The modified RD250 is capable of touching a top speed of 91 mph and a 24 mile range. Besides, the controllable speed programmer can be updated by connecting a laptop to the electronics in the bike.