Every year at the Geneva Motor show different designs and concepts of automobiles are unveiled by various automakers around the world. This year Morgan, a British motor car manufacturer, officially revealed the Plus E concept roadster.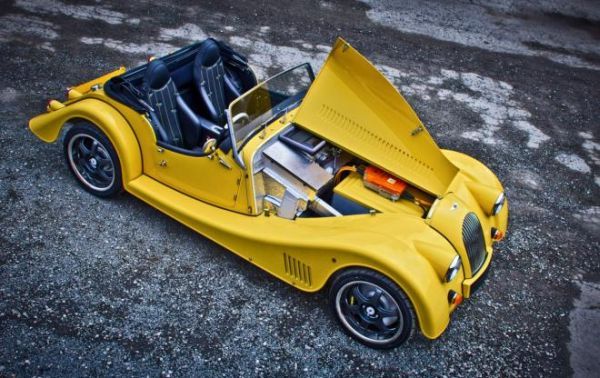 The design is based on the Plus 8, a car which also made its debut at Geneva Motor Show, but instead of a 4.8 liter V8 engine Plus E is powered by a Zytek electric motor and features a lithium ion battery that makes the roadster capable to travel up to 193km (120 miles) on a single charge. The electric motor is connected to five-speed manual transmission and generates 160bhp (120kW/ 162 PS) and 380Nm (280 lb/ft) of torque allowing it to accelerate from 0 to 100kph within 6 seconds. The weight of the roadster is 1,250kg and it has an incredible top speed of 115mph.
According to Steve Morris, Operations Director of Morgan, the Plus E concept has been built to find how much fun one can have in driving an electric sports car. The traditional look of Morgan has been combined with high technology construction and a powertrain, which delivers significant torque immediately at any speed. A manual gearbox has also been provided to increase the involvement of driver and the touring range. In total, an extraordinary car has been designed for driving.
Via: Worldcarfans