Construction has an immense impact on the environment. Not only are making irreversible changes in the environment by extracting construction materials out of it, in addition, we are also displacing a great deal of flora and fauna to make way for our houses. Although there are animals like rock pigeons and rats have adjusted perfectly to the human concrete jungle, not every species can do the same. The disappearance of birds like sparrows bears a testament to the fact. As of now, to counteract this change we need to think green. We should follow the latest trends in sustainable architecture so that our buildings aren't just contemporary but environmentally friendly as well.
Five modern trends in sustainable architecture
With rapid advancements in the field of eco-friendly construction materials, there is a huge demand for making buildings and construction techniques more greener and sustainable and less harmful to Earth. The world has grasped this idea very well. In fact, the need for new techniques and materials which can be easily recycled are taken into consideration. Here's showcasing 5 trends in green and sustainable architecture which is a focus of attention amongst Eco-designers.
1. Vertical Farming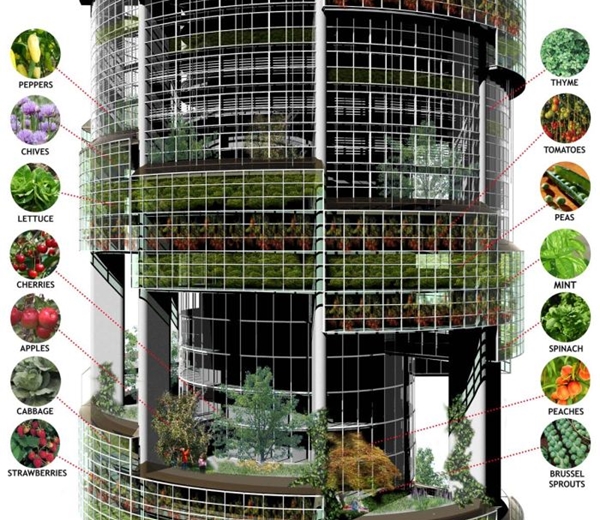 With an expected increase in population to 9.1 billion people within the year 2050, feeding all the people around the globe is a cause for major concern. Food production needs to increase by 70%. This would mean having higher crop yields and expansion of the area cultivated. However, land available for cultivation is not evenly distributed, while others are suitable for cultivating only a few crops. Thus architects have been designing buildings where one can grow crops on all the edges surrounding the building. This gives more area for cultivation and helps solve the expansion crisis. In addition, the vertical farms can be integrated with residential buildings too, with farms being set up on the external periphery of the buildings. Furthermore, this also provides a clean environment for the residents to live in.
2. Straw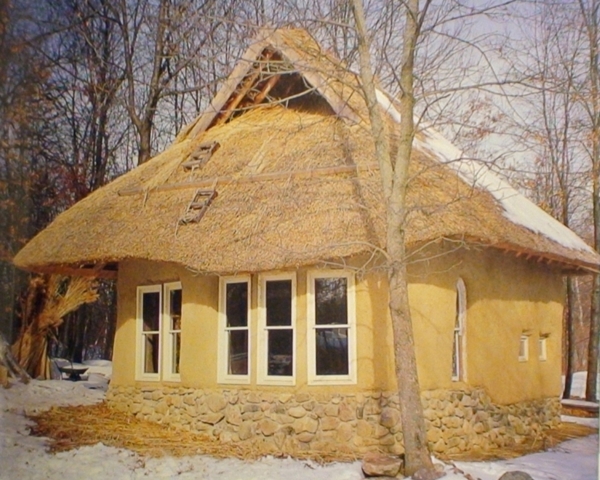 Straw is a sustainable material which can be used as a building material. Many designers and builders today are making use of this natural material to make phenomenal designs which are Eco-friendly. These buildings can be made from prefabricated panels using straw. In addition, these panels can be assembled from locally sourced star which can be fit into the panel frame made from timber. In fact, this production style helps save money and energy and decrease build times and carbon emissions.
Electricity can be generated by photovoltaic and solar thermal panels and the extra electricity can be sold to the electricity grid. Moreover, the homes made by straw would be considerably cheaper, as straw is a product which is available in vast quantity. This low cost makes it more popular to the general masses.
3. Phase change materials (PCMs)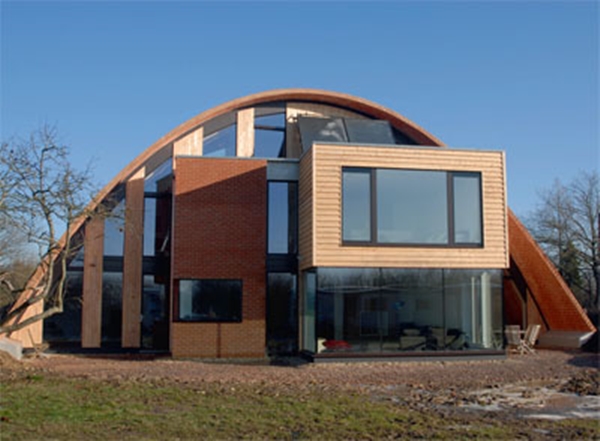 Phase change materials are used to store both cooling and heating energy. These new age materials can be embedded in the ceiling and the wall tiles from where they absorb heat to keep the space cool and reduces the need for air conditioning. These Phase change material tiles have micro capsules made of a special wax which is developed to contain heat during the day. Some companies selling phase change materials claim that using the material reduces temperature of your indoor surrounding by almost 7ºC, hence reducing air conditioning costs.
4. Bees and biodiversity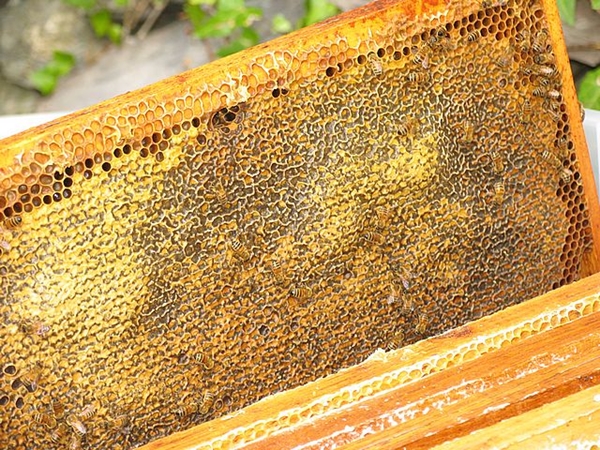 Bees are an integral part of our biodiversity. A small garden or a rooftop is all that is required to keep bees. They help in making delicious honey from plants and flowers in your gardens, parks and the tree lined roads. It is important to make an environment in cities that safeguards wildlife and also helps in further diversity. By incorporating biodiversity into architecture, we can make a cleaner and greener world. Hence keeping bees and making bee hives are an important step that needs to be taken to ensure a cleaner, greener environment. Therefore, in London, vast number of bee hives have been created on the roof tops of buildings, attracting many bees.
5. Sustainable materials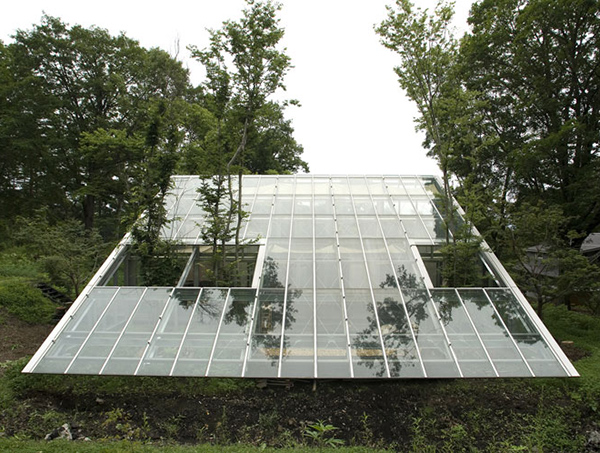 Apart from the many products used in construction made from recycled materials, many researchers are looking at the construction industry for other sustainable materials from other sectors which are rarely used in design and construction.
Thousands of samples have been taken from countries all over the world. These selected materials provide an Eco-friendly alternative to other resource-hungry materials which generally have many by-products which are harmful to the environment. Also, these samples are being studied and their properties are made good use of. So it is essential that we find sustainable materials which can be easily recycled and are durable and appropriate for construction.
Some contemporary examples of sustainable architecture
1. Bahrain world trade center with wind turbine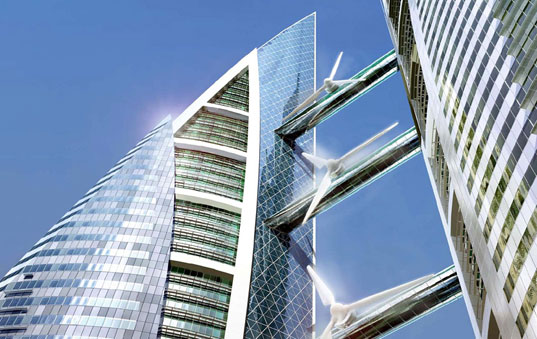 240 m LEAF award winner for Best Use of Technology, the Bahrain World Trade Center opened in 2008 is a best example for inspiring sustainable architecture. This twin tower building is one of the best Eco friendly building in the world. The building has 3 wind turbines which have a overall capacity of 680 KW. The wind turbines fixed in between two towers will produce 1.2 GWh power every year, which is 11percent to 16percent of twin towers overall consumption. Furthermore, turbines are placed towards Persian gulf, as the wind flow is more. In fact, it has received lot of awards for sustainability and innovation.
2. Solar-powered Kurilpa Bridge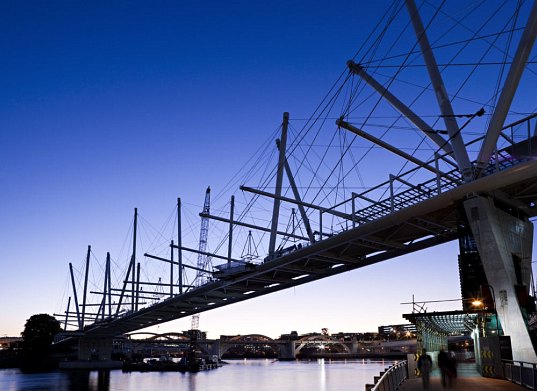 Most used architecture other than buildings is roads and bridges, so designing a sustainable transportation system is must. Completely Solar-powered Kurilpa Bridge located in Brisbane opened in 2009 is the largest solar powered transportation bridge in the world. It uses LED lights for lighting, which is powered by sunlight. Moreover, as LED light consumes very less power, it is used for various festivals and occasions along the river.
Totally 86 solar panels are placed to generate the electricity. It generates 39 MWh every year which satisfies about 90% of the energy needs of the bridge. Furthermore, it cuts-down 38 tonnes of carbon emission every year. Following this bridge, many countries are eyeing to built a sustainable bridge.
3. First light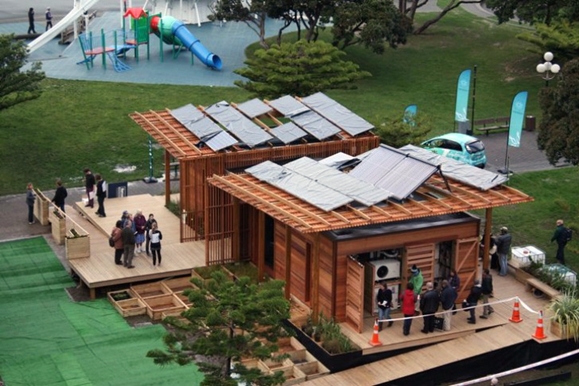 This first light home was presented by Victoria University of Wellington in 2011 decathlon in USA. This home has secured the 3rd place in the competition. It is a complete traditional design made up of woods and recyclable materials. Best feature of this home is energy monitoring system. Furthermore, this system displays the data of maximum energy used, maximum energy produced, usage of water and weather. For insulation purpose, it uses wool. In fact, this pleasing design offers more comfort and space and it is a ideal home for a family of 4. This is one of the best examples of a sustainable home.
4. Adrere Amellal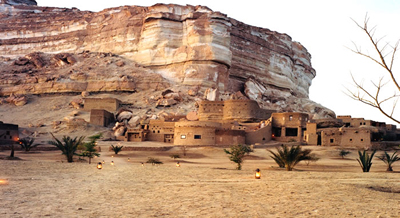 Adrere Amellal located in the middle of the desert at the foot of the White Mountain in Egypt is one of the best green resort which responsibly saves tons of carbon emission. It consists of thirty nine rooms over a span of eighty acres without power supply. This resort in the desert is one of the sustainable resort in the world. All the walls are hand built using clay with water and stones. Water is obtained from natural spring. Beeswax candles are used for light in all old fashioned rooms. It will offer you a most secluded atmosphere. This sustainable resort uses bio gas for cooking and uses biodegradable food materials with organic ingredients while cooking. Waste food materials are composted. Really, it is a gem of the desert.
5. Devil's Thumb Ranch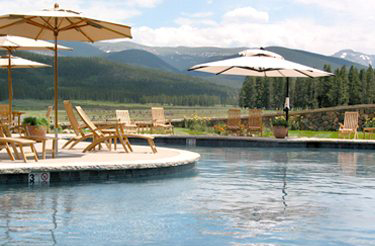 Devil's Thumb Ranch in Colorado is famous for extreme sports and exotic wildlife. It has received the Environmental Protection Agency Award for responsible development and historic preservation. This is a important sustainable resort in the middle of large landscape to preserve the essence of the environment. This eight acre resort in between five thousand acre wildlife is a best place to stay and enjoy. Moreover, Geothermal energy is used for generating electricity and florescent bulbs are used lighting as it consumes for less power. Waste products are recycled using recycling units. It is a best spot to take a rest after enjoying the exotic wildlife.
6. Eco-friendly prefab house.
Via: Treehugger
We all know that prefabs are the easiest and the quickest means to build your dream house. But if architects go crazy as soon as they begin construction then you'll well be putting up in a bizarre house built in a week. Antón García-Abril is taking prefab construction to its limits by developing the Hemeroscopium House in just seven days.
The house is a heap of seven huge structural elements piled on top of each other. It has a cantilevering swimming pool to make you swim in the open sky. The cantilever swimming pool is then counterbalanced by adding a similar structure over its fixed end. Check out the amazing construction video after the break.
The Dark Side:
The house seems cool for all those who are fed up with normal and conventional homes. However, the prefab doesn't seem to protect you for long, especially if you live in a place prone to seismic activity.
7. Sustainable military school for girls in India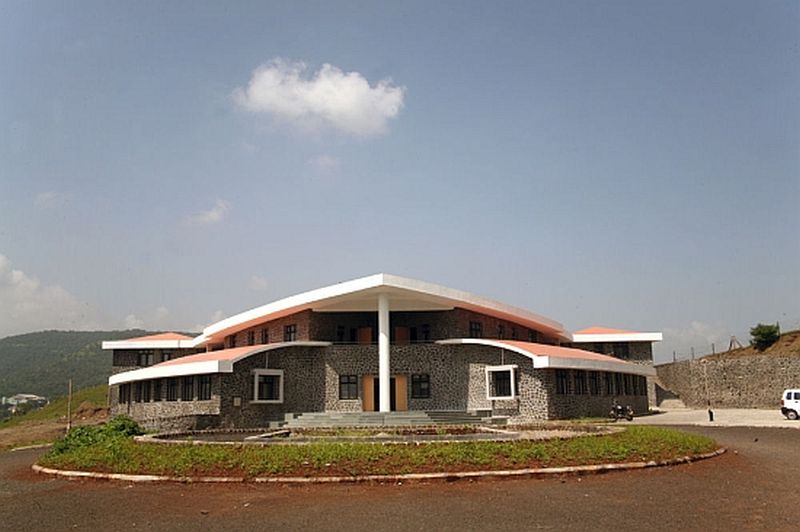 Via: WorldArchitectureNews
Eco Factor: Sustainable school building constructed from natural materials.
Group Phi has just finished constructing the first military school for girls in Pune, Maharashtra. The design will be followed in 10 other districts of the state subsequently. The school is the first military school for girls in India and has been built with sustainability as one of the main criteria. The building will provide ample learning space for 720 students and also space for other activities.
The architects worked carefully on the existing topography and vegetation on the site and maximized the use of natural materials like water and stone. The building comes with a gray water recycling system to reuse waste water. The courtyards are covered with polycarbonate sheets, which protect the corridors from rainfall, and by maximizing daylight they also reduce the amount of energy required to illuminate the interiors. The use of natural materials will lower the school's footprint and also keep the students close to nature.
The Dark Side:
The state of Maharashtra is already battling energy crisis, and it's high time state authorities take notice of the various renewable electricity generation technologies being used worldwide. Building energy-efficient architecture solves just one purpose, and generating electricity on-site is what architects should now focus on.
8. Sustainable building in SoCal with an ever-changing façade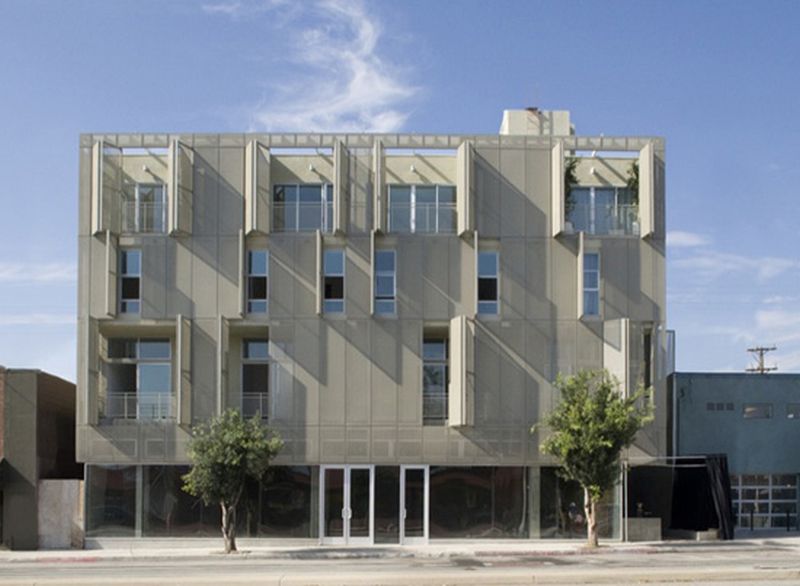 Via: Designboom
Eco Factor: LEED Gold-certified residential building.

The Cherokee Lofts by Pugh + Scarpa Architects is the first LEED Gold-certified mixed-use or market-rate multifamily building in Southern California. The five-story building features 2800-square-feet retail space on the first floor, and it has 12 lofts located on the second, third and fourth floors.
The architects have designed a green roof, and an underground level of parking. The structure's exterior features perforated metal construction, which is designed to function as accordion shutters, which can be opened or closed by the residents to create an ever-changing building front and let in natural light for illumination.
9. Eco Lodge that demonstrates the basics of sustainable design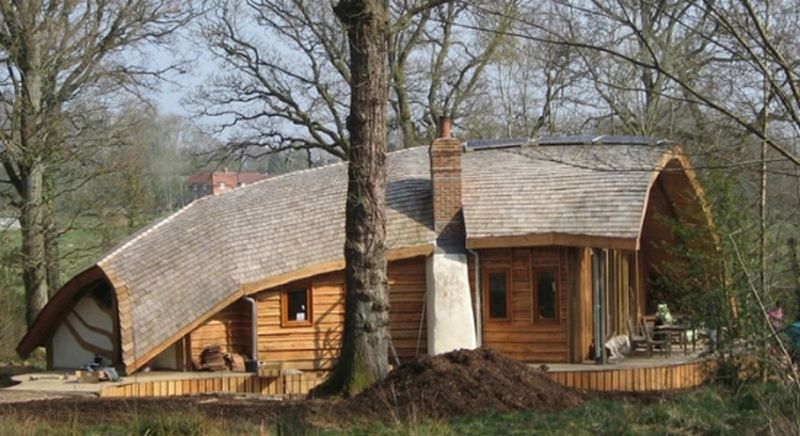 Via: SatelliteArchitects
Eco Factor: Carbon neutral lodge gets powered by renewable energy.
The Eco Lodge by Satellite Architects is a zero-carbon, sustainable and off-grid lodge that meets Code for Sustainable Homes Level 5 standards. The off-grid lodge is designed to take advantage of the sun for natural heat and light and relies on surrounding air for ventilation.
The wooden house includes a solar thermal system, a PV array for power and wood burning stoves with back boilers for water and space heating. Rainwater is harvested from the roof and stored in a 9000-liter tank.
The lodge comprises of self-composting WCs, hemp and cotton insulation, a thermal mass structure that saves heat during the day and releases it after dark. The materials used for construction came from sustainable sources.
Final Words
With so many ecological concerns coming up every year, the need for the hour is to grasp the concept of Eco-friendly and trends in sustainable architecture. The dawn of this green architecture came from the Eco-build in London, Cannes and the Earth Day and it seems to be develop rapidly in the developed countries. Green architecture can change the world.