A teardrop trailer is a tiny camping trailer, which is light and offers campers the chance to enjoy resting on a real mattress protected by a hard sided trailer. Teardrops were common during the 30s all the way to the 50s but, popularity faded as vehicles became bigger and the RV came into the picture. Moby1, a company which specializes in building world class teardrop trailers, has come up with its latest design aimed to bring back the old classic trailers with a modern twist, with functions and creativity to impress just about anyone.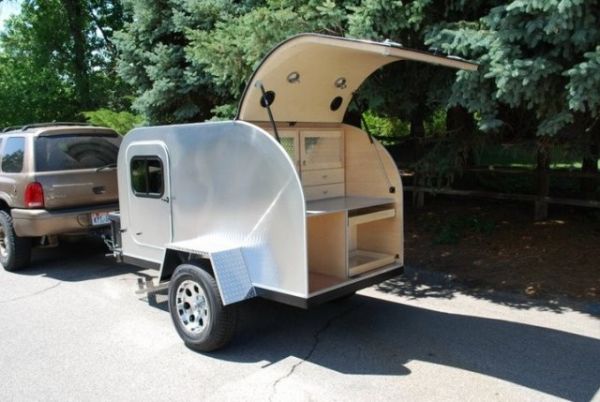 Moby1 has created many different models, but the star of the show is the XTR, which is an expedition capable trailer for different terrains. The XTR is handcrafted and many of its components which aren't available are hand-picked and built in-house. With the capability to tackle any type of terrain and a wide range of options, the XTR is a fully functional self-contained unit. Some of the options available include a hot water heater, outdoor shower, sink with running cold and hot water, cabin heater, cabin air conditioning, solar panels, a portable toilet, generator and a roof top tent with a capacity of up to 4. All features are designed to give users maximum comfort when camping in the outdoors.
The XTR's frame has heavy duty reinforcements for durability and protection. It can absorb abuses of many miles of bumps, drops and off road adventures since it's fitted with a 4 to 5 inch coil on independent A-arms with Rancho 9000 XL adjustable shocks, 10 inch electric brakes, standard 48 inch width and 31 inch all terrain tires, dual action park brake, LED trailer lights in order to meet federal requirements, and paired with a multi axis style coupler.
The XTR price range starts at $15,500. Every serious camper or adventurer should get themselves one of these old school-cum modern accessory fitted trailers and head off for an exciting and comfortable adventure.
Via: Mobilemag