Determined to wipe out lingering concerns surrounding electric vehicles, Mitsubishi Motor Sales of Canada will launch the mock Electriphobia Research Institute at Green Living Show in Toronto on April 16th. The fake institute is intended to poke fun at the common misconceptions surroundings EVs and also to provide relief to Canadians fearful of using electric cars. This unique tactic to spread electric vehicle awareness called 'electriphobia', is an internet based campaign and is the brainchild of Mitsubishi's agency of record, John St. Advertising.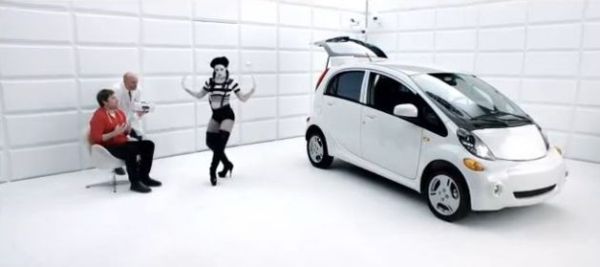 The campaign deals with the misconceptions some people have about EVs that range from the common fear of being electrocuted while driving electric cars to tailpipe anxieties. The campaign also features an unenthusiastic test subject and the institute's scientists who prescribe different cures.
Mitsubishi couldn't have timed the campaign better since it coincides with the recent launching of the brand new 2012 i-MiEV hatchback, one of only two genuine electric vehicles that can be acquired in Canada.
Mitsubishi's i-MiEV is gaining a foothold among Canadian patrons and fleet operators. Since mid December, total sales reached 69 units including 14 deliveries made in March 2012. Hydro Quebec, British Colombia Police Department and Saskatchewan's SaskPower are among the first consumers to have purchased the hatchback.
The Mitsubishi i-MiEV is a 4-passenger, five door, subcompact hatchback that can achieve a maximum range of 155 km. It also features a 16kwh lithium ion battery pack and costs between $27,990 to $33,230. The i-MiEV has bagged a few titles under its belt for being the most fuel efficient subcompact vehicle sold in Canada, and the greenest car in the United States by the American Council for an Energy Efficient Economy. It was also nominated for a World Green Car Award.
The I-MiEV is on display at the Mitsubishi booth at the Green Living Show. Being on the forefront of advanced EV technology, the vehicle has earned a name not just in Canada but beyond.
Via: Prnewswire