It seems like more and more architects are leaning toward green technologies and smart designing when it comes to crafting modern homes. Maybe it is the consumer market that is creating this trend or the overall benefits that are attained by turning ones home eco conscious. Irrespective of the motive, the trend seems to be pretty evident and the desire to own an energy saving home is on the rise. Mary Lake Residence by Altius Architecture in Ontario is another one of those homes that relies on smart design along with some help from nature to conserve energy.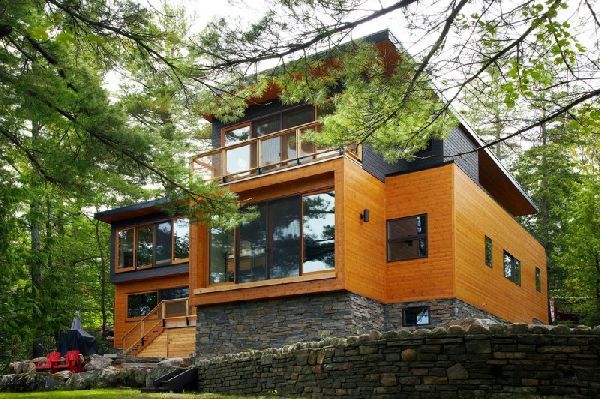 Nestling among beautiful white pines, the home uses techniques such as passive solar heating to reduce the reliance on artificial heating systems. This is achieved by the use of floor to ceiling glass windows that also offer great natural ventilation and orientation of the home, which will tap into solar power in the best possible fashion. Good insulation of the walls and the floor also help a great deal in achieving the required results. Altius has taken great care to use only renewable materials for the construction and for the finishing only non toxic materials.
Add to this list low energy lighting and water conservation techniques such as rainwater harvesting and you have a home that is just a step away from being turned into a zero energy structure. The lake and the garden are obviously the best additions to this real estate and with a green roof you can ensure that the edifice merges into its surroundings with ease. Maybe a solar rooftop addition would help it become completely self reliant.
Via: homedsgn