Living green has become the way of life and applies to every aspect of our daily activities and even our pantry. Pantry is the place where we store all our food products and other linen or things essential for the kitchen. Sometimes, this place can be the cause of where your family health is most at risk. There might be unhealthy food, mixes and ingredients which have long since expired and you might accidentally use them. There might be items with empty calories which may have a direct link to diseases and health conditions. In order to really go green on your pantry and make your kitchen a more ecologically friendly place for food, you need to seriously purge your pantry of those dangerous food products. These changes that you make in your pantry can go a long way in preserving your good health and a huge impact on the carbon footprint.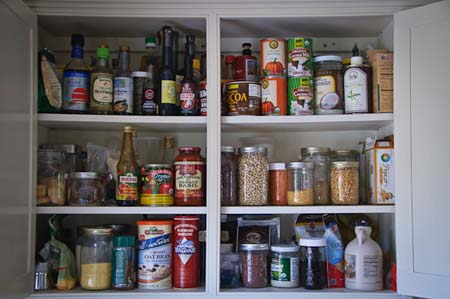 Do not feel guilty about the wastage
You can begin to get more eco friendly by sorting out your pantry first of all. Go through the labels on each food item and check for expiry date and trash those which are long gone. Pick out those items which do not say much about the calorie value or how it has been packaged. All those accumulated products can all go into a trash bag and mind you, the wastage is all for your good. Besides, living with less is far healthier and is an essential green living norm. Keep only those food items which are the regular ones your family eats so that your clutter is minimized. There is no point in hoarding different products which you hardly ever look at. After all the way to green living is to live locally, living and eating simple and buying only the very essential packaged goods.
Organize your pantry with whole foods
Having cleaned out your pantry you can now concentrate on stocking it with wholesome staples for nourishing meals for your family. Buy whole foods for your pantry when you go shopping. This means that you need to buy food which is not processed such as nuts, dried fruit and root vegetables. For those which are minimally processed you can opt for pasta and avoid food which is full of preservatives. Ignore food labels that you can not even pronounce or recognize and which contains a lot of artificial coloring. To go a step further towards having an ecologically friendly pantry, buy products which have little or no packaging. Since the pantry is a place to visit when you want to cook up a tasty meal, it should contain real foods only.
A neat pantry makes for a green pantry
You can stock your food items accordingly into groups which will be easier for you to identify. These items include grains, pasta, flours and miscellaneous baking needs in one section while you can have another section for the nuts, chocolate and seeds. Spices and canned food will make up another section and so forth. People generally keep some kitchen items like the wok and steamers so they need a section as well. Ensure that you keep all those items which you use daily at eye level and cereals and baby food items at the bottom. For the nuts and dried fruit items you can have the top shelf as you will not be constantly using that.
Use non toxic jar containers
It may be cheap and lighter in weight but plastic jars are very toxic and can leach chemicals which can make you sick. Therefore, throw out your plastic containers and use bottle jars for storing even if they are heavier and costlier. These type of containers made of glass, ceramic and stainless steel are non toxic and can easily be moved around from microwaving to storage or the fridge. They are more durable and above all will not leach chemicals causing carbon footprint in your home and health.
Go easy on the canned food items
Just like the plastic containers food items in canned containers will not be safe as can leach chemicals into the food. You can have a greener pantry by cutting down or completely eliminating such items off your list. If you are not able to can your own food then you can keep some canned items but for emergency purpose only. However, throw them out once they have been left for too long on the shelf without being used.
Your own green cleaning products
You can help to save more space in the pantry by stocking up on cleaning agents, such as vinegar, baking soda, lemon juice and alcohol which are all relatively safe for cooking as well. You can also make your own natural cleaning products for cleaning your home whenever you need to. These cleaning products can all be made out of these items from your pantry. It will not only save you more money from those harsh chemical cleaners but is very eco friendly for your family.
By purging your pantry from all those toxic stuff, you will be living a healthier life and will contribute hugely towards a greener living.