Spending the night under the stars in the midst of nature can be just what you need to get away from the stress of city life. Camping is one of those things that can immediately put you at ease and refresh you like nothing else can. But, ardent campers will no doubt admit that stumbling about in the dark can be a tad risky what with roots and rocks poking up through the ground. This is why Pin Lights is such an interesting concept as they seek to provide campers with light using tent stakes.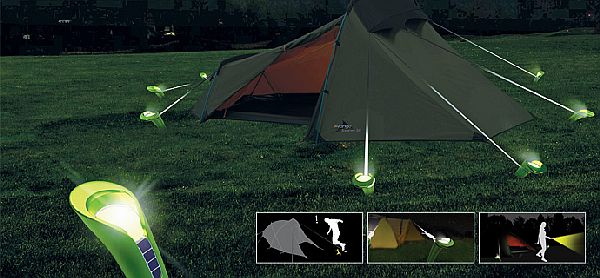 The innovative concept is the creation of a group of designers named Kim Dong Hwan, Kim Jung Su, Yoon Jae Sun and Yoon Ji Soo. It's similar to yard lighting in that the Pin Lights can be staked into the ground. They provide light and keep your tent stable during winds. The designers claim that their concept is sturdier and sharper than yard lights as its purpose isn't just to illuminate surroundings but also to stake tents.
While the TentLED also provides the same function, Pin Lights can identify the stakes and the guy line at the same time. Users needn't be worried that the device will get damaged during hammering either as it has a diagonal surface that protects the light. What's even better is that Pin Light is powered by solar energy and LEDs. It resembles leaves too in keeping with the whole nature concept.
However, it's felt that the Pin Lights could be a tad smaller as they're pretty bulky and would make staking a little problematic. The light emitted is also rather bright and trying to fall asleep amidst the glare could be slightly difficult.
Nevertheless, the concept is unique and is perfect for family campers who have children afraid of the dark. No longer will you trip or stumble while trying to find a place for those early morning calls.
Via: Gizmag