Congestion and overcrowding have made simple tasks like hailing a cab extremely difficult. Places like San Francisco see many commuters struggling to get to their destinations owing to high cost of rentals and low number of taxis. Scoot Networks has decided to come to the aid of commuters by providing a solution through the use of pay as you go electric scooters.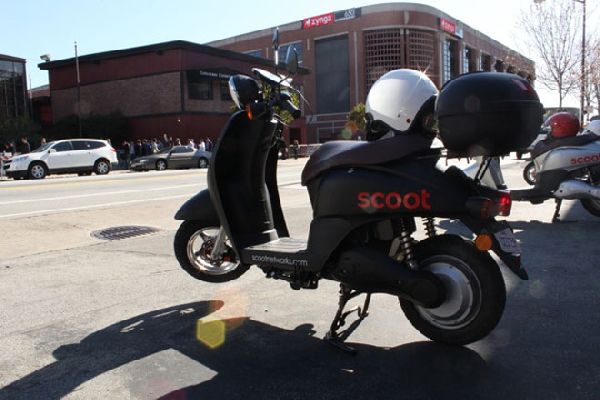 The two wheelers offer citizens a safe, cheap and quick alternative to cabs and rental cars. The fleet of electric scooters number 10 for now and will hopefully increase if the project is a success. It's being funded by Greenstart with the work taken care of by Scoot Networks, founded by Michael Keating.
Like many EVs, the line of e-scooters is best ridden over flat terrain at medium speed though they can clock a top speed of 30 mph. They have a 20 mile range, which is reduced if ridden over slopes and during heavy acceleration. Still, Scoot is of the view that the scooters will have enough power for one round trip. Charging can be done via a standard 110V outlet. The company has one charging station at present and it plans to extend that to many in the near future. Scoot will begin with dedicated Scoot-branded stations and will move on to transit hubs, Muni bus stations and the BART system.
Users will be able to reserve a scooter through an app on their smartphone. Incidentally, the Chinese produced scooters will feature a docking station for smartphones which will indicate speed, GPS and state of charge information. A night of rental will cost about $5 and the company is planning to reduce rates even further.
According to Keating, a subscription model in being developed which will cost about $100 for a month; the same as a bus pass that lasts for a month.
Via: Wired