Innovations in power efficient LED lamps are going a bit bizarre these days. Technologists are developing various ways to light up our rooms and offices with LED lamps. Here is one quite brilliant method that utilizes LEDs to beautify and to conserve energy in an office. A team of researchers at the Fraunhofer Institute for Industrial Engineering (IAO) in Stuttgart, Germany has decorated the entire roof with luminous ceiling, which will look like a sky with better placement of LEDs. Office workers can now recline in their chairs and have a look of the sky and moving clouds over their head.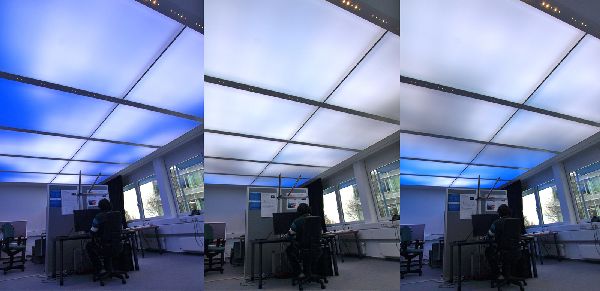 The IAO engineers built up the sky-like office roof in tie up with LEiDs GmbH, a LED technology firm. Along with preserving the energy, the ceiling is known for its natural light conditions. The roof will bring a feeling of a partially cloudy day for workers in the office. The ceiling is hovered with square tiles. Each 50 by 50 cm tile houses around 300 LEDs. A matte white color diffuser film is fixed below the LEDs to provide a homogenous lighting experience. It also helps distribute the light throughout the room, say Dr. Matthias Bues, an IAO researcher, who led the project.
In order to produce full light spectrum, a mixture of blue, red, green and white LEDs is also used. The entire system will replicate dynamic alterations in lighting conditions. The major benefit is that offices can reduce largely on their electricity bills and carbon footprint with the intelligent use of LEDs to produce better light.
Via: CleanTechnica