Laurent Saint- Val has proposed to build a new habitable bridge for Amsterdam. He derived his inspiration from the city itself. You will find everything from a huge mansion, narrow houses to even modern architecture, all within the bounds of a small area that covers the city. Once upon a time, the city had houses made from wood, but after the fires of 1421 and 1452, the use of wood was forbidden. Laurent wants to pay homage to wood and use it as the primary material for the construction of the bridge.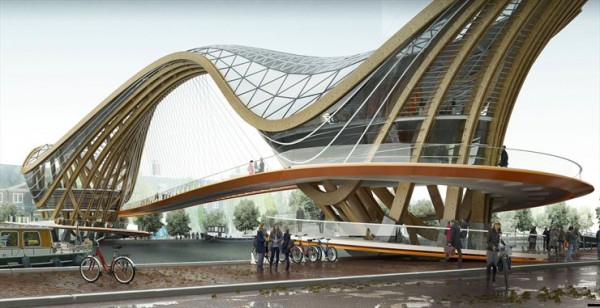 The starting point of the bridge is its connection with wood. Firstly wood is among the best traditional materials that give aesthetic looks to everything made from it and secondly it is a sustainable, flexible and ecological. Steel and aluminum will be used for imparting greater strength and bear the weight of the bridge.
Simple mountings like bolts and rivets are welded to correspond to a simple removal system that will allow all sorts of adaptations and amputations. The use of glass adds some fun to the structure. Laurent feels that glass helps him to play with shapes and therefore he uses all varieties including, toughened, laminated, insulated, etc. The huge windows beautifully blend with the design and let you get a good view of the outside.
The gateway will be easily accessible by all and will create an attractive link between the museum and the neighborhoods to promote cultural exchanges. Close to the museum, there is a bike shop and garden on the first and the top floor respectively. The bike shop has great significance as it promotes green transportation.
The contemporary European character of the bridge makes it extremely welcoming. The excellent design make it blend with all times, the present and the future, giving people a hub for cultural collaboration and exchange.
Via: Evolo