Seems like cork is becoming a popular choice for designers these days as many of them are turning toward its use especially at times when people around are adopting unusual ways to create sustainable décor including lamp shades. Designed by Jonathan Honvoh and Rodrigue Strouwen from the Belgian studio TwoDesigners, this collection of cork based interiors should be particularly appealing to those who love 'green' products that are both simple and elegant. The idea here is to minimize the wastage of materials and also create sturdy furnishings that will serve you well for a long time.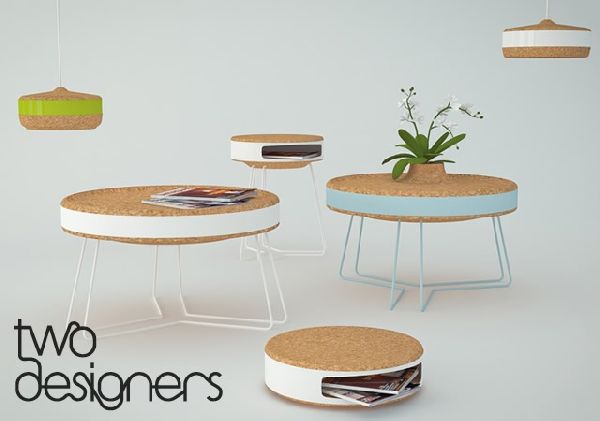 Cork is ideal for such designs as it is strong, fire resistant and is completely bio degradable as it is a natural product obtained from trees. Cork industry is in fact considered planet friendly since it helps reduce carbon content in the atmosphere with the growing of the cork oak trees and extraction of cork itself does not hurt the plant as the bark regenerates with time. Hence not only are the designs on display by TwoDesigners at Salone Satellite in Milan sustainable, but even the cork that goes in creating them.
The designers have simply used metal rings to compress cork and hold it to create their wide array of designs that include pendant light installations, side tables and even cool little container like décor that will help in stashing away your stuff. The pendant lights look really cool and with the elegant use of metal and cork, the team has eliminated any necessity for even screws or glue.
Via: Themag