Despite the advancements in technology, our love for antique and vintage bikes/cars hardly seems to end. Recently, Dave Twomey took out a 100 year old bicycle frame and resigned it to create a custom built motorized bicycle named as Juicer 48. What appears to be a fantastic peace of creativity, Dave has constructed a retro motorized vehicle with an awe-inspiring ease by using just a couple of battery packs and an innovative, yet simple design.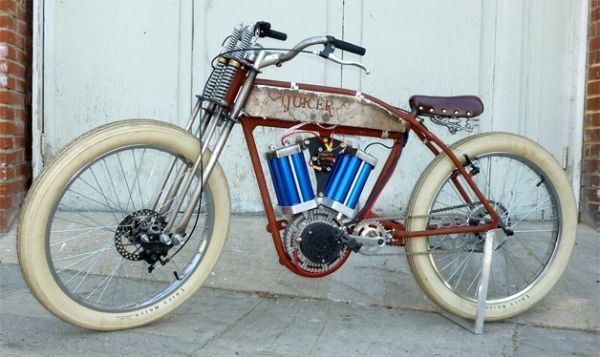 The recycled frame has been created by bending an existing frame to accommodate a couple of lithium iron phosphate battery packs and the motor that would eventually drive the bike. The battery packs sit nicely over the motor making a V engine shaped setup. What's more interesting is the other components he has used in his creation: A set of self fabricated forks, design of which, he says, originated from Brain Juice. Along with the 400 amp controller and battery management system, he has also installed a 113 db horn that might be quite useful while driving at speeds of 45 miles per hour. Dave claims that the bike easily achieves a range of 13 miles when it is driven at a moderate speed of 20 mph.
Interestingly, this is not Dave's first creation. Earlier he did design a bike, called as Juicer 36, that is currently being showcased at Hollywood Electrics and if everything goes well, we might soon see Juicer 48 placed along with the Juicer 36. Dave claims to have, just a few final touches pending before it would be ready to roll. On the whole, this 48 V beauty is what you call an amazing piece of craftsmanship and creativity.
So whats next? Are we going to see a Juicer 60 from Dave? Well, we have got to wait and watch!
Via: Autobloggreen