Joseph Guerra, a designing student, has crafted an incredible flashlight using CNC-cut cork. The design student of the renowned Rhode Island School of Design has made this flashlight as a great eco-friendly art. The torch provides bright light with its LED lamp. The designer has cut away the top of the cuboid form factor for the handle, which also carries the round on/off switch.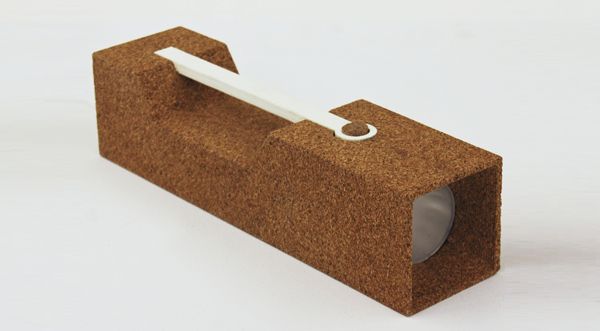 This CNC-cut cork flashlight will help you get out and walk in night. Glowing light from the torch will show you the path ahead. According to Guerra, it is quite easy to produce the flashlight. The materials required for the flashlight are easily accessible and the process is straightforward. Besides the CNC-cut cork, an LED lamp, a set of batteries, a power switch and other materials form the flashlight.
The flashlight from Joseph Guerra disassembles into two halves. Inside the torch, you can see its electronics parts, which include three batteries, LED lamp and a control button. The electronic parts are perfectly fit into CNC-milled cavities of the flashlight. The designer has made use of standard electronic components to develop this torch. The cutting process of the CNC cork has been done using computer-controlled systems. And so, the entire process needs less effort, says the designer.
Joseph Guerra, from Atlanta, GA, has been seeking an outlet for his creative energy with a variety of designs. Joining the Rhode Island School of Design in 2009, he currently works hard to sharpen his creativity in designing. The website of the industrial designer lists many of this flagship creative works such as Fragment Bench, Based Stool, Hex Table, Void Box, Void Cabinet, Intersection Table and much more.
Via: Dezeen