How do you create something unique that makes people sit up and take notice? This can be done by using ordinary products as inspiration to fuel great ideas. Japanese designer, Ryosuke Fukusada has drawn inspiration from ordinary polynets for his net lamp design. The cascading light fixture is not only functional but elegantly crafted as well. A spherical LED bulb is placed in the middle of compressed netting and is guarded at the two ends by metal discs.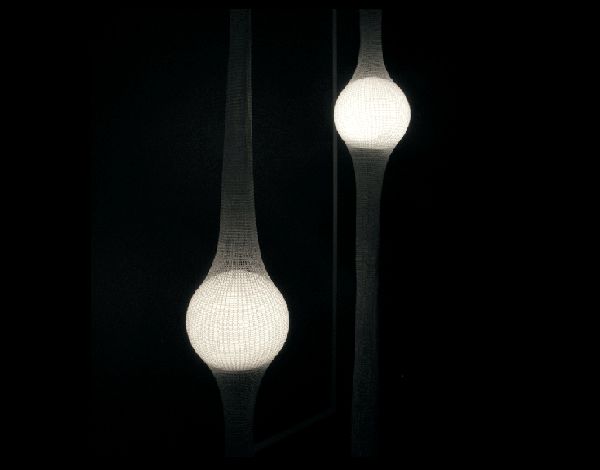 What we like about the idea is that the LED globe can be shifted to any length of the netting according to your preference. This means that you can have one fixture with the LED placed in the middle and another with the globe positioned high up or low. The elastic net could also hold bulbs of various shapes if you so desire.
Fukusada's design made it through to the final round of the International Design Competition and is still under development. The Osaka born designer's style can be termed as minimalistic and elegant. Some of his other works include Rockin' Chair, a wooden light bulb and a plant pot study.
The wooden light bulb is an interesting piece of work that features a wooden bulb attached to a socket. Fukusada used an ordinary LED bulb and wrapped a wooden shell around it after chipping it away to achieve minimal thickness. This was done using the Japanese 'rokuro' method to achieve a smooth and thin finish.
His Rockin' Chair, meanwhile, tries to fuse the old world rocking chair style with a new design to make it appealing to younger people. He used recycled materials to construct the chair, which would be perfectly at home in the backyard or porch.
We're looking forward to see what more Fukusada will have up his sleeve. If his net lamp and wooden bulb are anything to go by, we can expect more stylish and elegant products from this creative designer.
Via: Spoontamago