Experienced beer goggles before? Well, that is an alley many must be pretty familiar with, but have you ever come across "whiskey shades"? no, it is not the many sounds, sights and shades that you had to endure the next day morning after you had a glass or bottle too many. This is limited edition eyewear that we are talking about which will turn heads and make for a great conversation piece as you try and pick that gorgeous gal up at the local bar. Oh yeah, there is the added bonus of experiencing a moral high that you get by buying a green product!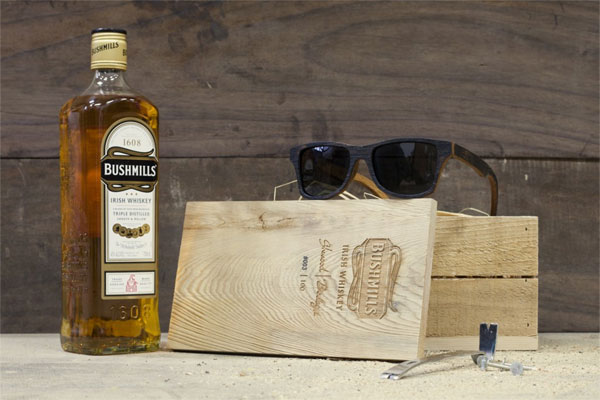 The BushmillsX Schwood from Oregon-based Shwood is a pair of wooden sunglasses that have been crafted from the the wood of old whiskey barrels of Bushmills. Schwood have joined hands with Bushmills Irish Whiskey and Bodega for this special venture that turns booze containers into stunning shade frames that sport classy Carl Zeiss lenses. This ensures that the used barrels have been turned into something beyond just garbage cans for some.
These are limited-edition pieces and the white oak used from the barrels for the frames dates back to over 100 years. Of course, they will set you back a bit as they are priced at around $175 and come in a custom built wooden whiskey crate that needs to be cranked open. Obviously Schwood has done everything it can to keep the experience of buying one of these as authentic and unique as possible.
While it is nice to see the effort when it comes to reuse and recycling, only 100 of these have been made and seems like they have already been taken up all too eagerly. So, while you cannot get on the BushmillsX Schwood bandwagon for now, maybe Schwood will come out with a similar venture soon with more eco-revamping at heart! As for us, wooden frames might be the style of the season, but we will take a pass on that fashion statement for now.
Via:Boingboing