There are so many new eco-friendly products, which can turn your kitchen countertops into the epitome of green living. The kitchen counter-op can be the icing on the cake when it comes to kitchen designing. If you already have a considerably good and green countertop then you need only refurbish it. Other wise, you might consider having a new eco-friendly countertop installed. There are so many innovative and green designs to choose for kitchen countertops and you will be spoilt for choice. Since you prepare your daily meals on them, environmental materials and durability are prime factors in their choice. Here are some green ideas about getting superior environmental materials, which are not only innovative but speak of your taste and style as well.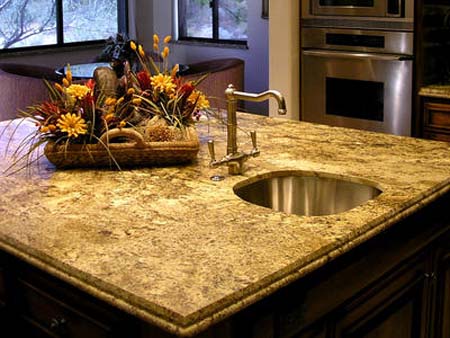 Choose glass tile over ceramic
There is nothing more innovative than recycled glass tile, which is composed of very high-recycled material. During manufacturing stage, glass tiles go through the process of sintering and therefore have better green potential. These tiles are affordable, durable, and attractive alternatives. They are available in variety of colors and can be easily customized. At the same time, when a water-based grout is used for these tiles, there is no VOC emission. Glass tiles are easier to reuse and recycle and can be procured locally. You just need to be gentler on cleaning and handling as glass can scratch easily. This does not however detract its beauty and green option as a kitchen countertop rather than just being used as backsplashes.
Try recycled glass slab countertop
Rather than go in for natural stone you can be innovative by choosing the recycled glass slab. Quarrying for natural stone depletes the earth's resources so going in for the recycled glass slab will make your green contribution worthwhile. These recycled glass tiles are made of materials form sunflower seed hulls to fly ash and looks as natural as the real stone.
Replace your laminate with paper composite countertop
You may well ask how paper can be a better substitute for a kitchen countertop. Well, this paper composite tile is most durable and a very green, stylish choice as it is easy to care for. It can be kept scrupulously clean and it requires only the occasional mineral oil treatment instead of the re-finish treatment. The dark colored composite ones do not stain easily but for the lighter ones, it may require some sanding to keep it looking as good as new. It offers the same durability as a laminate tile without the emissions of harsh chemicals. They are also heat resistant and waterproof since a small amount of resin is impregnated into the post consumer recycled paper.
FSC certified wood, reclaimed wood and bamboo
Wood counter-tops can really make a kitchen look warm, inviting, and truly green. By using certified wood, which are sustainable as they come from plantation farms, you will not be destroying trees. You can always buy local wood, which will be easier to transport, or even wood, which is reclaimed from old buildings. This one really adds a touch of green history on your countertop, which should make for good interaction. You will need to seal your wood countertop with mineral oil to keep it from drying out. Wood countertops can be fastened without the use of adhesives, which makes for a green innovation.
Use recycled aluminum
There is nothing better and innovative than industrial aluminum in your kitchen to give it that touch of class and functionality. The recycled aluminum countertops usually contain about 50 to 60 percent of recycled material, which is a greener option over mining metal or stainless steel.
Get into the recycled plastic look
The countertops made of recycled plastic bottles and wastes are relatively long lasting and are resistant to moisture. They do not emit VOC gas and are just as good looking as terrazzo. However, they do need extra care in handling as they can scratch and warp as well as burn. They are still a good option as they are cheap and easy to replace which takes them a notch further up in the green line.
Green terrazzo countertop
This tile made of crushed stone and glass with cement setting or epoxy substrate is buffed until smooth. It has a lifespan of 40 years and has very high content of recycled materials, which do not emit gas. They are also low in maintenance, have a very exotic mosaic look, and are available in various styles. Since the terrazzo tile is recycled out of so many materials, the end-product has unique color composition and texture, which can suit any home decor. When properly sealed with epoxy, your terrazzo tiles will resist scratch and wear well until you decide to redecorate.
Conclusion
When you have a green kitchen, it will certainly have a positive impact on the health of your family and the environment. Give your kitchen countertops an innovative green look and integrate the essence of green living within your household.