Author J. G. Ballard had beautifully portrayed a world characterized by the harmonious balance between nature and technology in the sci-fi short story collection titled Vermilion Sands. These stories centered on the intermingling of natural and manmade worlds in rather innovative ways one could only describe as fantasies.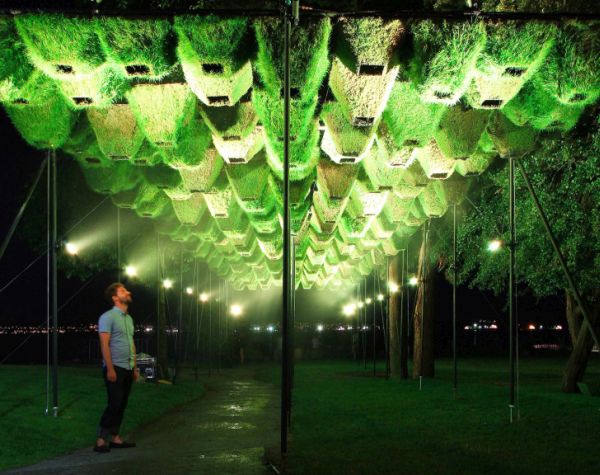 Image Source : Inhabitat
Probably these fantastical worlds inspired the creation of the world's first artificially produced living room. Aptly titled "Vermilion Sands," the one of a kind roof was a temporary structure that was set up during the Harmony Arts Festival held at Millennium Park, Vancouver.
Design and structure: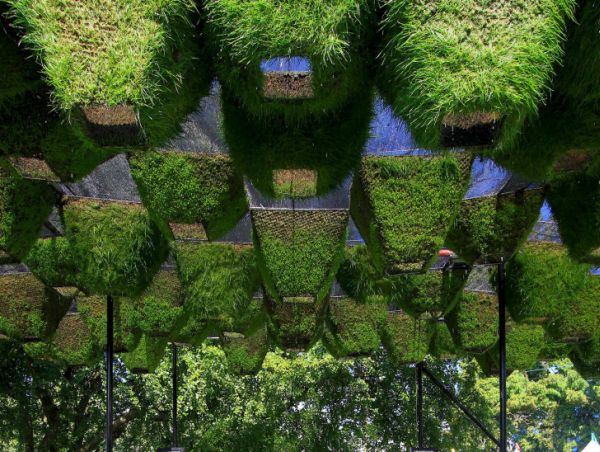 Image Source : Inhabitat
Owing its striking and truly innovative design to the Canadian MSA (Matthew Soules Architecture) firm, Vermilion Sands is a living canopy that comprises of 260 modules. Covered in vegetation, these pyramid shaped modules highlight the artistic use of geotextile fabric and hydro seeding magnificently.
The modules that constitute the three dimensional canopy are made of steel wire mesh. The mesh is first shaped into these hollow pyramids. Following this, a thin layer of geotextile fabric is fastened to each module. The modules are then sprayed with a fertilizer mix and different kinds of clover and white perennial seeds. The resulting plants that grow on the modules offer each one of them an inherently unique look, while coming together to create a unified, natural look that is too surreal to miss.
Additional features:
Image Source : AzureMagazine
The canopy gets its overhead balance and support from the onsite trees and cylindrical poles. Another highlight of Vermilion Sands is the built-in misting system that utilizes over 150 misting nozzles to hydrate the canopy overhead as well as cool the festival grounds below. The canopy also doubles as a beautiful sunshade, offering individuals attending the festival some, much-needed respite from the hot sun. If that is not enough, then strategically placed LED lights help transform the entire canopy into a breathtaking sight indeed.
In addition to earning rave reviews from experts and viewers alike, the Vermilion Sands living rooftop garden bagged the Community Choice Prize at the 2015 Core 77 Design Awards, thus proving its mettle as a potential green design for the buildings of the future.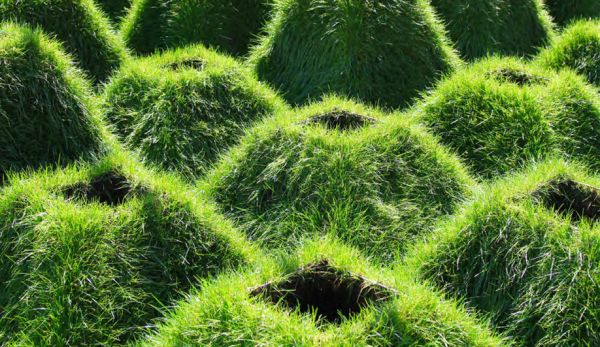 Image Source : AzureMagazine
Canada based MSA firm has created a unique rooftop garden called Vermilion Sands. The living canopy utilizes geotextile fabric and hydro seeding to offer a surreal yet striking effect for viewers. The artificially produced living room combines the natural elements with the manmade to offer a sustainable shelter.