Often while planning to go green, dining room is a little low on the priority list. Dining rooms are generally formal, engulfed with an aura of warmth to welcome the guests over luncheons or dinner. With this purpose you can make your dining room eco-friendly by revamping its décor. This could include working towards an eco-friendly flooring or eco-friendly lighting fixtures or connecting the dining room to other rooms by using recycled wooden doors or by widening doorways and not limited to moldings and finishes. These minor revamping ideas can help you compliment your dining room with your eco home.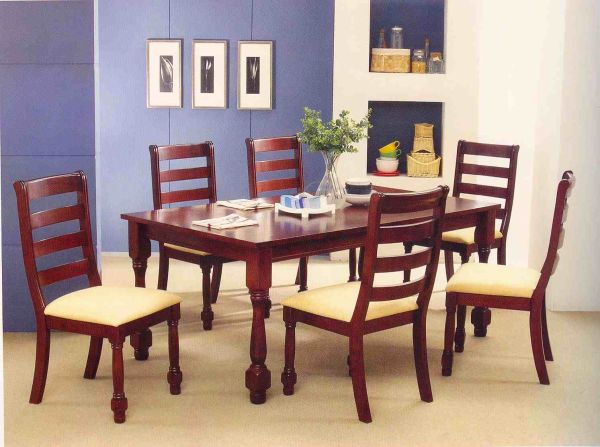 Step 1. Eco friendly material for your dining table
Dining table is one of the most essential components of a dining room. This is the place where you and your guests will feast on the delicious food. Green and eco friendly is no more a rich man's luxury. It is now readily available in the market at prices at par with conventional furniture. You can choose from varied variety of environment friendly tables made from eco-friendly elements like recycled wood to FSC certified bamboo or reclaimed teak. Usage of these materials help save energy, reduce landfills and are low on VOC to protect indoor air quality. These products do not require harsh chemicals or preservatives making them environmentally sound. For instance bamboo dining tables are sustainable, biodegradable and are non-toxic and non VOC. Some such eco friendly varieties do not even require bolts, screws or other nails to be assembled and are a great option for the modern dining room.
Step 2. Opt for eco-friendly flooring
Your dining room flooring should be easy to clean and stain resistant if possible. Many dining rooms have carpet flooring, which is not an ideal material for a dining room floor. Dining room is a place to enjoy food and is susceptible to food and drink spillage. Therefore you should opt for an eco-friendly flooring, which is moisture proof, stain resistant and water resistant. By replacing a carpet flooring with bamboo flooring or cork flooring or linoleum flooring you can use your dining room without a fear of spills on your dining room floor. Bamboo flooring is an excellent choice for hard lovers, which is completely renewable, biodegradable and is mold and mildew resistant. Cork flooring has an ability to absorb anything that falls on it and returns back to its original structure within minutes. Linoleum flooring is also scratch and stain resistant. All these forms of flooring are made from natural materials, helping you go green and save the environment.
Step 3. Define your moldings and finishes in an environment friendly way
You can add that pinch of spice to your dining room by introducing moldings. Think of options to give a classy yet that chic look using various varieties of moldings easily available in the market like door and window trims, no chair railings or crown moldings amongst others. Always look for eco-friendly moldings made from renewable and sustainable plantation wood. Such wood is grown specifically for this purpose and you can then add a zing by finishing it using non-toxic water-based pigments. These simple and easy to use eco-friendly products can help you go green to enhance the décor of your eco home. Dining room is the right place to start using environmentally conscious products. When environment focused moldings are installed, they add to the architectural detail of the area. Such products available in reclaimed wood or non-wood, but renewable fit almost any budget.
Conclusion
You can supplement your dining room to match the décor of your entire eco-friendly house in simple and easy ways. These cost effective techniques as mentioned above, not only make your dining room look elegant and formal, but also help you contribute in your own little way towards saving the planet. Modernize your traditional set up by widening doorways or try to enhance the overall appeal of your room by using accessories that make your room look trendy yet sophisticated. Modish dining rooms necessarily don't need to be expensive rather classy yet cost efficient products are readily available in the market today, to suit all pockets. Never combine your kitchen designing and theme with your dining room as they both require independent design. So use green products to go green in your dining room and enhance the overall worth of your eco home.