Have you ever considered making a wheelchir ramp at home for a person who is afflicted with mobility problems? These chairs come handy even for other inconveniences and for strollers. Many private residences neglect the need to have one, but it will never hurt to consider making one on your own. The only thing that you need to keep in mind is that the ramp should conform to the Americans with Disabilities Act (ADA).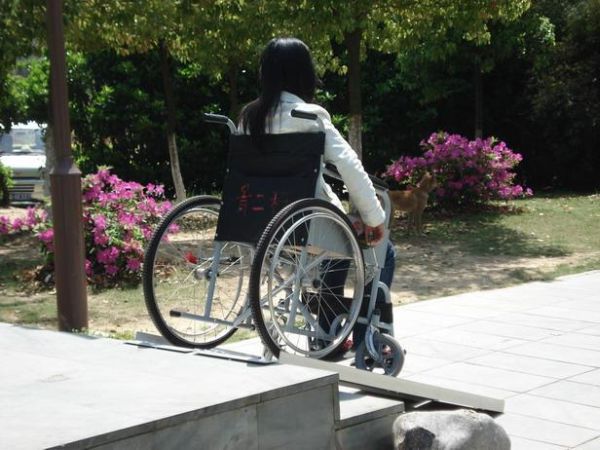 Materials that you will need
A level, a tape measure, a camera, a skill saw, a table saw, a chop saw, power drills, a hammer and a power screwdriver
Instructions:
Consulting the ADA
The first thing that you will need to do is check the requirements of building a ramp with the ADA. According to the ADA, the ramp will be considered proper if it has an accessible route with a slope greater than 1 : 20. The ramp should have the least possible slope and should never be steep at all. The minimum width of the ramp should be 915mm. The landings at the top and bottom of each ramp should be perfectly level. Handrails are not mandatory but they are legally required for slopes greater than 1:16.
Consulting the local inspection department
The second step toward starting your ramp construction would be to check with the local law bodies. You will have to ensure that you are not missing out on necessary laws that are imposed on the construction of ramps by the local law governing bodies. A legal dispute at the start of the ramp construction will not be very pleasant. The building inspection department will also be able to guide you with necessary precautions that you might have to take while constructing the ramp.
Taking photographs of the site
When you start with planning your construction, make sure that you have a proper understanding of the site. If you have doubts or confusion, clear them out by taking photographs of the site from every possible angle.This will aid your planning process and you will have lesser chances to faltering.
Do some research
If this is the first time that you are trying your skill at construction, then it is always advisable to do some research before you actually start with the task. You might want to go around your neighbourhood and take pictures of ramps. This will help you form a concrete idea and you will also draw inspiration from the various kinds of designs that you will come across. You can also try and get in touch with someone who has made a ramp.
Measurements
After you are done with a thorough research, start with taking the measurements of your site. Make sure that you take each measurement thrice and make an average of the 3. This will help you get teh accurate measurement.
Make a construction plan
You will need to have a proper insight into the local plan requirements. For this you may have to visit the local planning office. The things thatt you need to know are the required scales, the type and number of drawings for the site plan, the drawing details and other necessary information.
Precautions to be taken before digging
If digging is necessary for the construction of the ramp then it is mandatory to ckeck with the local government offices to ensure that the digging will not affect any electrical or telephone lines. It so happens that a few lines may be shallow and your digging may severe or damage the lines, which will result in serious problems.
Submission of plan
After you are done with the planning, submit it to the local planning office for approval. You will also need to obtain the required permits regarding building and inspection of the construction of the ramp. This may consume some time.
Tips and warnings
Make sure that you fulfill all legal requirements before you start with the construction as you are liable if someone hurts himself in your property. Make sure that you have built the ramp conforming to the ADA guidelines and lastly, you should also consider hiring a proffessional in installing your ramp in case you think you will not be able to handle this on your own.