We all want a bathroom that is great to look at. However, these days the idea is more on being Eco friendly even in case of bathrooms. There are certain eco-friendly procedures used for such bathrooms and sustainable products are generously utilized. Like kitchens, bathrooms are a big-ticket room requiring stringent stylish options, which can be accommodated within your budget zone. If you were investing a fair sum of money in your bathroom then you would naturally want value from the project, which should last for years. Since bathrooms have a tendency to age quickly, you will need to depend on classic styles, which will never get outdated. Here are some suggestions on the various eco-friendly and frugal ways of renovating your bathrooms.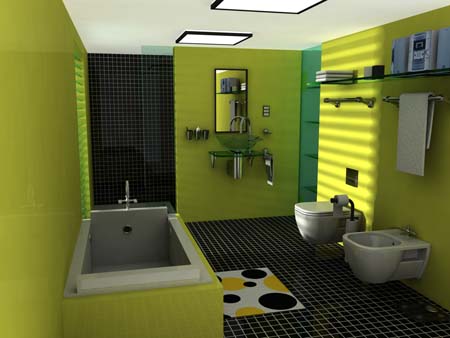 Color theme
You will want your bathroom to have that inviting and relaxing environment when you step inside. By choosing natural color palette, you will be allowing your accessories to speak out. Chrome fixtures will complement well with porcelain facilities and will give a very sophisticated and clean look to your bathroom. Concentrate on painting only part of the wall as accent painting if you have a small bathroom as it will give the room a larger look. If you want to give that touch of serene calm to the room then choose soft hued shades, such as calming green or beige tones. You can even go contemporary by splashing colors of blues and charcoals which can form a background for brushed nickel fixtures and dark espresso cabinetry. Your linen can be purchased according to the color theme you have created in the bathroom.
Tiles and flooring
The best tiles for the bathrooms are those with a neutral shade. Your wall tiles should match your flooring and you can even create a border or pattern by mixing in a bit of darker or lighter contrasting colors. Try not to overdo with tiles when it comes to your shower surround and back splashes as it can make the room look over heated. Play it safe by choosing the timeless look of subway tiles for the walls.
As far as bathroom flooring is concerned, you have many options to choose from stone and tile to bamboo flooring. Choose flooring fabric which has some surface texture so that it does not become slippery when wet. Laminate flooring is not only easy to lay by yourself but is also replaceable and affordable. Bamboo flooring is allergen free and is most environment preserving and durable. It is also easy on maintenance with a high standard of safety and sanitation.
Conserving water
When it comes to eco-friendly bathrooms, you will naturally want to conserve water and other utility bills. Therefore, choose toilet, tub, and sink, which will not only match as decorative pieces but should have high efficiency of reducing water consumption. You can choose pedestal sinks or wall mounted sinks for a more space-conserving look. Install shower head that does not use more than 2½ gallons of water for every use. On an average, your toilet should use only 1-5 gallons of water per flush. For this, you will need to upgrade to a low flow toilet, which can reduce the amount of water used on a daily basis.
Conserving energy
While renovating your bathroom towards being more eco-friendly, you will need to pay attention to the kind of lighting fixtures and type of bulbs. Choose fluorescent light bulbs as they use less energy than incandescent bulbs. Lighting is important in the bathroom especially in the vanity area so choose a finish, which matches the style of your bath fixtures. For a more traditional look, you could invest in the oil rubbed bronze finish with fluted shades, while chrome fixtures with square shades are more modern and contemporary in style. Your bathroom should be well insulated against any energy loss.
Mirrors on the wall
The type of mirror you choose for your bathroom will depend on the size and look of the room. For modern spaces and the minimalist look, floating frameless mirrors are the best. A single large mirror with or without frames will look spectacular over a single sink area. If you have a double sink area then you need to put in two separate mirrors rather than one large single mirror. For a more relaxed and romantic look, you can use oval or round mirrors. When a mirror is well positioned in the room, it can enhance the design of your entire bathroom.
Conclusion
Having renovated and upgraded your bathroom, you can have many accessories and decorative ideas to give your bathroom some character. By adding a few personal touches of handmade soaps, dry twigs in jars and unique looking bottles filled with pebbles, you will have an environmental friendly place to retreat.