Water crisis is primarily a mandate problem. More than two billion people around the world lack access to clean water and many people do not have sufficient water to meet their day to day needs. The demand for fresh water is growing at a shocking rate. As the number of people on the planet are exceeding, availability of water is becoming scarce. Making a sufficient supply of water available to all is a colossal task and for this Zhi Zheng, Hongchuan Zhao and Dongbai Song from China made an enormous difference by their project, called 'The Himalaya Water Tower'.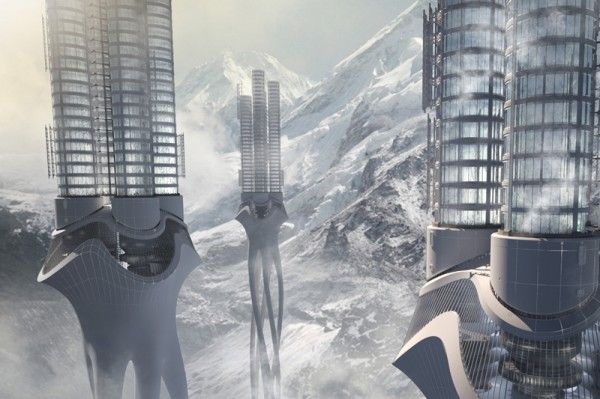 It is a skyscraper located high in the mountains that stores water, which can be used in the times of drought. It helps to normalize its supply to the people when the usual supply of water dries up. These skyscrapers collects water during the rainy season, purifies it and solidifies it into ice. And last but not the least it can store water for generations to come. On the other hand it strikes a balance between the demand and supply of water at the time of acute water scarcity.
The Himalaya Water Tower consists of six stem like pipes that collect rain water and store it. All six pipes have a core tube, which is edged with infinite cells that store the water. Like a growing plant these pipes also grow all the stronger when they absorb water to their utmost. Its four huge hubs sustain cylindrical frames made of steel that act like a stem. With the help of perfunctory system they freeze, purify and distribute water and ice. At the bottom of the formation is a transport system that helps water to reach from the mountains to the people living below.
Fresh water has always been an indispensible companion of all human beings who unfortunately have to suffer critical circumstances at the time of water scarcity. This project has paved way as a solution for the threatening issue of water scarcity.
Via: Evolo