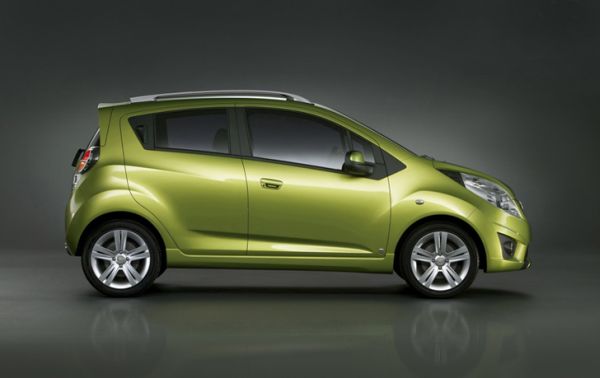 Alternate technology to fight the oil crunch and global warming threats, is to ultimately go green. Eco efficient electrical vehicles can make one such good option. No emission, no oxide and no petrol cost give the electrical vehicles a warm welcome to the world of motor. Global motor industry is gearing for this change and competing smartly for bringing in effective, low cost mini electrical vehicles in the market. In similar lines, as part of GE owned Chevrolet's centennial celebration, it plans to bring to its global customers an environment friendly electrical vehicle, urban-minded space saving and cool looking mini car for all those who struggle to juggle in the traffic and the parking space. Spark EV is the name given to this sparkling beautiful, sporty and green car.
Green Vehicle:
A Green vehicle -electric car is an automobile, which is powered by electric motors by using electric energy from batteries or another energy storage devise. The emergence of electric car dates back to late 19th century. However its popularity drastically reduced due to the advent of cheaper gasoline vehicles and internal combustion engine technology. But its importance and need is once again felt globally and strong interventions have begun to create electrical vehicles the medium of future driving. The reasons include preservation of natural resources like petroleum, eco conservation, low cost on investment and maintenance and a feel of smooth ride.
Apart from the global leaders GE, Nissan, Honda and more such branded companies have already turned their eyes to electric vehicles.Slowly but steadily the automobile world is shifting from carbon oxide to no oxide powered by solar, electrical and even LPG.
Models like GE Volt, Tesla Roadster and Mitsubishi i MiEV are the market occupiers for electric cars today.The emergence of Chevrolet Spark EV in this competing stage certainly gets a warm welcome with high expectation to bring in something more than a usual electrical car.
Green factor:
It's a cream on cake introduction of Chevy's Spark EV to the existing lots of Chevrolets fuel efficient and loved cars. This is mainly designed for city folks. It comes with unique mix of style and speed. Powered by nanophosphate lithium-ion battery supplied by A123 Systems, this mini car aims to hit 18 miles per kWh as against the normal notion of maximum10 miles Kwh. Ecologically friendly design, mechanisms and style reflect on its Green body color as well. Keeping the green ethics of GE, Chevrolet aims at providing this model as an economical, high-powered efficient car to all.
The power train:
Known to be a city car it has within an intelligent design to accommodate space and technology all together wisely. After due study from demonstrations in India, Shanghai and Korea, the model incorporates many useful changes to make it more user friendly. It is believed to include eAssist technology, OnStar safety, hands-free calling, and other convenient gadgets. This also comes with innovative NVH (noise, vibration, harshness) technology, which makes the ride quite and enjoyable. Not bad at all.
The highs:
The battery is said to be 20 Kwh capacities, then the assured 18 miles per Kwh is a bonanza to all, which other EVs fail to provide.
With its unique interiors, brings the driver a fun filled driving experience.
As it is clearly aimed for urban population provides needed style and comfort.
Though the rates are not out yet, it is expected to be super-economical for the owners.
Being green is good for the user as well the world at large.
The lows:
As of 2011, the electric cars have been significantly expensive than a gasoline because of the the lithium-ion battery into it.
Lack of recharging units unlike any gas station makes the owner to risk batteries running out of energy before reaching their destination. The solution remains -Drive to work charge the vehicle, drive home and again charge the vehicle.
Till date mileage for an electric car has not crossed 10 miles per kWh, the promise of 18 KWH per hour does bring in a doubt.
This car is suitable for city riders and especially who don't plan a long drive. A mini trip from home to office or shopping mall suffices the use of this car.
GE's Volt, another green initiative vehicle that was launched last year, could not make sustainable market till date. Hence the expectation on Spark EV is certainly high.
Cost and availability:
The Chevrolet's Spark EV will hit the market in 2013 with a limited number. It will be sold in selected US states and other global countries. The official announcement of its exact cost is not revealed till date, however a general speculation states that this car will be economical to own. Chevrolet is known to bring in high performance cars with style. And with the Spark EV, it is not expected to disappoint its users. Lets us hope for the best.