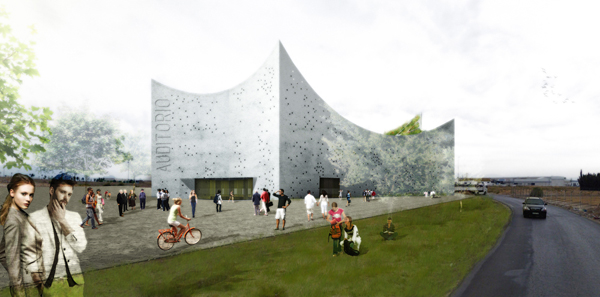 The Mega-structure:
A finalist entry from Chicago based firm STL for the Torres De Cotillas Competition in Las Torres De Cotillas, Spain, incorporates a multi-purpose auditorium and performing arts center with a surrealistic outlook. This ambitious yet artistic design will be a part of a larger office park, and would cater to the public demand of the neighboring old town of Torres de Cotillas as a 24hour activity center. Among the various communal activities, the structure is expected to host social meetings, public performances, and even concerts.
What makes it mega?
The metropolitan structure has an irregular pentagon shape (when seen in plan), which integrates a 'sunken' style conception with a blatant slope towards the center. This in effect will create a amphitheater like spatial characteristic, specially alluding to the center's multi-activity oriented auditorium function.
Moreover, structurally the building's unorthodox yet unique form will break several engineering conventions and yet manage to be soundly and rather overtly stable by some ingenious design considerations. For example, the exterior walls will be composed of double layered reinforced concrete. And the immense live load generated in the upper level public space will be evenly distributed by a series of radial concrete beams, thus forming an array of horizontal supports. Additionally there will be a concentric ring of concrete forms starting from the upper levels, which will be used as seats like that of a stadium. The spaces between them will give the effect of a clerestory, like that of ancient Egyptian temples.
Eco-credentials:
The seemingly imposing form of the building's upright concrete facade will be imbued with the soft feature of numerous perforations. The perforations would be composed of solid glass embedded within the walls. But they wouldn't just be ornamentations upon the structure; they will allow in natural light during the day and during the night they will glow like stars, thus accentuating upon the design's regional eminence.
Source: eVolo/STLChicago