Hammocks are supposed to savor the open spaces in your yard, letting you distress yourself on a day off from work. But, are hammocks only meant for humans? Well, after reading this post, you will realize how a hammock can be used for resting your laptops and how you can make one yourself at home within no time. To further make this preposition more lucrative for green loving DIYers; this product can be made from old stuff lying around in the house and will cost you nothing more than one dollar.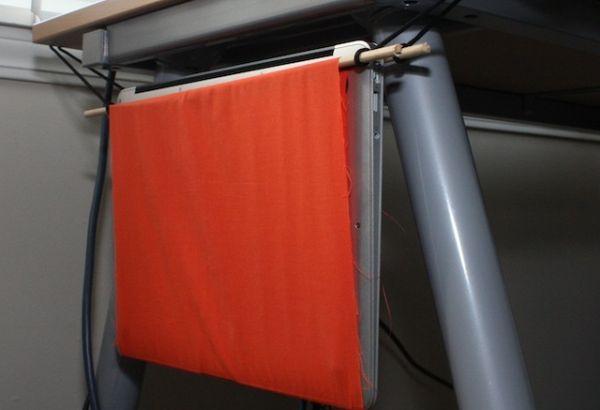 Computing trends today shows that most people prefer to have a monitor as well as a laptop at their work tables so that they enjoy the efficiency of laptops, while enjoying the large screens of desktops. But, limited desk space constraints their use of both. Of course, most of us would think having a shelf or laptop stand will solve the problem, but this will not economize space. Therefore, a thoughtful solution is having a laptop hammock hanging from your work desk. This ways it will always remain handy and at the same time save you space.
Making these hammocks at home is so simple that you need not look for readymade products. There are two possible ways of making a hammock at home: one is the respectable way and the other is the Dirty Hipsters way. The respectable way comes with a cost. You will have to purchase cloth and other tit bits from the market and assemble them.
As for the Dirty Hipster way is concerned, all you will need is an old t-shirt, old shoelaces, scissors and sewing material and one dollar. If you are wondering what the one dollar is for; well it is for the wooden dowels you will need. Use these items as creatively as possible and make hammocks for yourself and for gifting to your friends.
Via: Arstechnica