Architects and engineers are tasked with building structures that not only look good and serve the needs of the occupants but also leave behind a reduced carbon footprint. The capital of South Korea, Seoul, is home to towering skyscrapers and apartment buildings. While they do serve their purpose in that they make use of as less space as possible, there's no running from the fact that they significantly add to the capital's carbon footprint. Citizens are said to be increasingly dissatisfied with these polluting megastructures and are seeking out ways whereby habitation is sustainable and good to look at. Enter the folks at Unsangdong Architects Cooperation and Kolon Engineering and Construction who are working to realize the wishes of the masses.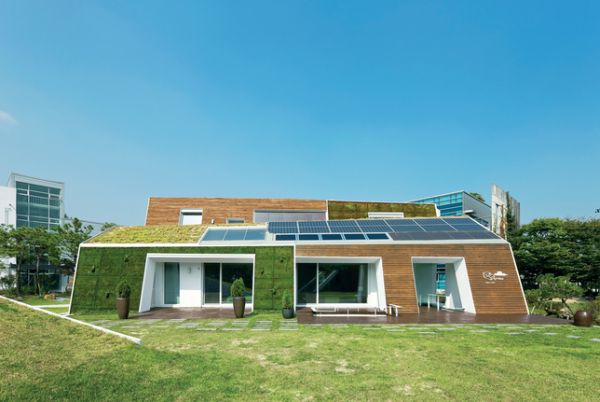 The E+ Green Home project envisions an abode that's sustainable and beautifully designed. The prototype has been set up on the site of the engineering firm's headquarters. Currently just a show home, the firm hopes that the design will one day dot the landscapes of South Korea. The architects and engineers used a three-pronged approach in the design aimed at energy efficiency.
A massive 95 green technologies have been used in the home's construction, all seeking to minimize energy consumption. The E+ Green Home uses only 27 percent of power compared to an average Korean home and generates 37 percent of energy of what's used in an average Korean home. Since the house also recycles energy, it even conforms to German Passive House standards.
The E+ Home can be booked for a couple of nights by those eager to see what it feels like living in a sustainable house. From what we can see, the prototype uses rooftop solar panels and a green roof for energy generation and to keep the interiors cool during summers. The large glass doors and windows will facilitate the movement of air which further reduces the need for heating and cooling units.
Via: Dwell