It's a retreat, where silence helps you beat all the commotion of your life, where you can get disconnected with the outside world, talk to your inner soul and take a sigh of relief. We are not referring to a luxurious exotic weekend gate away destination here, we are talking about your own bathroom; a room where you can rediscover yourself, make it look appealing, visit it a few times in a day with a smile on your face. With the growing real estate prices, most of us can't afford king size bathrooms and need make that pint sized space to play up the drama. Modern day bathrooms are much more than a toilet space. You play with the space to maintain the serenity and appeal of these small size bathrooms and yet go green to minimize the environmental impacts. Here are some ways to remodel your not so luxurious bathrooms in an effective eco friendly way.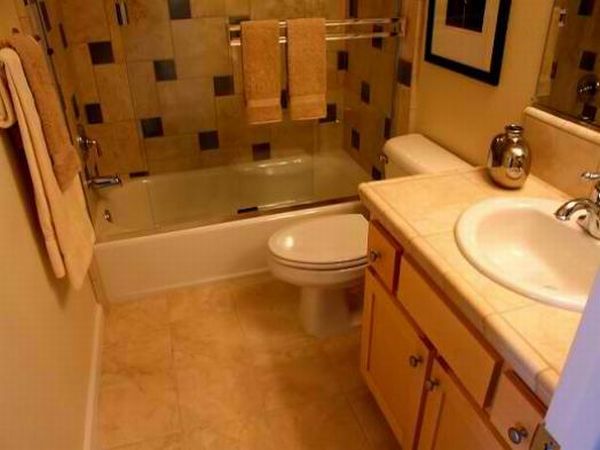 Use nontoxic paints
You can add a splash of color to change the look and feel of your small bathroom. For the eco conscious, try to opt for products that are low VOC or with nil VOC, for both the paint and the colorant. Avoid wasting colors for test usage by looking for brands that offer large painted color cards and/or small sample pots. Use colors that can make your bathroom look roomy by opting for light colors to accentuate lighting fixtures and make the room appear more spacious and airy.
Use energy efficient products
Try to replace your traditional incandescent bulbs with more energy saving options like CFLs, or LED lighting and more such products. They not only help you save energy but last ten times longer than their traditional counterparts. They also help you in reduction of electricity bills. Try to use lighting that makes your bathroom look spacious. Else natural lighting could be an ideal option to save energy and costs. Opt for skylights or bay window. You can also consider using dimmers instead of normal bulbs.
Replace existing bathroom accessories for more natural functional items
Try to use products that are made from natural renewable sources. Installing aerators on the faucets can help reduce water usage. If you have a large bath tub, replace it with a smaller one piece shower pan to save on space and water consumption. Use recycled glass countertops or other eco friendly countertops for your bathroom. They will not only help you go green but also make your bathroom look trendy yet modish. Use toilet paper that has been made from recycled paper. Try to use products made from organic cotton. They are not only comfortable to use, but also need fewer chemicals during their manufacturing process. Avoid using any plastic materials as most of them have toxic ingredients that can be hazardous health and also increase your carbon footprint. Opt for recycled building products like recycled glass tile. Try to lower the thermostat of your water heater to reduce the amount of energy used for your shower.
Clean Green
Do not use harsh chemicals to clean your toilet. Instead use natural products like vinegar and lemon. Look for labels like warning or caution or danger. Most of them contain toxic substances, which are not environmentally friendly. Look for green cleaners or home remedies like baking soda and boiling water to clean your toilets and tubs. Try to use a microfiber hand towel to replace the disposable paper towels.
Conclusion
Remodeling a small bathroom can be a daunting task yet is one way to compliment it with your green home and reduces costs simultaneously. Your new look bathroom will add to the beauty of your home. Prior to going on a shopping spree, prepare a realistic budget depending on the cash you have in hand and create a list of remodeling priorities. Keep in mind to choose only eco friendly products. Look for labels like recyclable, renewable and natural. Remember your priority is to use eco friendly ways of remodeling your small bathroom. This will also help you enhance the little space you have. Opting for an eco friendly remodeling techniques will help you increase your home's resale value. So don't wait to try the above mentioned eco friendly ways of remodeling your not so luxurious bathroom. These easy and simple steps will go a long way in making a positive impact on our environment.