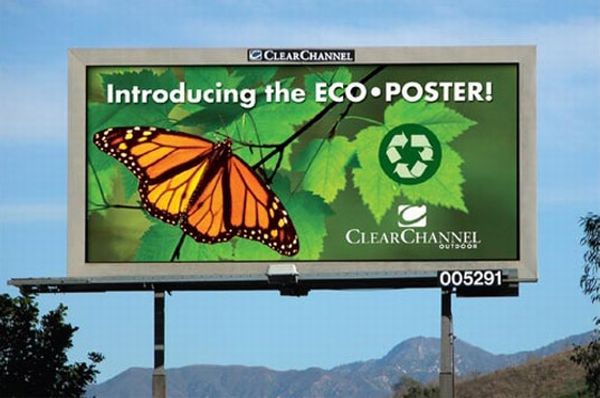 Advertising has been an intrinsic part of our modern life, whether we love it or hate it. And, in a way, it can be defined as a part of psychological communication that can directly relate to our collective actions, which in turn could have a significant impact on our economy. Whatever may be the case, statistical evidence says that spending on advertising was around a humongous sum of $500 billion ($300 billion in U.S. alone) in 2010.
Now billboards form an integral part of advertising. In fact, they may well epitomize advertising in many ways. On the other hand, it was only a matter of time that green technologies would make their spirited foray into this popular field of advertising. And what better way to do it then striking at its 'heart', i.e. the billboards? So let us check out the nine most fascinating albeit eco friendly billboards to 'glow' to the green tune.
New York City's First Eco-Friendly Billboard: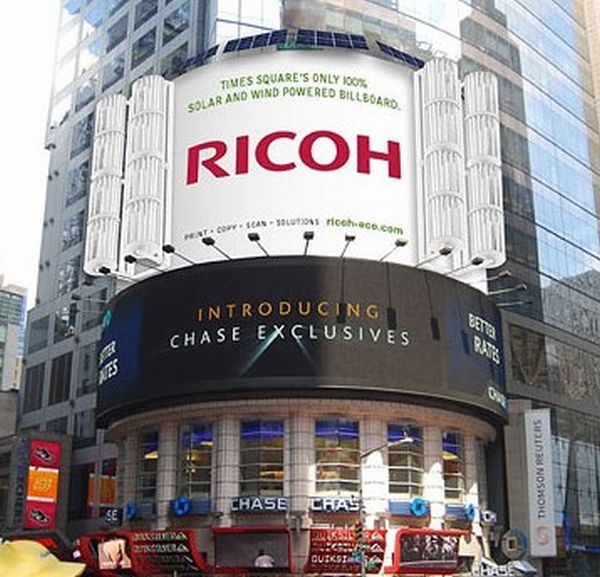 The gargantuan dimensions of this 26-foot wide, 47-foot tall sign speak for themselves, but it is the fascinatingly advanced technology that exhibits its utterly sustainable side. This 35,000 pound billboard advertising the Ricoh Americas Corporation, will incorporate 16 wind turbines and 64 solar panels and produce enough power to light six homes! Instead of being lit by LEDs, the system will have a huge floodlight, which can be lit for four continuous days without sunlight or wind. And here comes the 'green' part; according to estimates, this board can nullify 18 tons of carbon out of the environment.
Honda advertises cars with green hybrid billboards: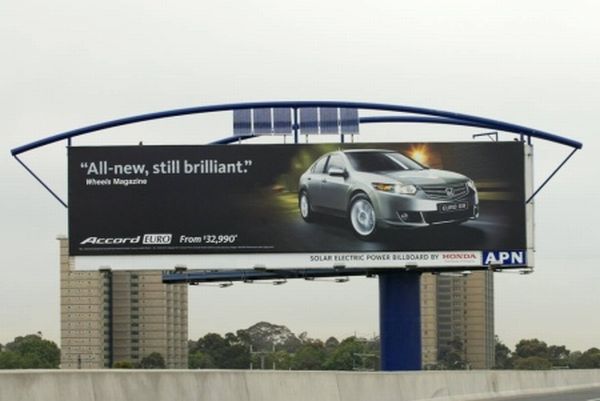 The collaborative effort of Honda and APN Outdoor has given form to Australia's first eco-friendly outdoor advertisement. Now keeping in-sync with Honda's dive into thin film solar cells market in 2008 (Soltec), this new board will also be solar powered, though not exclusively. Additionally an alternative backup electrical connection will be provided that gets its power from a green feed.
Introducing EcoFlexx an Eco friendly Flex Billboard Option: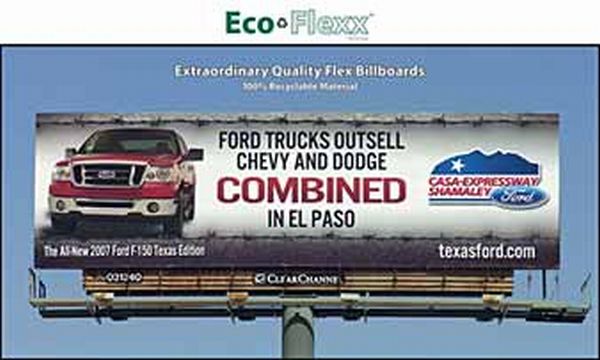 Graphic designing company Circle Graphics had invested almost $8 million in development of new type of eco friendly printing substrate known as the EcoFlexx. According to their statement:
The EcoFlexx™ material has been approved by the leading outdoor companies and will replace PVC flex in our production during the next few months. There are no price changes associated with this improved material.
Billboard Made by using Used Electronic Devices: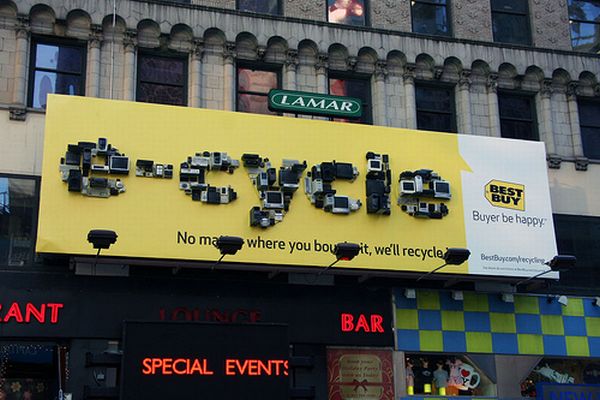 Whenever we think of recycling, those inconspicuous elements come to our mind, like paper cuttings, plastic bottles and polythene wrappings. But what if we make use of entire components to be revitalized for a new design? And that is exactly what this remarkablebillboard stands for. It utilizes used electronics, such as monitors, processing units and VCRs to compose the phrase 'e-cycle'. Poetic, isn't it?
World's largest advert is high on sustainability: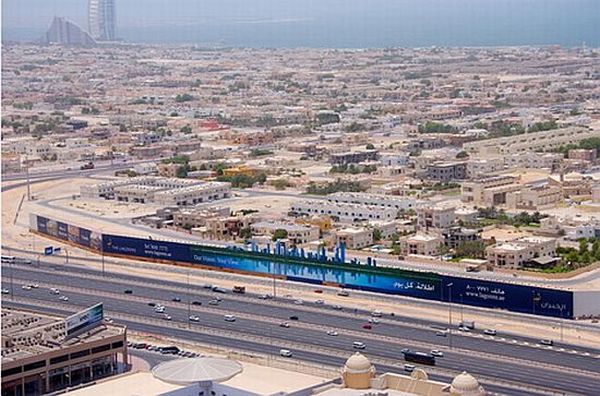 Okay, let us go back to the preeminent city of Dubai, and this time it's not about Burj Khalifa or Masdar City. The world's largest billboard also happens to be in Dubai, and quite coincidentally (or perhaps not) it also happens to be made from biodegradable and recycled PVC materials. Even eco friendly inks, structure, transportation, cleaning and chemicals have been used for this gigantic board. Now gigantic may be an understatement, as the $3.2 million billboard is around a whopping 1.5 km in length! Moreover, 100 sponsors, including 40 premier sponsors, will fund the billboard and the advert will be promoted in 40 different countries over a period of 12 months.
Lamar Advertising going green with new solar-powered billboards: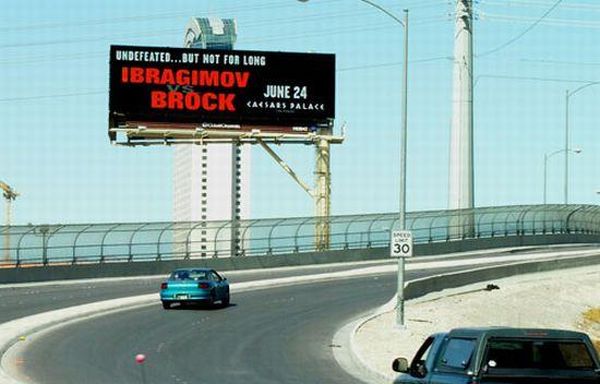 Another collaborative effort, and this time it is from Lamar Advertising and Israel-based magink. They contrived an advanced digital billboard that sort fuses the technology of solar energy and light-reflecting digital light. This gives the billboard a unique paper like appearance, with much higher resolutions and lower energy consumption than that of conventional LED boards.
A 33-story-high LED-lit billboard to glitter in Dubai: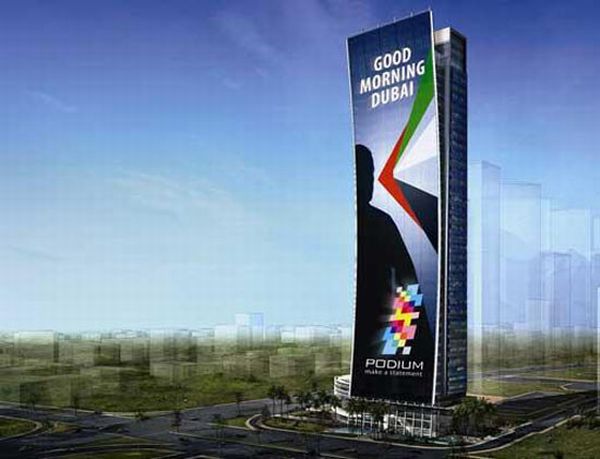 So it is not really a surprise that the name of Dubai crops up again in this list, and this time is because of its upcoming 33 floor high LED powered monstrous billboard, connected with a building. The unique feature of this billboard will be its indirect effect on sustainability, as the board will be adroitly integrated with the facade of the building, which in turn allows its daily intake of natural lighting and ventilation. Furthermore, the energy efficient arrangement of LEDs on the board will make sure that the carbon emission is not too high.
Outdoor Ad Companies Debut Recyclable Eco Billboards: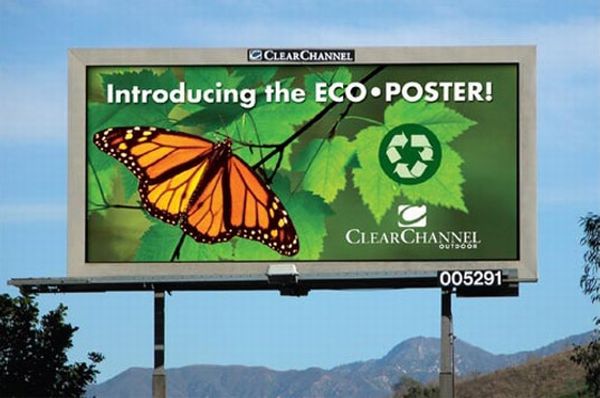 Sustainability certainly did go up a higher level, when three of the world's largest advertising (outdoor) companies Clear Channel Communications, CBS Outdoor, and Lamar Advertisingdecided to use Eco Posters made from fully recyclable polyethylene (PE) substrate, for all of their billboards. Additionally these materials take much less time to be installed and are 3 times as durable, though they come at more than double the conventional cost. But most importantly they can save up to 150 million pounds of the non-biodegradable material that can wind up in landfills!
Recycled Billboard Vinyl Becomes Public Art:

In the previous entry we mentioned how those non-biodegradable heavy-grade vinyl material ends up in landfills, in effect polluting the surrounding environment. In a righteous bid to somewhat rectify this situation Peter Schulberg make the fervently conscientious approach. He invited artists to use the discarded vinyl as a canvas for their work, which he would then display on the exterior walls of his gallery in Los Angeles. Art meets sustainability; now that's not a bad idea.