If you have deep pockets, then be prepared to dig a little deeper for this gold plated bicycle. Purchased by Otto Hauser 20 years ago, a cycling enthusiast, the bike is pegged to sell for 2,000 pounds at an auction. Hauser himself had splashed 1,800 pounds for the bike after spotting it behind the window of a store in Switzerland. Not many will shell out that much cash for a mere bicycle but then not every bike is gold plated either.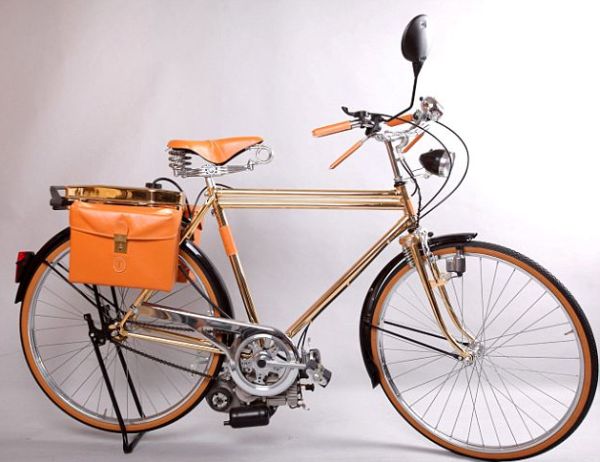 Called the Tommasini, the Italian vintage two-wheeler boasts a universal front brake, two 26-inch wheels with Michelin tires and a gold plated frame. What's more, the Tommasini comes with a 35cc auxiliary petrol motor by Bernadi Mozzi Motor so you climb those hills with ease instead of having to pedal for your life. To power the engine, the bike has been equipped with a gold plated fuel tank as well which is placed very discreetly.
According to Hauser, the Tommasini is one of just two that exist in the world. He claims that the other is owned by Tunisia's president for cycling around his garden. When Hauser purchased his piece, it apparently was sold with a handwritten receipt for 4,900 Swiss Francs along with the motor's certificate from Italy's Ministry of Transport.
The bike will be in great demand when it will be auctioned off at Dreweatts, London. The lucky buyer will get to enjoy riding a bike that sports a parcel rack, with fine leather for the saddle, pannier bags and the brake levers. Hauser claims that the Tommasini can go 25 mph though he has been reluctant to ride. Whether the next buyer chooses to keep the bike as a display item or ride it around, know that what you're getting for your money can be termed as a piece of history.
Via: Dailymail