Designer Daphins Fournier conceived the idea of building a 'Flying Villa', that would be completely in sync with the ecology. Taking inspiration from the Asian style landscaping, where outdoor designing is as much important as the interior designing, Daphins designed the plan of his supended Villa. It stands as a raised bridge and utilizes the prescribed space allotted to it with utmost economy.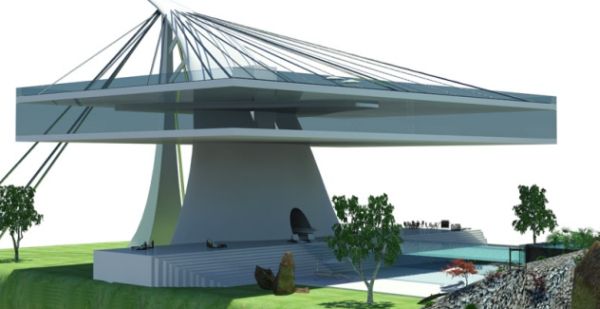 The first thing that will grab your attention is the amicable surrounding of the villa. As you enter, the first thing to come in sight will be the infinity edge pool, very typical of Asiatic gardens. The pool has transparent walls and is filtrated with plants. The designer wants to strengthen the relationship between the inhabitants and nature.
The gardens around the pool offer ample space to contemplate the tribulation of your life. The designer calls these places as zen places, where you can meditate and come more in touch with your inner self. This will also allow to you deeply connect with the nature around, realizing its importance in your existence.
An elaborate barbeque arrangement can be observed at the roof, where you can not only enjoy your evening's gatherings, but also enjoy the view that overlooks from the roof. Also, if you see an aerial view of the flying villa, you will observe that the large surface area of its roof is completely replete with photovoltaic panels that autonomously power the entire structure.
Other details are yet to be released, but whatever we see is sufficient to tell us about its sustainability and how it aspires to teach people the art of living in harmony with nature.
Via: Coroflot