When talking about e-waste, we usually miss out on so many facts. We talk only about the electronic waste that constitutes of old or unusable cellphones, laptops, TVs, etc. Not only we forget that we can recycle most of them, however, while talking about this, we usually forget that a large portion of this waste isn't gadgets. The accessories that most of us tend to buy with these gadgets aren't eco-friendly either. Keeping this simple fact in mind, many companies are coming around with eco-friendly gadget accessories. For example, if you are a nature lover and wish to work toward environmental protection in all modern ways, here is something you would love for your most important gadget, your laptop. Check out these sustainable laptop cases that are environmentally friendly, as well as uniquely stylish and modern to look at. You would fall in love with these.
1. Eco Portabile Grande EPG1: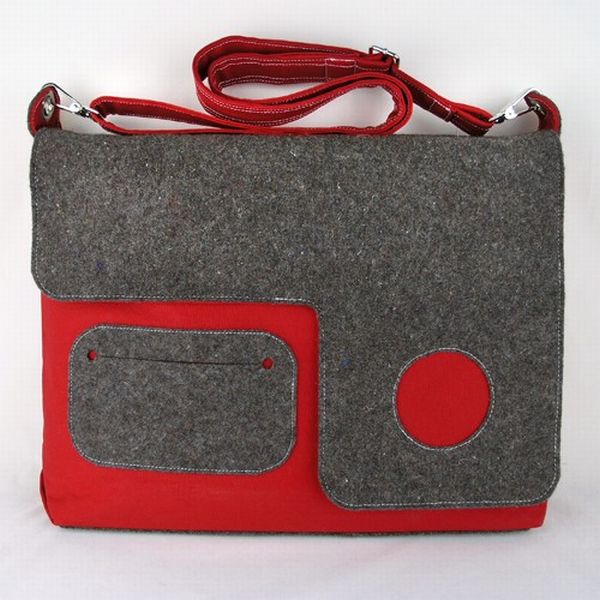 This is a 17-inch organic bag that can fit almost any 17-inch laptop. Its outer fabric is in cotton canvas of cherry red color, with contrasting thin wool felt in dark gray/brown color. Interior fabric does not have the wool felt. You will get three pockets to keep your laptop accessories and other smaller tech gadgets. You will also find an interior zipped pocket. The laptop carrier section is properly padded.
2. GreenCase: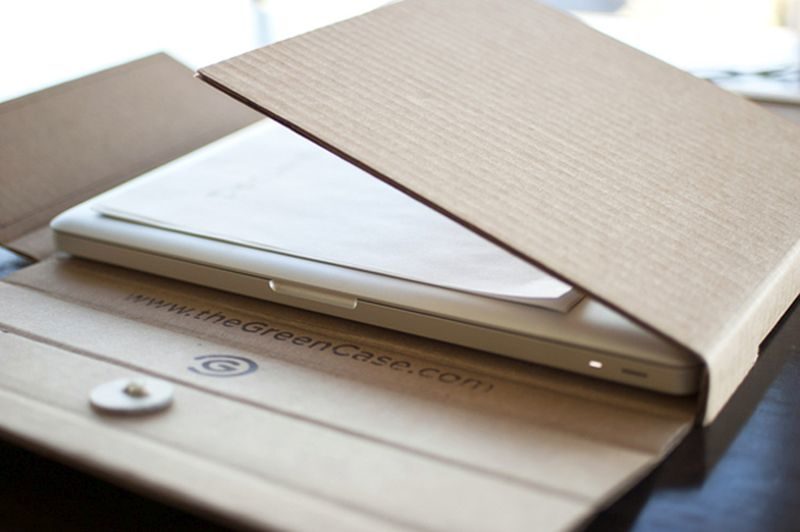 Designed by Mika Bector from Georgia, USA, this slim and lightweight laptop holder is made of cardboard. Eco nerds would love this idea as it can be easily carried anywhere and made your workstation. Take it to a meeting and when you are done, just fold it inside and secure by looping its thread around the button. The cardboard has a foldable end that can hold the keyboard as it acts like an angular raised platform. There are appropriately carved out segments for keeping your smartphone, mouse and any document while you open it and work on your laptop. Thus, it's quite ergonomic and practical.
3. Wood Case for MacBook: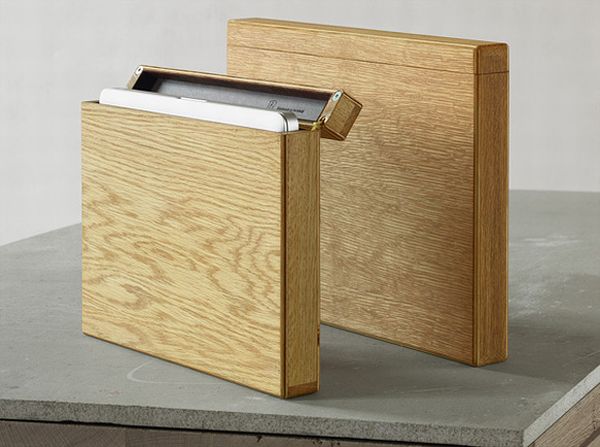 If you want a protective case for your MacBook, this wood case would act the as the best resource. You would love the contrasting texture it offers to your newly bought MacBook.
4. Leaf in Flamingo Pink:
Nothing would look as chic as this laptop bag in flamingo pink. Beautifully designed, this laptop or document carrier is quite flexible. You can easily clean it as it is made of fully recycled fiber. This bag can accommodate any 15-inch laptop and a few 17-inch laptops too. There is ample padding provided at the required places so you may carry it as you want. Along with your laptop, you may also slip in your favorite magazine or a newspaper as it has an easy-access pocket inside. The hardware is all brass-made and you would just love the embroidered flap that also has a small zipped pocket. There is contrasted lining provided inside the bag. You will find detachable clips and safe magnetic snap closure.
5. Silva's Bamboo MacBook Case: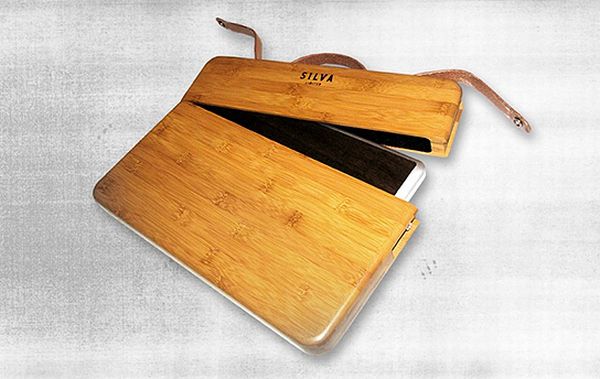 The minimalistic construction of this eco-friendly case offers such a laptop carrier its style. This briefcase-type carrier is created out of a solid bamboo sheet and each of its shells is given a glass-smooth finish by sanding and rubbing them with natural tung oil. Its hard exterior look is beautifully complemented by the wool felt-lined interiors that softly protect your precious MacBook.
6. Cobra Laptop Bag: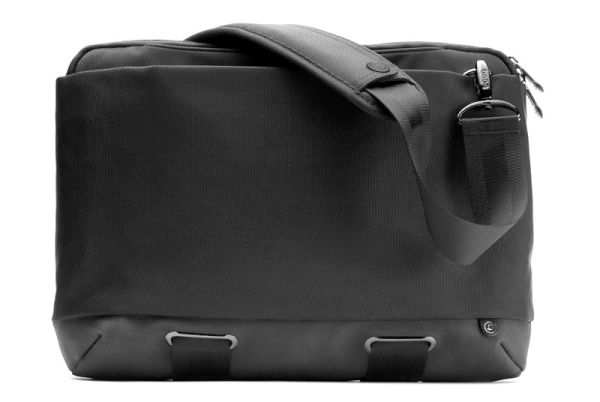 Made using 53% cotton and 47% recycled PET, the Cobra laptop bag from Booq Bags is a sturdy and stylish shell for trendy geeks on the go. Presenting a minimalist design, the recycled laptop bag is the right accessory for your MacBook or any other mobile computer up to 15 inches. Integrating a padded compartment of carry your laptop safely, the stylish bag removes that fine line between your casual bag and dedicated laptop case.
7. Laptop bag made from fire hose: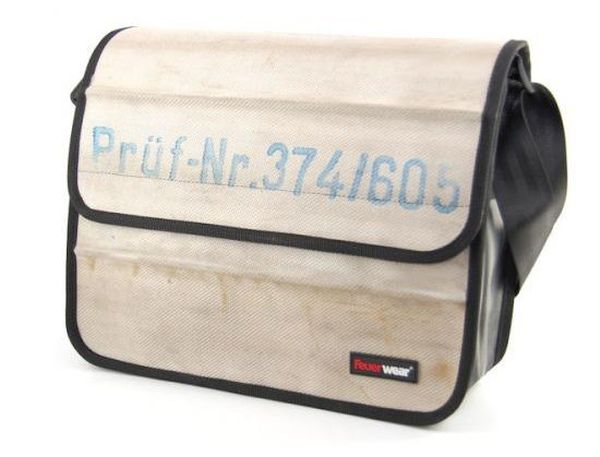 Recycled from discarded fire hoses that otherwise ends up in a landfill to cause environmental pollution, this unique laptop bag from Hosewear is sturdy enough to carry your laptop safely. Apart from flaunting a sturdy design, the laptop bag also look elegant and fashionable. Made from yellow and gray fire hose, the waterproof laptop bag comes with adjustable strap to move your laptop around comfortably. Telling a life saving tale, these sustainable laptop bags even feature serial numbers, marks and notes of duty days.
8. Mercer Laptop Bag: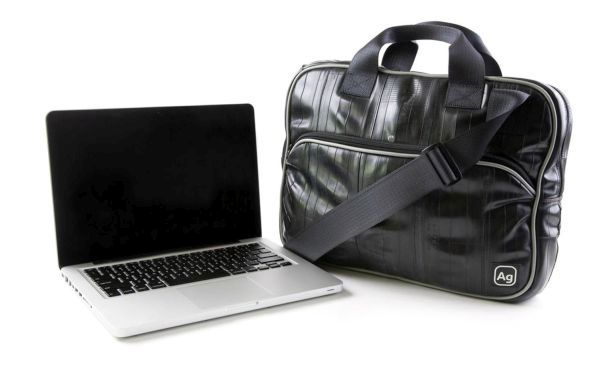 Developed by Alchemy Goods, better known for creating useful bags and wallets from reclaimed tire tubes, seatbelts and banners, the Mercer Laptop Bag comes with a dedicated technology sleeve to lug your laptop safely and elegantly. Created using old bike tubes, the laptop bag features a strap made from reclaimed seat belts that the user can adjust according to his or her comfort. The waterproof bag also includes a logo that depicts the weight of the recycled material used to create the bag.
9. Kieleke laptop bag: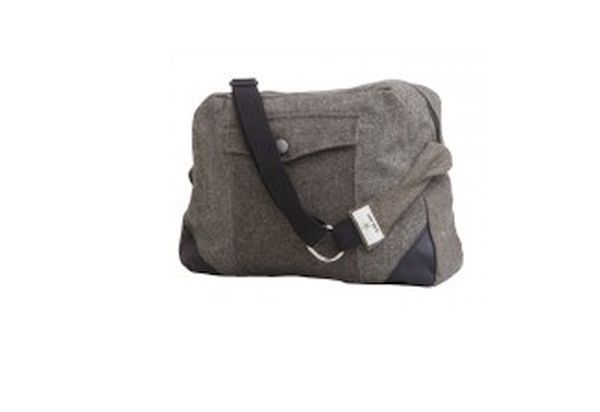 Made using a Swedish army winter jacket, the Kieleke laptop bag includes the original "Tre Kronor" buttons with triple crowns that represent the emblem of Swedish army. Featuring the original pockets from the woolen jacket on the side, the recycled laptop bag integrates an adjustable shoulder strap for the ease of use. Measuring 32 x 40 x 12 cm in dimensions, the Kieleke laptop bag comes with leather detailing taken from a recycled leather jacket.
10. Eco Targus laptop cases make your loved ones feel special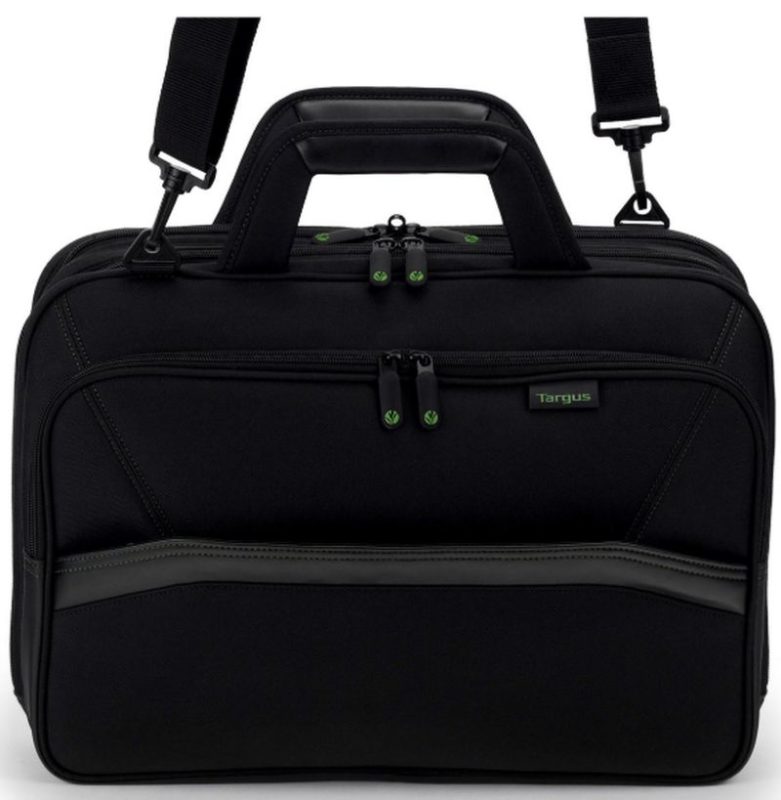 Make your wedding anniversary a memorable occasion by planning for a special gift! Targus laptop cases and accessories are the best gifts to make your spouse smile. Moreover, these attractive cases and accessories are available in some great design and ranges.
You can also gift this eco-friendly laptop case to your business partner, relative, boss etc.
Major highlights of Targus laptop cases are sophistication, style and protection. They also have options for multi-storage, at the same time they are durable too. Bolero, Fandaogo and Cha Cha are ideal gifts for women, whereas Radius bags are ideal for men.
To make your laptop experience simply outstanding, Targus also offers various accessories, such as retractable cable lock, headphones etc. Isn't it great?
Top 10 Eco-friendly bags for eco-nerds
1. Total Eclipse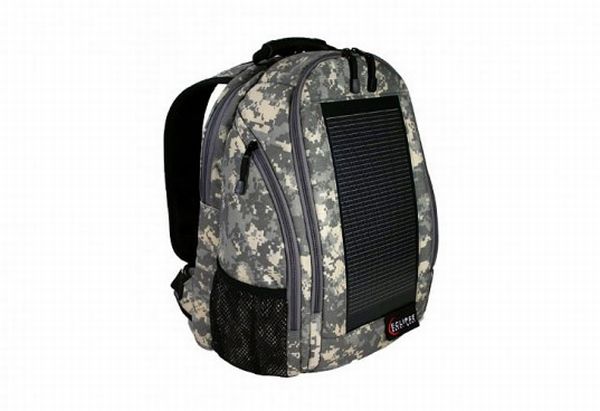 Price: It is priced at $180.
Product description:
The product is a convenient one that offers great source of solar power for charging your mobile device. The backpack involves the combination of quality bag with integrated solar charging solution. It includes features like large side pockets, multiple organizer pockets, main cavity, a padded, felt-lined laptop cavity and accessory pockets. The lining is made of 100% consumer recycled plastic bottles.
Product USP:
The product is specially designed for the gadget lovers who prefer to carry many things. It comes with many pockets with padded felt lined laptop which make this product unique. The solar charging module offers up to 4 watts of power. Other than this, it also offers renewable, personal solar energy so that you can charge your mobile device.
Pros:
The bag can be recycled.
It is a great eco and user friendly product.
It is made for long term use.
It comes with great quality and unique design.
2. Sakku Buddy
Price: Price range of between € 175 ($274.68) and € 245 ($384.44)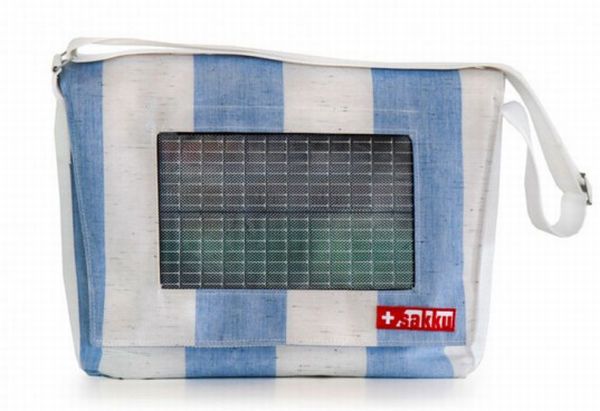 Product description:
The new addition of Sakku to their portfolio is solar bag called 'Buddy'. It comes with rainbow colors that can match the brightness of summer time. The product is completely made from recycled materials and is great one to be used. It offers 100% environmentally fashionable bags.
Product USP:
You get the product with two variants called 'akku' which comes with an integrated rechargeable battery and the 'direct' charges portable devices directly from the flexible solar panel.
Pros:
The bag comes with a great design.
You can use it for long time.
The electrical energy can directly flow into the connected device or with the help of rechargeable battery.
3. Voltaic Converter
Price: $199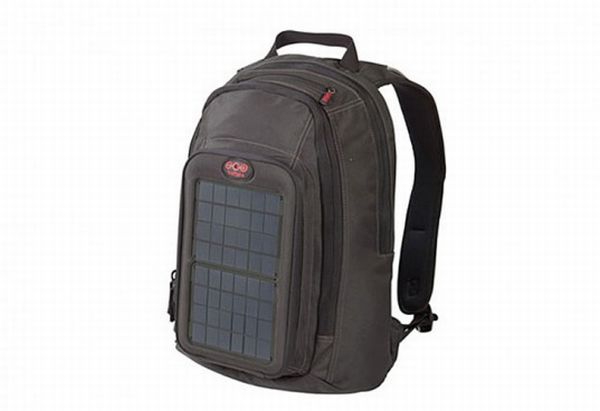 Product description:
This streamlined bag is best for short trips and communicating.With 4 watts of power you can quickly charge the handheld electronics. It comes with sizeable front pocket which can make you keep everything protected. You also get a padded laptop sleeve where you can reach easily.
Product USP:
Due to universal USB battery, power gets stored much due to which you can use it whenever you want. If there is no sun,the battery still gets charge with the help of USB power cable or DC car charger. Battery takes 7 hours to get fully charged from direct sun or 5.5 hours from USB port of laptop.
Pros:
It has got great storage capacity in which there is one compartment with 4 interior pockets, laptop sleeve, iPod pocket and front pocket for charging small electronics.
The product is made of durable material.
It is built for comfort due to high density padding in shoulder straps.
4. Augusta Sun Powered Bag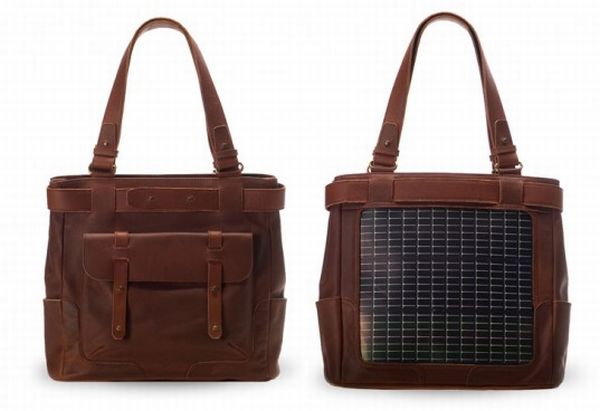 Price: $412
Product description:
This elegant model comes in subtle color combinations of beige, grey and red. You can use it during office and business meeting or while going for a coffee with friends. It comes with two interior zipper pockets, antiqued brass hardware and magnetic snap closure. Its exterior is made chrome-free, Bavarian sourced, naturally tanned and dyed with sage colored organic cotton lining interior.
Product USP:
On the bags outer side, there is flexible solar panel and a paper thin which make this product unique. This solar panel charges the battery pack which is stored inside the bag so that power can be supplied to your cell phone whenever you want. All you need to do is place the solar panel in bag towards sun and get the usable energy. This bag is a popular one among customers as it is user friendly. You can place it anywhere may be at work, café or homefacing it towards the sun with panel exposed.
Pros:
The best part of this bag is that it gets charged even during rainy days or cloudy time.
The bag is completely safe to use and is made up of materials which are biodegradable.
You can remove or reuse the hardware and solar panel whenever you want.
5. Eco Traveler Backpack
Price: $149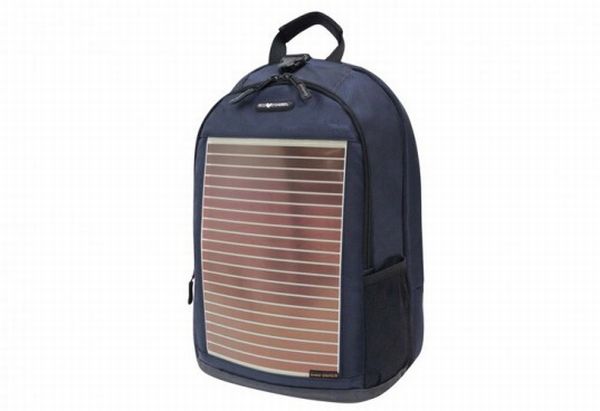 Product description:
This backpack is user and eco friendly product. It is said to be TSA checkpoint-friendly laptop backpack. It comes with padded adjustable straps, buckle clip for secure fastening, multiple organizers, handle grip to carry in a better way. You also get rechargeable battery for charging small electronic devices like PDA or cell.
Product USP:
If you are going to travel long distances, maybe abroad for education or just vacation, then this travelling bag is the best choice you can have. It is a great source to charge your gadgets with the help of light in weight PV panel. There are many added bonus which you can avail due toTSA check point. The best part of this bag is it is eco friendly and user friendly too. You get it at affordable price featuring handy components for convenience.
Pros:
It comes with latest technical development.
Best thing to carry for long travelling.
Known for true enhanced performance.
6. Keyboard Bag
Price: €125.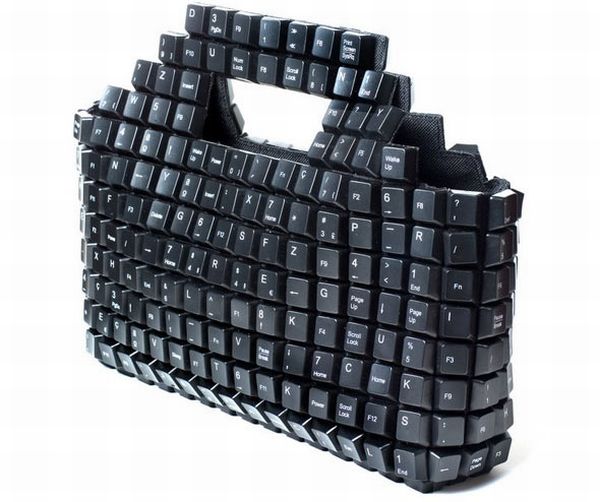 Product description:
This bag is designed by Jao Sabino who is a great, talented designer from Portugal. This handbag is made from many computer keyboard keys. This is one great unique design which is made of recycled product. The bag is designed in such way that it can generate a shape from fragments(keys). Due to lack of proper order, there is singularity of every object which is like a communication vehicle that you can configure for texting. The bag is made from 393 keys.
Product USP:
The product is more popular because it is of unique design.This bag is the best example of recycled product. You get this product at affordable price. Due to many pockets, it is convenient for you to keep things.The best part of this product is that it is made of 393 keys which make this bag more attractive.
Pros:
This nag is user friendly and eco friendly.
You get this bag at affordable price.
This bag comes with different packets which make it convenient to use.
7. Momaboma eco-bag
Price: £130.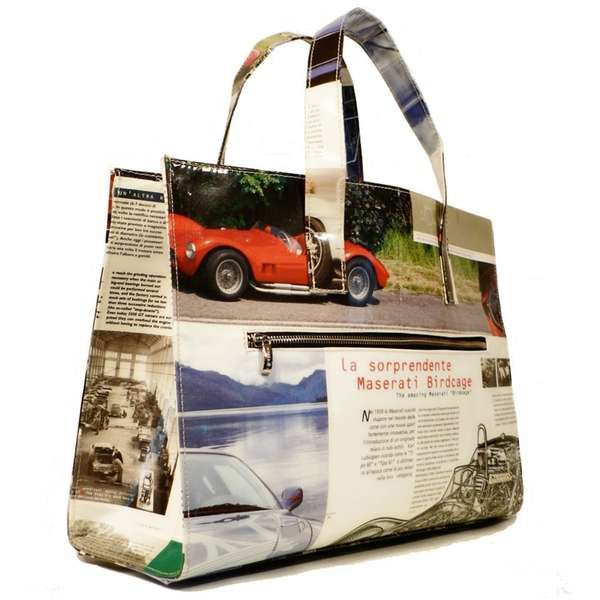 Product description:
The bag is launched by Maseratiin limited edition. This eco bag is specially designed for car-mad fashionistas.The bag is known for its unique design. It is made for celebrating he history of Maserati which is said to be a prestigious car brands. Like cars, even bags are completely handmade. It was designed in Italy.
Product USP:
This is one of the most beautiful products which have ever been designed. Thought it is a bit costly, it is perfectly known for its shape and design that make the bag unique. You get this bag in different colors and best part is it is user friendly. These bags are made from old brochures which were recovered from the Maseratu archives.
Pros:
The product is durable and use friendly.
You can use it anywhere and is known for its unique design.
Due to its great features like enough space and great design it is a 'must-have' bag in the market today.
The product is popular in the market as it is great example of recycled material.
8. Escama Leda Handbag
Price: $139.00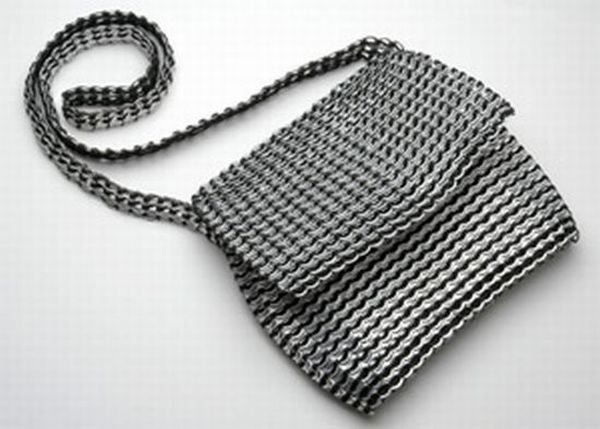 Product description:
This elegant bag is one of the examples of striking collection of accessories which one can ever have. It is made from the viewpoint of creating stylish and innovative products. It is made from sustainable and post consumer products and is good example of recycled material.
Product USP:
The manufacturer of this product, The Leda, has won Best Green Handbag Award for 2010 for this bag. This beautiful bag is one-of-a-kind bag that comes with hundreds of recycled soda pull tabs. It also includes hand held cut-out clutch with one zipper pocket. You can get this bag at affordable price. It is easy to use and extremely good to carry around wherever you go. This bag is made of 500 recycled aluminum soda pull tabs. The bag is signed by many great artists who had made contribution to make this bag.
Pros:
The product is easy to use and convenient to carry.
It is the best example of recycled material.
You get this product at an affordable price.
9. WeBe Bags
Price: $44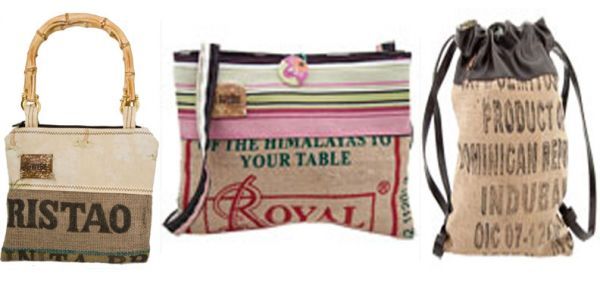 Product description
This bag is specially designed for women. This rice sack bag keeps your things completely safe and protected. The bag is lined and comes with inner pocket and adjustable strap along with a button closure.
Product USP:
This bag is one great durable accessory which is perfect for those who are fashionable and eco-friendly. It is classic and trendy. It is made of feed, money bags, coffee sacks, rice and flour. It is has created an independent identity in the market. It is one of the popular eco friendly bags that come with unique fashion. You get this bag at affordable price. It can go with whatever fashion you wear, maybe formal or informal. However, it is said to be official bag of American Pavilion.
PROs:
The bag is designed with all eco friendly materials.
It comes at an affordable price.
You can use this product for short or long journey.
It is light in weight and easy to carry.
The material used is long lasting which makes the product durable.
10. Recycled handbags with a class
Price: $3000 to $5000.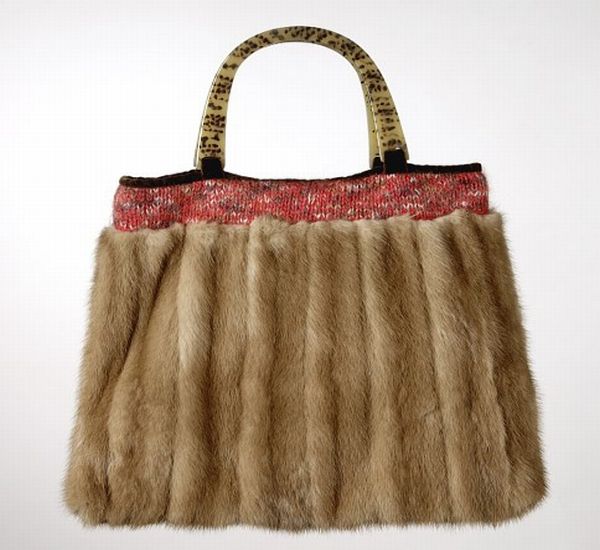 Product description:
If you are searching for some great and unique design of hand bag then this one is best for you. This hand bag is made of different recycled materials. People can use this bag with a formal or informal look. This uniquely design bag is known for its eco friendly design. You get these bags almost anywhere across the world like Argentina, Italy, China or Canada. It comes at a price range of $3000 to $5000. Even though, it is bit expensive but it's worth buying.
Product USP
The best part of buying this product is style. It is popular in the market for unique design and great style. It is a great example of cycling pattern that can be seen in the market today. Most of the companies have been using this product for demonstrating corporate social responsibility along with adding a selling point to their product.
Pros:
This product comes with long term usability.
It is the best bag you can use to carry different things.
This bag is a perfect example of eco friendly product.
The materials used are of great quality and completely recycled.
The environment friendly product is more popular in the market for its fashion and unique design.
It goes well on any look say, formal or informal.
Summary
While throwing these gadgets out, most of us don't remember that it is also possible to recycle them. In fact, by doing so you are contributing to the environment in more ways than one.
Around two-thirds of the toxic waste of the world consists only and only of e-waste. This is the type of waste that ultimately results in cancer-like diseases. By disposing of it in an eco-friendly manner, you are also helping in the fight against such diseases which have chemicals and radiation as their possible cause.
Recycled laptop bags not just present a unique but at the same time stylish design but also helps in sustaining the environment. These contribute by upcycling the discarded material that usually ends up in the trash.