If you thought Ferrari only involved itself in sports and race cars, you're mistaken. The renowned automaker has launched what it claims is the fastest passenger train. The 300kmph red wonder will run under the banner of Nuovo Trasporto Viaggiatori (NTV). With the venture, Ferrari has broken the monopoly enjoyed by state run Trenitalia to provide commuters and travelers more options to get to their destinations.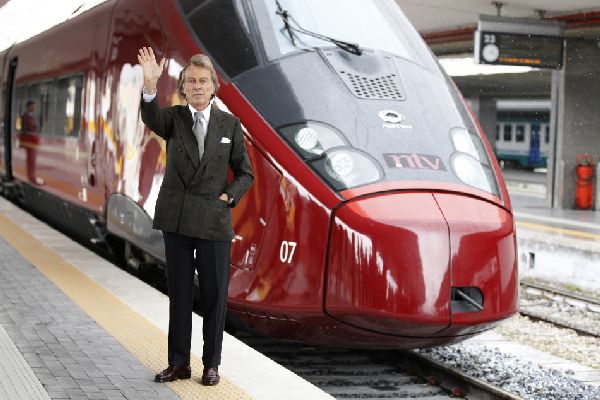 The initiative comes at a cost of $1.3 billion dollars and is something of a risk. But knowing Ferrari's reputation to make things happen, it's likely that the competition is no contest. NTV will begin operations on April 28th between Rome and 8 Italian cities. The company hopes to have 25 trains in the near future. Incidentally, the locomotives use a free rolling stock with an engine fitted under each carriage to maximize capacity.
The 45 seater train is painted a vibrant red with gold and gray and is built by French group, Alstom. The high speed AGV cars are cheaper to produce and quieter than the earlier TGV. Since the motors are placed beneath the cars, they offer more passenger space. The smooth train offers commuters a relaxed traveling experience while the oversized windows provide a wide view.
The NTV run train is not just fast, it's plush too. The onboard services will cater to every need of the passengers from quality meals at affordable rates to seats covered in plush leather from Poltrona Frau, the renowned luxury furniture maker who manufactures seating for the likes of Ferrari, Rolls Royce and Maserati.
With its 300kmph speed, the train can cover the distance between Rome to Milan in three hours. Incidentally, it can even touch speeds of 360kmph but owing to rail system limits, has to keep it at 300kmph. It remains to be seen how the public will take this new venture, but if we had a choice, we'd opt for the red locomotive. After all, it's a Ferrari-planned initiative.
Via: Reuters