When you think of 'Astroturf', you think of Hockey. You would not really think about having an Astroturf surface in your own home unless you want to practice some field hockey indoors. But this amazing new home nestled in Frohnleiten, Austria, uses the sports surface in a whole new way. The newly constructed edifice is wrapped in a blanket of green and it does so by encasing itself up completely in Astroturf. Designed by architect Weichlbauer Ortis, the idea here is to try and ensure that the home is one with the surroundings.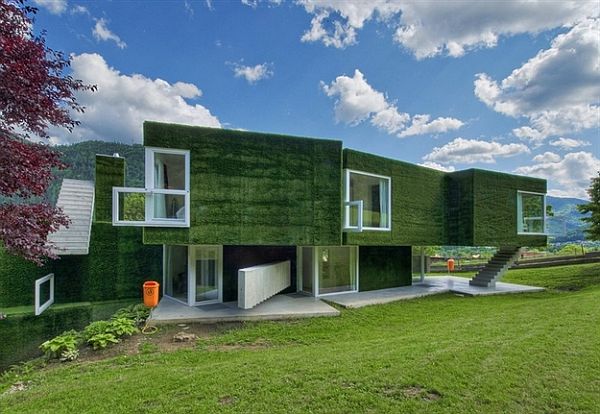 The green home tries to be a natural extension of its surroundings by adopting the green surface and it visually merges with the green meadows that surround it. Instead of standing out in the middle of plenty of green, the home blends in with a bit of creativity. On the inside though this is pretty much like every other minimalistic modern home that promises stylish interiors, walls shaded in neutral tones and ergonomic furnishings.
We are not sure how the Astroturf helps with the temperature regulation of the home, but it could well insulate it pretty well and reduce power consumption of the heating and cooling systems. But it is not just the Astroturf coat on top that the house wears, which gives it a unique look, various elements of design are arranged intentionally in a way that is contrary to regular usage. The doors are used as railings by placing them horizontally and even the staircases seem to be upside down.
The idea here is to create a spatial effect, which gives you a feeling of being in an alternate dimension that makes you wonder whether the home is blending in with its surroundings by using the green cover, or standing out from the pack with an inimitable spatial arrangement.
Via: Homedit