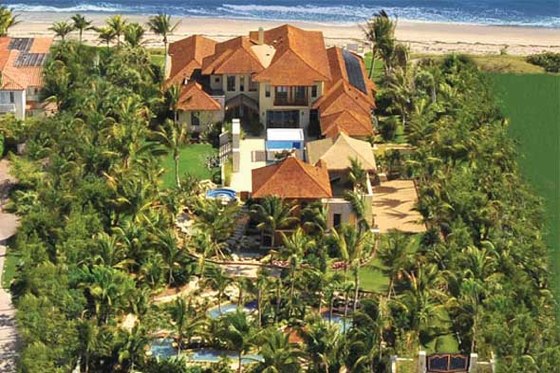 All the people these days are conscious of going green and we tend to do it in our small ways. We try not to use a plastic bag, instead we get along a canvas one; we tend to spend less time in the shower and even remember to fill up the recycling bin. But for a few that is not enough. Green homes are becoming very popular and can be seen from apartments to big mansions. Well, some wealthy do not stop at just that. Even the fact that an enormous space may not be environment friendly, has not stopped buyers and builders from building enormous properties. To make up for the large space used they have added equal number of green features from solar panels to sustainable flooring; from low-VOC finishing to solar heating and cooling panels. Here are some examples of expensive yet green homes.
The Orchid House – Cotswold, UK
The Orchid House in U.K. is the most expensive green home that has actually been sold. Its estimated costs are about $ 14 million. This house is part of developing eco-friendly homes. It is located in Cotswold, England on a natural reserve. This house not only powers itself but it actually generates more energy than it requires. The house has a unique shape that was inspired by a particular flower found in abundance in and around the reserve. Its unusual form has been created using a new camouflage technique.
995 Longbow Place – Larkspur, CO, USA
This mansion has been built over a sprawling ninety five thousand square feet. Its cost is estimated at $ 4 million. The designers of this Colorado mansion claim it is the greenest luxury home ever built. It used all organic materials recycled wood, low VOC finishes and solar panels to run the refrigerators in the house. To stop energy from being wasted the house uses insulation on all its pipes and walls.
Acqua Liana – Manalapan Beach, FL, USA
To move into this green mansion in Palm Beach County, Florida all you require is $ 29 million. It is built over fifteen thousand square feet and has a dock for yacht, aquarium wet bar, several pools and waterfalls. The house has a three green certification from different agencies. This house can actually create energy for two regular sized homes.
Burnt Point – East Hampton, NY, USA
This eco-friendly house is touted at mere $ 45 million and uses approximately eighteen thousand square feet area. The luxurious home uses a new age cooling system and solar panels to regulate temperatures inside.
The Lawrence Residence – Kickapoo Mud Creek Nature Conservancy, IL, USA
This house actually does not stand out from its surroundings like some other green homes do. The house is equipped with solar panels, a wind mill and a wall made of a unique material that absorbs solar energy during the day and then re-release that energy at night to keep the residents warm.
Via: Koldcast